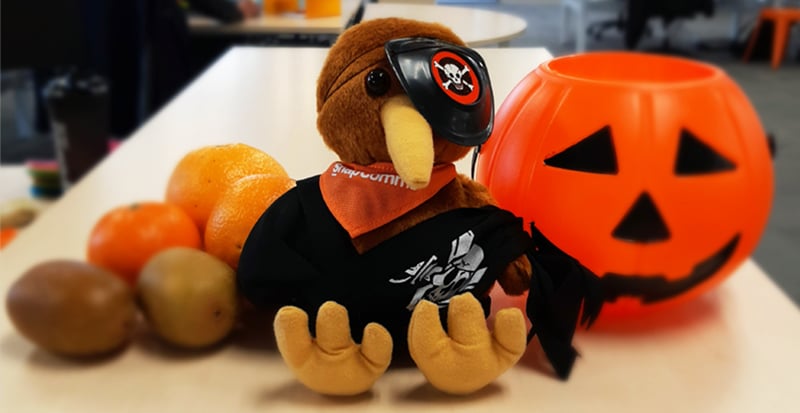 Shake off those cobwebs, carve those pumpkins and get ready to go batty – it's time to celebrate Halloween at work!
This time-honored event is a great excuse to get your teams together, celebrate what you've achieved and let your hair down – whether that hair be green, blue or pink.
And Halloween is a surprisingly big deal. An estimated $6 billion is spent on Halloween every year in the US alone. That's a lot of candy.
Whether on-site or off-site, spooky or spectacular, there's no shortage of ways to celebrate Halloween at work this year. This Halloween is going to be fangtastic! Here are six reasons why.
1. A Wicked Welcome
Set the scene from the minute anyone enters the building by decorating your reception or entrance area in a suitably spooky way. Do enough to build the right ambience, but not quite as much as advising visitors to 'abandon all hope ye who enter here'.
Liberally scatter fake rats or other nasties on steps; hang a couple of bats from your reception desk; pipe in creepy music through speakers; gently poke fun at your competitors by erecting a memorial gravestone for them.
Extra marks if you can convince reception staff to wear witches hats all day.
2. A Frightful Feast
Every army marches on its stomach – even a spooky undead one. So, feed your workplace army with an appropriately ghoulish lunch. No, not goulash, ghoulish – eyeballs, spiderweb cakes, gory punch, that sort of thing.
This is a good one for getting everyone involved and bringing out their creative side – you'll be amazed at the creepy ideas those quiet finance people come up with.
Take the opportunity while everyone is in good spirits (or dressed as them) to thank them for their efforts this year and encourage them for the final sprint to Christmas.



3. Taking the Test
Like a vampire hunter, why not raise the stakes and add some competition to your celebration. A Halloween-themed staff quiz not only gets staff learning new facts, but by grouping them in teams you can foster some light-hearted collaboration.
To get you started, do you know the name for a fear of Halloween? Answer = samhainophobia. When was Halloween first celebrated? Answer = around 4,000 BC.
The winners will naturally expect some recognition, so come up with some suitably spooky prizes and announce them at your shared Halloween lunch or off-site event.
4. A Fateful Meeting
Every good fortress has its dungeon. But if your workplace doesn't come with this feature as standard, theme a meeting room instead.
Spray cobwebs on the shelves, add a friendly skeleton in the corner, replace the chairs with an iron maiden if you can lay your hands on one. If the room is still usable, such that meetings can be held through the day amidst all this Halloween splendor, even better.
If your organization has multiple offices or is spread across multiple floors, you could encourage each of them to outdo the others to create the creepiest.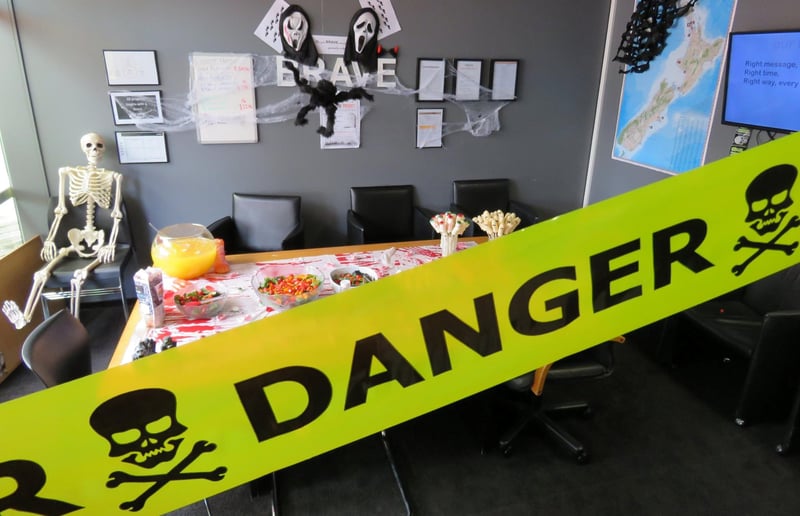 5. An off-site Visitation
For a truly immersive and nerve-shredding experience, take your team off-site to a scary theme park or event. There's sure to be a location nearby which emulates your favorite horror movies – just remember that everyone's tolerance for scares is different.
Alternatively, many restaurants or attractions will put on special Halloween-themed evenings, which can be a safer option for everyone in the team to enjoy – with not a single mask-wearing character in sight.
This can be a real social highlight of the year for staff, so make sure to promote it with vivid corporate screensavers on all computers and digital signage. Include images or videos of where you're going, a hyperlink to their website, even a countdown clock to really get everyone in the mood.
6. Meet Mr or Mrs Hyde
What workplace Halloween celebration would be complete without getting into costumes and living out our inner witches, zombies, vampires or whatever?
But try taking this to the next level and adding a layer of randomness to it. Come up with a list of adjectives and a list of characters. Put each in separate hats and have staff draw an adjective and character each.
They then have the challenge of becoming a crazy pirate, happy zombie, melancholic magician, or anything else you can come up with.
Celebrating Halloween at work can be fantastic fun, as well as being a useful occasion for team-building or fostering a positive culture.
Blog updated: 31/10/2019