'Culture' came out as the number one topic organizations will be communicating internally this year. This is the finding from delegates at last week's CEB Internal Communications Summit in London – one of the largest gatherings of internal communicators in Europe.
Sixty-eight per cent of respondents stated culture-related comms is their priority, followed by ethics and compliance (39 per cent) and HR-related themes (36 per cent)*.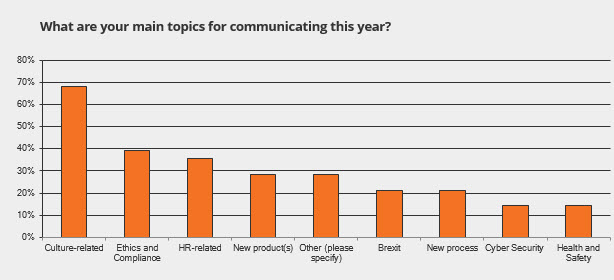 Results from SnapComms' survey "Key IC Priorities 2016", CEB, London, 1 – 3 November 2016)
SnapComms CEO Sarah Perry believes organizations are now acutely aware of their responsibilities to build a positive organizational culture.
"A strong culture shapes employee behavior, which as we know, has a direct influence on productivity, performance and overall job satisfaction.
"Organizations are desperate to move away from the 'us' and 'them' culture, to one that is more transparent, collaborative and united. They're aiming to reduce silos while improving communication internally," Perry adds.
Technology is a key enabler for creating a positive culture. Enterprise communication tools that empower staff to share their ideas and be heard has become one of the biggest trends in internal communications.
Perry adds, "Developing a positive culture doesn't happen overnight. It requires strong leadership, clarity of message, and a sustained communication program."
BREXIT 'NOT A HIGH PRIORITY'
Somewhat surprisingly, Brexit-related communications featured sixth on the list, with only 21 per cent of respondents stating this was a priority topic. Perry believes this is because organizations are still trying to figure out how to revise workforce structures and operational implications before they can start communicating these changes.
"There's a lot of confusion and ambiguity. The delayed triggering of Article 50 has pushed back the urgency of communicating any changes to staff – but staying silent is dangerous ground.
"Any real or perceived change gives rise to anxiety. It's important to keep employees in the loop, even if it's just a 'nothing to report' update. It's reassuring for staff and makes them feel cared for," Perry adds.
*Based on 29 responses to SnapComms' survey "Key IC Priorities 2016", CEB, London, 1 – 3 November 2016)