In today's world, if a criminal wanted to hurt your business and steal from your organization, they're more likely to commit the crime online than break into your office.

Criminals have turned tech-savvy and cyber-crime is on the rise. Criminals can profit hugely from the comfort of their own home, without the risk of getting caught. A report from CNBC shows that cyber crime is up 273% in Q1 2020 (April-June) compared to the same time last year.

With many organizations needing to enhance their IT capabilities due to the COVID-19 pandemic, many were unprepared for the forced, sudden migration of staff from the office to their homes. Some organizations have also been a lot busier than normal due to the Pandemic and weren't expecting an increased amount of cyber-attacks. This has put an increased strain on network IT technology and employees.

Your organization may still be at risk of an attack, but there are ways you can help prevent and mitigate costly cyber security breaches.
Education
Technology is fast-paced, constantly changing and evolving - so are the criminals that target your organization through cyber-crime. Assuming your employees understand good cyber security practice is risky.

Regular cyber security education will help your employees keep up to date with the latest information and insights on how best to prevent an attack. This is especially important for new hires, whose lack of knowledge of your systems and processes often make them most at risk.

With the SnapComms platform, you can send Templated Alerts* to give employees tips on the type of negative online behavior your staff should avoid. Idle computer screens can be used as powerful messaging tools - Digital Signage like this helps condition good cyber security practice.

Persuasive, eye-catching messages like this, delivered regularly and consistently, helps employees remember and comply with good cyber security measures.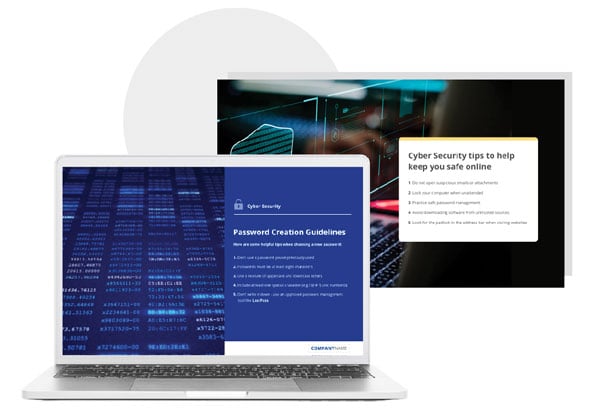 Awareness
A study has shown that 43% of employees have made mistakes resulting in cyber security attacks. Making sure that your employees are aware of potential cyber security breaches or phishing emails can help you stop or prevent an attack in its tracks.

For large organizations with hundreds or thousands of computers, all it takes is one person not reading an email about a potential phishing scam to result in a security breach that takes down your entire network. So how do you get employee attention before they click?

SnapComms direct-to-screen Templated Alerts and Tickers* can be sent to your employees in a few clicks, advising them that there is a potential threat and that they should delete the email or link immediately. These channels bypass email and go straight to your employees' screens. The unmissable format sits on top of all apps that your employees are using, guaranteeing instant attention.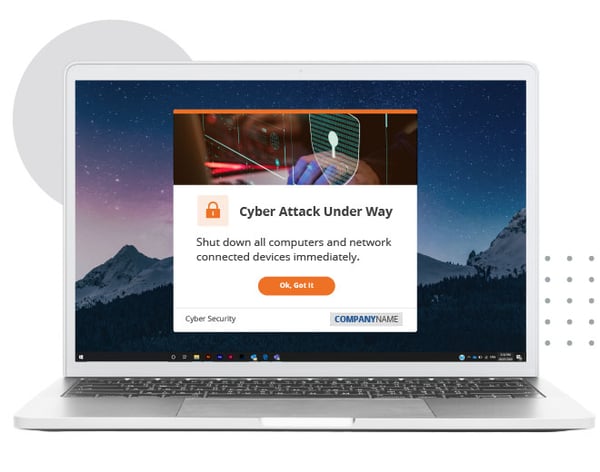 ---
Calculate your cyber security return on investment
Our cyber security ROI calculator simulates the potential return on investment your business could realize by implementing SnapComms to help reduce the risk of a cyber security breach. Try it now.
---
Training
Reinforcing your employees understanding through training programs provides them with practical experience on how to avoid a potential cyber security attack. This training can be done remotely from the comfort of their desk or home. With the SnapComms Quiz, you can send a quick pop-up quiz to your employees to test and refresh their knowledge. It's better that they get the answers wrong in this format, where they can be corrected and improve their knowledge, than make the wrong decision in real life.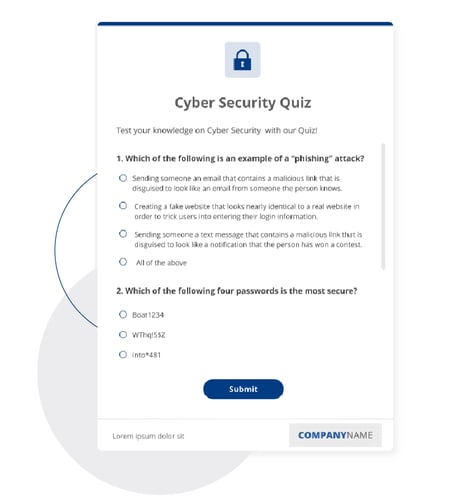 Compliance
It's not enough just to educate and train your employees - regular cyber security campaigns are essential to instill knowledge and build a culture of information security awareness and compliance.

SnapComms Alerts provide valuable assurances to employers that employees are acting in accordance with your company policies. In a few clicks you can send out optional acknowledgement Compliance Alerts or Mandatory Compliance Alerts to all employees.

Having this accountability helps ensure your employees remain diligent when it comes to cyber security education, awareness and training.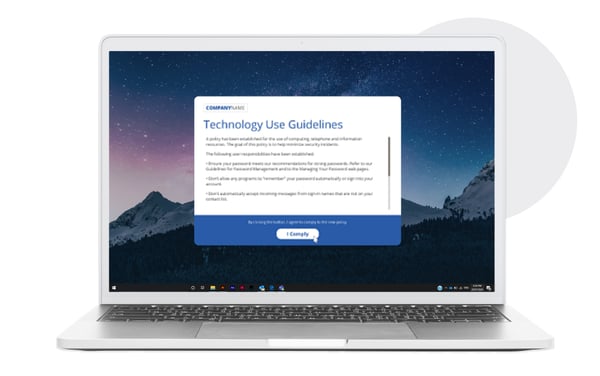 The SnapComms platform can provide valuable protection against cyber-attacks. Messages can be created easily using the custom-made Templates available in our Inform Package, built with best practice design and content for immediate publishing - or create your own custom Template in minutes.
Contact us now or click below to start a free trial and learn more about how the SnapComms Platform can help you prevent cyber Security breaches.
*These enhancements are available only to Cloud customers. Please reach out to your Customer Success Manager to discuss your migration from SnapComms on-premise (Local) software.