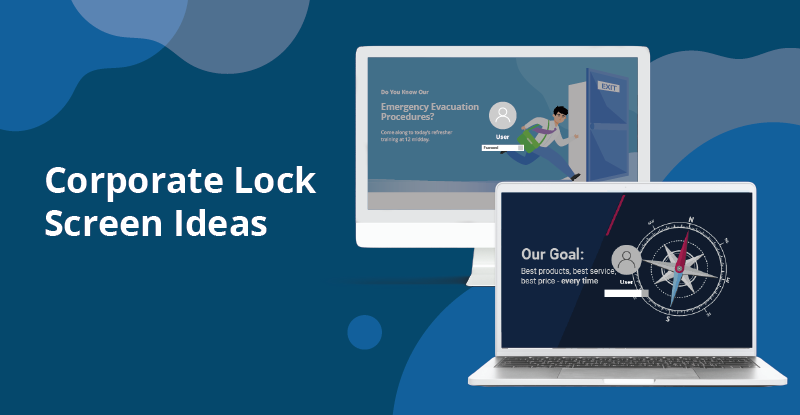 Today's virtual workforces have led to a heavy reliance on digital communication tools. It's meant more emails, more chat messages and more video meetings – all of which compete for employee attention.
But Corporate Lock Screens provide a highly visual, non-intrusive communication channel to reach employees without interrupting their workflow. It's a format which achieves high message awareness – often without staff even realizing.
Lock Screens offer an uncluttered canvas to reach employees with your company messages. Let's explore what makes them effective and some examples of how you can use them to support your organization's goals.
What is a Corporate Lock Screen?
Corporate Lock Screens are a non-intrusive communication channel which displays messages to users as they log in to their PCs. Because users typically log in several times a day, messages have high repetition and create faster employee awareness.
Lock Screen messages can be easily created by HR teams or internal communications. They completely bypass the Windows Group Policy settings, which means no need for IT involvement.
SnapComms Lock Screens also allow personalization (available from October 2022), where the names of staff members can be dynamically included to make the messages even more personal. It's an ideal feature for prompting staff to respond or take action, such as complete a form or attend a coming event.
What Makes Corporate Lock Screens So Effective?
Repetition is key for message readership and recall – and that's where Lock Screen delivers. Because the message can't be dismissed when users need to log in to their computer, you get guaranteed exposure.
It's viewed by a captive audience, at log in, when no other messaging apps can compete for attention. Your message cannot be missed – and it reduces email overload.
In many organizations, security policies insist staff lock their computers when away from their desk, or not in use. Consequently, these computers require unlocking several times each day. This means your messages are seen throughout the day.
And the more they're seen, the more they're remembered and acted upon by staff.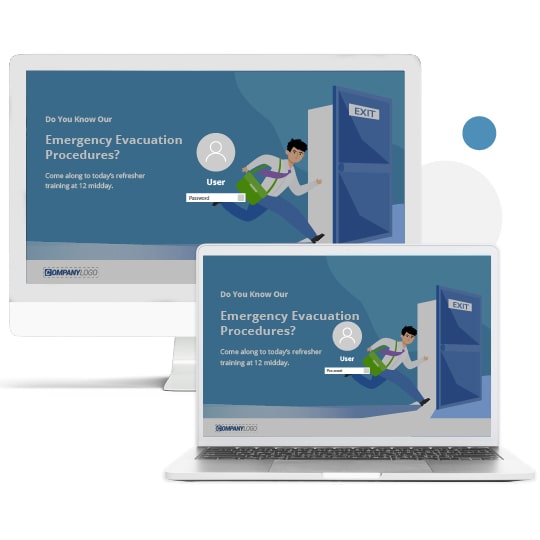 8 Ways to Utilize Lock Screens
Organizations have a lot to share with employees, from important reminders to cultural celebrations. These eight examples show how you can use Corporate Lock Screens as part of a multi-channel campaign to improve the effectiveness of your communications.
1. Events
Whether company town halls or cultural team building, events are a great way to bring employees together. But with a packed event calendar it's easy for employees to forget when certain events are happening.
Using Lock Screens easily reminds staff of coming events, and when they see the message every time they log in, it's almost impossible to forget.
2. Internal Branding
Increasing your internal branding is an effective way to strengthen employee connection with your organization. By raising employee engagement with your brand, you encourage more positive employee advocacy.
Lock Screens can be used to bring your internal marketing ideas to life. Remind staff of the core values and mission of your organization. Create a stronger employee experience with regular and consistent brand content.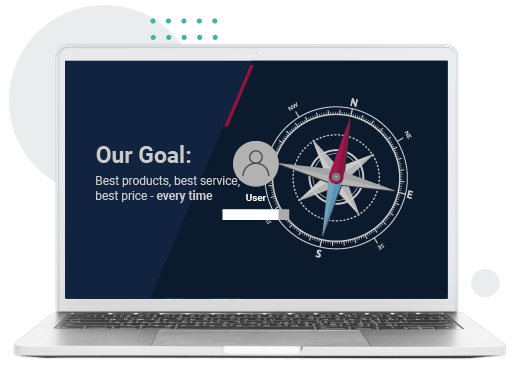 3. Training
Keeping your workforce up to date with the latest product, systems, industry and competitor news gives your organization an important competitive advantage. After all, knowledge is power.
Improve employee knowledge and reinforce learnings by providing useful tips and information. These passive reminders can be hugely effective in encouraging desired behavior. For example, how to spot phishing attempts, password best practices, handwashing or hygiene messages, and so on.
4. Wellbeing
Stress, workloads and the blurring of work and home lives have taken a toll on employee health, resulting in burnout and resignations. Focusing on employee wellbeing is essential to build a workplace staff want to work in – and stay at.
Share helpful advice and resources through Lock Screen messages to keep staff healthy. Promote the support services available to staff. Reinforce how important their wellbeing is to the organization.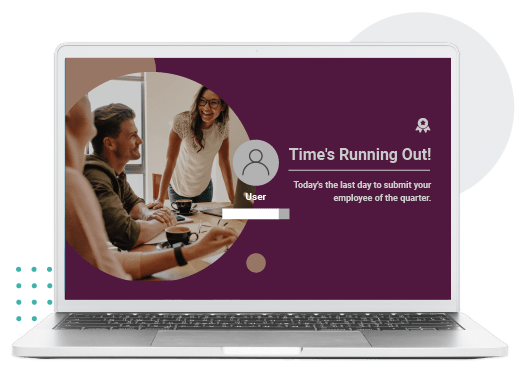 5. KPIs and Achievements
Attaining goals and celebrating successes are powerful motivational tools. Workplace achievements inspire a virtuous cycle, where employees strive to achieve more.
Keep staff up to date with progress towards KPIs (Key Performance Indicators), both to maintain focus on your goals and to make success feel attainable. Recognize your team's accomplishments, such as meeting sales targets, delivering product enhancements or receiving positive news coverage in the press.
6. Change Management
Workplaces are constantly undergoing change, whether major changes like during the pandemic or smaller changes like new processes or restructures. In times like this, change communication is essential to provide staff with clarity and reassurance.
Share important messages and plans for change within your organization. Keep the information top of mind and ensure staff stay in the loop by updating them frequently on progress.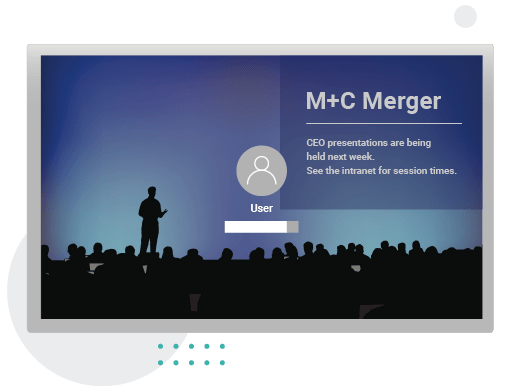 7. Engagement
It doesn't have to be all seriousness and work though. The eye-catching nature of Lock Screens are ideal for promoting social messages or content aimed to build employee engagement.
Share photos from teambuilding events, highlight birthdays and work anniversaries, share fun facts and other relevant content to keep people connected.
8. Countdowns and Launches
Have you got a new product, marketing campaign or major news to announce? Spread the word and build employee awareness with a dynamic Lock Screen message.
Create a buzz in advance with a series of messages which countdown to the release (such as when there's a month to go, a fortnight to go etc.). Not only does this foster excitement, it helps get employees in the right mindset for when launch day arrives.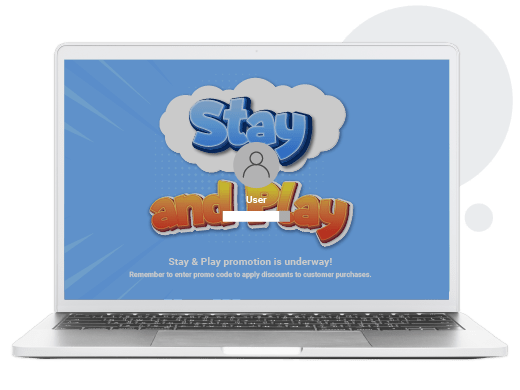 Hopefully this has given you some inspiration about how Lock Screens can bring new life to your employee communications. Want to know more? See how the SnapComms Lock Screen can work for you or contact us to speak with one of our comms specialists.