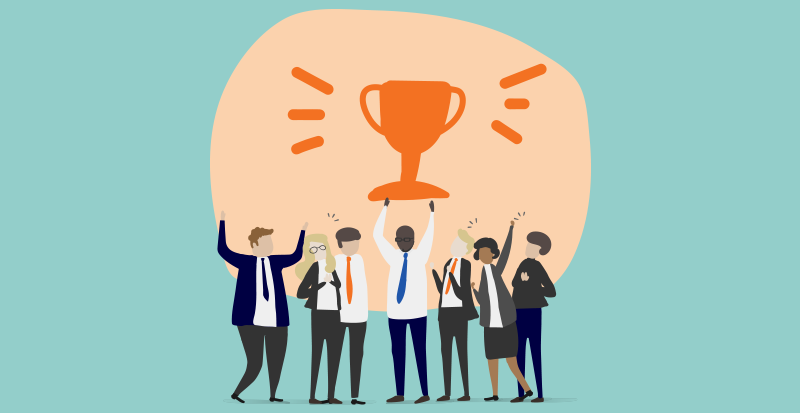 Picture your customer base as ten people standing in a room. Then watch as nine of them leave the room and walk to your competitor. Could your business sustain that loss? If 91% of unhappy customers never willingly do business with the offending company again, that's the very real risk we all face.
If customer success isn't in your business DNA, you're doing it wrong.
Dan Steinman, successful entrepreneur, author and business leader, succinctly summarizes the importance when he says, "Those who understand it and embrace it will thrive. Those who don't will get passed by."
Customer success is the invisible thread linking acquisition, retention and growth for your business. It touches every interaction someone has with you, and is dependent upon every staff member you employ. It addresses customer needs for mutually-beneficial outcomes.
In practice, there can be differences by industry. Hospital customers are patients; college and university customers are students; B2B customers are other businesses.
But whatever the industry, customer success is a proven driver of business performance. When the rewards (and the risks) are so high, can you afford to leave success to chance?
Why does customer success matter?
Customer success is something everyone in your organization needs to be oriented to. Don't mistake it for customer service or customer support.
It's something that influences customer perception of you, positively or negatively, with every touch point. It can begin with a customer visiting your website and speaking to your contact center, through to them making a purchase and engaging with your support team.
Failure at any touch point can result in loss of business or even more severe consequences, such as reputational damage, if handled particularly poorly.
View customer success as a fundamental barometer of business health. Tracking satisfaction levels at different stages of the customer lifecycle provides valuable insights into where your business performs well – and where it doesn't.
For example, are new customers adequately supported when onboarding? Is your customer issue resolution superb or second-rate? Are customers confident users after a month… six months… a year?
It's also your business early-warning signal. The klaxon which alerts you to underlying issues – inaudible, but no less powerful. Highlighting problem areas permit managers to implement fixes before they turn into failures.
The importance of customer success means aligning all employees behind it – not just frontline staff. Overcoming obstacles and maximizing opportunities is the responsibility of everyone. And done well, everyone benefits.
What are the benefits of customer success?
Today's high-performing organizations focusing on customer success enjoy improved business performance in growth, customer retention, lifetime value and ROI.
To realize these benefits, it's essential to be (or become) an outcomes-focused business. The value in ROI is quantifiable. Satisfied customers are motivated to be higher users. In the short term this delivers incremental value.
But in the longer term it enables more significant growth – both through direct spend and indirect influence. Satisfied customers will organically spend more with your business, be positively predisposed towards an expanded relationship, and be more likely to advocate for your business in their personal and professional circles.
From a financial perspective, effective customer success makes retention of customers easier. It reduces customer churn, providing your leadership team certainties of income. Sales teams can leverage existing relationships to promote service expansions and up-sell opportunities.
When it comes to business advocacy, satisfied customers can positively influence public perception (especially through the ubiquity of social media), as well as improve staff recruitment efforts in this area.
This combination of short term, direct value and longer term, influence-based benefits enhance business strength and can provide a robust base in more trying economic conditions.
How can we align business focus?
Instilling a focus on customer success across the business can involve a change in mindset or process – sometimes both. However, there are certain tactical activities that executives can put in place to achieve this realignment.
Lead from the front – Embody the customer focus in all your staff communication. Use tools like desktop alerts for important top-down messages you need everyone to read. Include references to customer success in your regular updates and monthly newsletters. Even better, use real examples sourced from your frontline teams.
Define success milestones – Set objectives by customer for key milestones in their relationship with you. What should they have achieved at each milestone? What do they need to progress to the next? Use a CRM system or other tracking framework to monitor progress.
Leave no stone unturned – Track all known issues and ensure each has a staff member and fixed timeframe assigned. Formalize an escalation procedure – and use it when needed. Introduce a high-visibility but low-intrusion message tool like scrolling newsfeed-style desktop tickers to remind staff of actions they need to take (for example, customer call follow-ups).
Establish customer communities – There's no substitute for real world insights. Find out directly from customers how they find the experience. How do they perceive your business? How satisfied are they? How likely to recommend? Introduce online forums or in-person focus groups to keep your finger on the pulse.
Foster industry collaborations – Identify relevant industry thought-leaders. Leverage their expertise to inform your customer success strategy, whether validating your objectives, defining milestones or just keeping you appraised of current concerns in the industry.
Celebrate successes – Don't neglect the power of positivity. Publicize achievements across the organization, for example via dynamic corporate screensavers on every computer. When staff see the value they've added, it's a powerful motivator for them to continue.
Customer success is a multi-layered area which involves your whole organization, from top to toe. Informing staff of what it entails, encouraging them to keep their 'eyes on the prize', and aligning their efforts to focus on delivery, are the keys to sustained business growth – and happy customers.