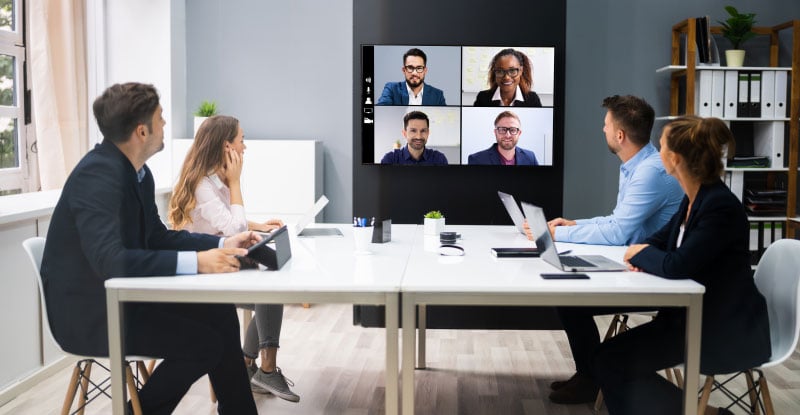 What do American Express, Aetna, Apple, and Spotify have in common? Answer: they all now operate a 'Work From Anywhere' model. Could your organization be next?
The landscape of work is changing. For many organizations and their employees, this year will be different to anything they've ever experienced before. Staff may find themselves working in a very different environment to what they're accustomed to.
The new reality of work is likely to be a hybrid model. But what does hybrid working mean?

This is where employees have the option of working full-time in the office, a blend of working from home and in-office, or entirely remote. Many organizations have a mix where employees have the flexibility to choose where they work. Some departments may work centrally on certain days, other departments on different days, whatever works best for the organization.
By the end of 2021, it's estimated that 25-30% of the workforce will be working from home multiple days each week. That's great news for digital natives, and those who have happily exchanged their business suits for tracksuits this last year – but it brings with it new challenges for employers.
What could this future of work mean for your business?
New Ways of Working
The new hybrid workplace is designed to keep employees connected to the wider business community, while still enjoying many of the benefits of working remotely. Yet it promises to be a model that is more difficult to administer and manage than traditional modes of working.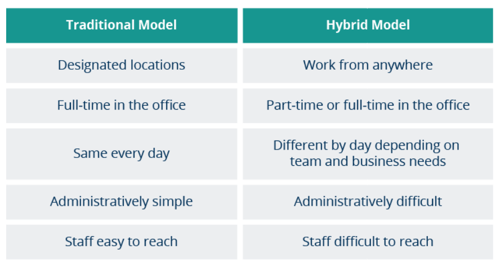 Managing the transition to this new mode of working is critical. That's why organizational design and change management is the second-highest priority for HR Managers in 2021, according to a recent Gartner survey.
Change management is the process of defining the desired future state of an organization, then enacting the strategic and operational adjustments required to transition to this future state.
---
Want to ensure the success of a hybrid working model in your business?
Download our free white paper: Time For Change - Managing A Successful Future Of Work
---
Opportunities and Risks
A hybrid working model will provide opportunities for both employees and the business, but does bring with it certain risks.
OPPORTUNITIES
Productivity – Employees can work at times best suited to their personal style, plus enjoy the sustained, uninterrupted time of remote work to focus their efforts.
Empowerment – Employees assume greater ownership of their output, which feeds their sense of empowerment and pride in accomplishments.
Job satisfaction – Employees that can work in a hybrid model are more satisfied with their jobs than those working exclusively either at home or onsite.
Cost efficiency – Employers bank the savings accrued from reduced overhead expenses, such as office space, maintenance, car parking, etc.
RISKS
Inconsistency – Differences in where, how, and when employees are working can produce an administrative nightmare, as well as reducing clarity for colleagues and team members.
Disconnection – The effectiveness of collaboration can be reduced when employees don't share a consistent working state; workplace communication is undermined and momentum lost.
Invisibility – Achievements of remote workers will be less visible than their centralized counterparts, reducing the recognition they receive and potentially impacting career advancement.
Poor culture – Re-establishing a strong company culture is rendered more difficult with a geographically disrupted workforce.
How can these opportunities best be seized - and the risks minimized? Effective employee communication is critical. Address the key areas of concern through the communication tool best suited to the message.
Lengthy emails are suitable to share information, but pop-up notifications achieve a faster readership of priority messages. Intranets provide an excellent single source of reliable information – remind employees to visit for the latest updates using scrolling newsfeed-style Desktop Tickers.
Assessing the Impact
It's inevitable the transition to hybrid working will affect employees to some degree. Working location, commuting, role responsibilities, work/life balance, family duties and more are all certain to be affected.
To encourage employees to buy in to the change, employers must first understand how employees are affected. A change impact assessment should be conducted to identify how the proposed changes will impact on employees' professional and personal lives.
The impacts can then be proactively managed to ensure any negative consequences are minimized. This could be through refinements to company policies to provide greater flexibility, or a program of employee communications which reinforce the benefits of hybrid working.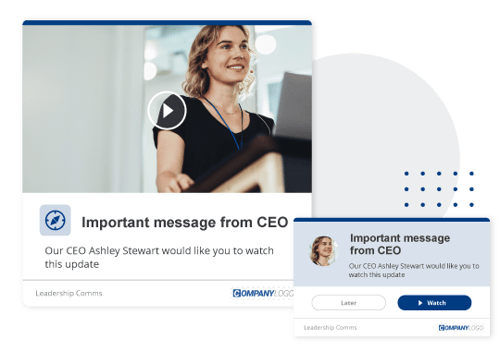 Delivering a Better Experience
During the enforced period of remote working, staff have become accustomed to higher levels of autonomy and flexibility compared with working centrally. While the outputs required of them may have remained the same, they've enjoyed considerably more freedom in managing their time. Relinquishing this control, even in part, will be challenging for many.
With the introduction of hybrid working, leaders will need to foster an environment which empowers their people. This is an essential ingredient of employee experience. Numerous studies have demonstrated how empowerment drives higher engagement and better outcomes.
Managers should permit employees greater levels of self-management – not simply reverting to the restrictions from pre-COVID-19. Check-in with them regularly to gauge how effective they feel the new hybrid model is. Offer support and direction when necessary, but encourage them to take ownership of their work.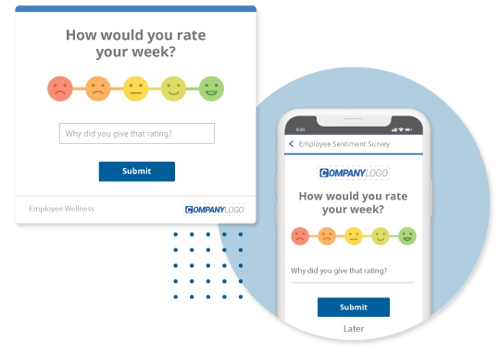 Leadership to the Fore
Throughout the transition to hybrid working, it's important for employers to demonstrate both management and leadership. If management is the science, leadership is the art. Successful transition to hybrid working requires both – the systems and processes to optimize outcomes, plus the confidence and empathy to inspire staff.
Employees are 8 times more likely to report a successful outcome to business transformation when management communicate openly.
Having leadership teams clearly articulate their vision for post-COVID-19 helps motivate employees and expedite change. Employees are encouraged to see where their role fits into the bigger picture and contribute to shared success.
Develop an internal communications plan to explain the company vision and the implications for staff. Establish metrics to evaluate the impact of current projects on staff and the business.
---
Need to introduce a hybrid working model in your business? Download our free white paper: Time For Change - Managing A Successful Future Of Work.