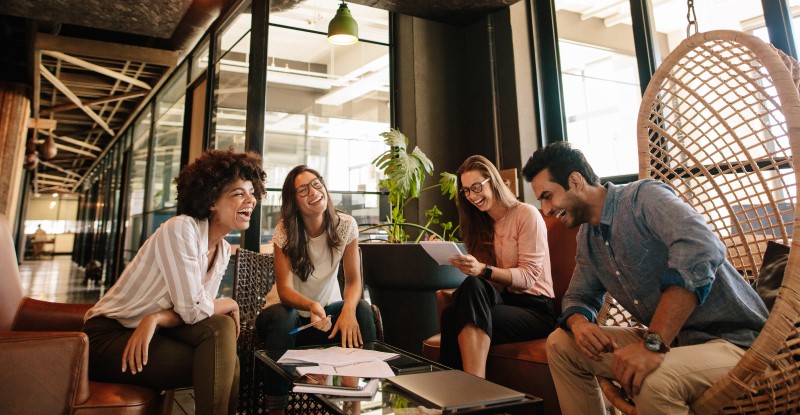 Sir Richard Branson, founder of The Virgin Group, famously said, "Clients do not come first. Employees come first. If you take care of your employees, they will take care of the clients."
It's a quote you've probably heard before, but it remains a wonderful encapsulation of the value of employees. And as the employer of more than 70,000 staff, he should know what he's talking about.
Happy, engaged workers are a powerful force for building an organization's reputation and performance. Consider that 83% of Americans are more likely to purchase a product or service when it's recommended by a friend or family member.
Employee advocacy provides a considerable competitive advantage, but how can it be achieved? The answer lies in effective internal marketing.
In this article, we'll explain why, summarize the benefits, provide strategies for internal marketing campaigns, and share inspiring examples of internal marketing success.
Table of Contents: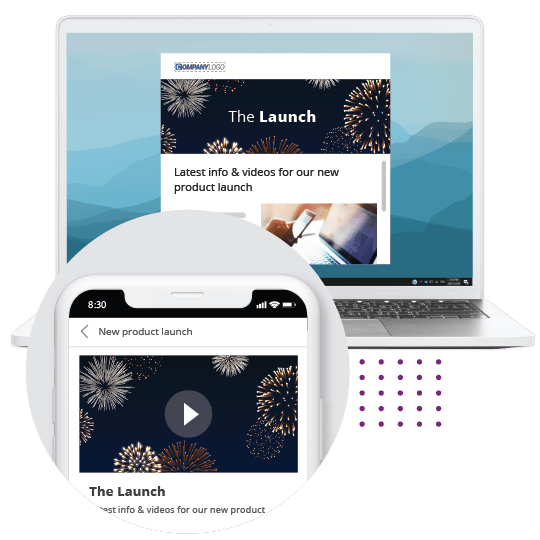 What is Internal Marketing?
Internal marketing is promoting an organization's mission, values, and product offering to its employees. It's commonly managed by the HR team, together with Marketing and Communications.
The objective of internal marketing is to raise employee awareness of and engagement with the organization. This ensures employees have the knowledge they need to perform their jobs. But more importantly, it increases their level of commitment to the organization.
The ideal definition of internal marketing is one where employees are so engaged they act as an addition to your sales, marketing, and HR teams.
Communication is a big part of this. More than 80% of US employees say communication is key for developing trust with their employers.
Internal marketing and external marketing differ in their target audiences. While internal marketing focuses solely on employees, external marketing mostly targets prospective customers.
The following chart illustrates how this works. Internal marketing (or branding) increases employee advocacy, who then advocate for the organization to potential customers and new recruits.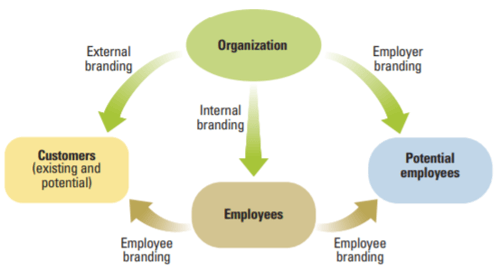 Source: MITSloan Management Review
What are the Benefits of Internal Marketing?
The key benefits of internal marketing are increased brand awareness, higher employee engagement, and a greater emotional connection with the company and its mission. These are all important components of a positive employee experience.
People want to work in transparent workplaces where their contributions are valued. Internal marketing does more than just keep them informed – it promotes their involvement. Employees become more likely to expend discretionary effort, to stay with the employer longer-term and to spread the word to others.
The importance of word of mouth can't be overstated. Half of all employees post about their company online. Positive posts improve a company's position. Negative posts can cause severe reputational damage.
Internal marketing works because it gets employees to care about the organization. The culture appeals to them, the way of working inspires them, or the purpose resonates with them. 73% of employees who believe they work for a "purpose-driven" company are engaged, compared with only 23% of those who don't.
How to Build an Effective Internal Marketing Strategy
Building an effective internal marketing strategy takes time and a lot of work, but there are five key components you'll need. A team, plan, KPIs, creative and channels.

1. Team
A cross-functional team with members from different departments. Having a diverse team allows for a broader range of skills to call upon. Human Resource members will know how best to engage your workforce. Marketing will have access to design, copywriting and other creative assets. Operations can bring to bear their formidable organizational skills.
2. Plan
Your plan should take a leaf out of the external marketing rulebook. Define the following:
Audiences: who are you speaking to – all employees, or just certain groups

Messages: what do you want employees to know and what response do you want

Activities: what initiatives will you need to arrange to get your message across

Resources: which financial, personnel or other resources will you need to deliver your plan

Timing: when will the campaign run, when does it launch and what milestones do you need to hit along the way
See our Internal Communications Strategy article for some helpful editable planning templates.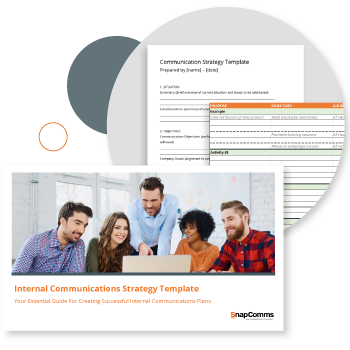 3. KPIs
Set objectives so that you'll know whether your campaign has been a success. Be specific about what you want to achieve. Is it a hard metric, such as 80% participation in campaign events? Or a softer metric, such as increasing workplace culture by 25%? Whatever your objective, make sure you have the means to measure it.
4. Creative
Humdrum messaging will result in humdrum results. Put together bright, enticing content for your creative execution and materials. Remember you'll need to get employees' attention before you can build advocacy, so eye-catching messaging is essential. This is where having members from Marketing in your project team will pay off.
5. Channels
Consider the best channels to use for each part of your campaign. Some channels are better at getting instant attention, while others are better are passively building message recall. Your campaign could include pop-up notifications for launch, digital signage and screensavers for reminders, and an employee app for updates.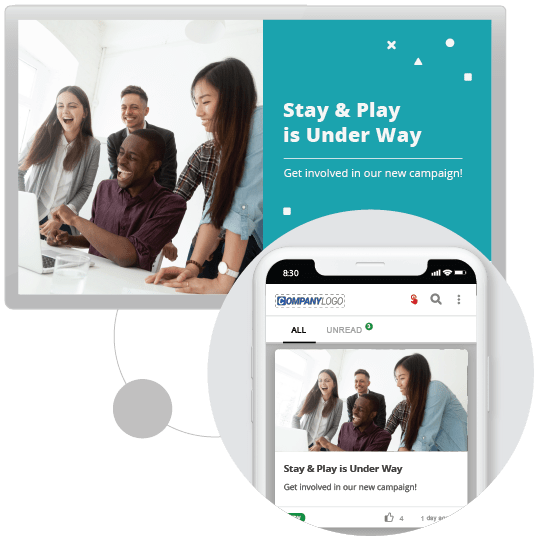 5 Internal Marketing Strategies
Internal marketing is more effective when there's a strategy to underpin your campaign. These five internal marketing campaign ideas can be used to improve your employee advocacy.
1. Time with major change initiative
Company mergers, new CEO appointments, corporate restructures… all are times of upheaval which threaten workplace morale. An internal marketing campaign launched during these times can help bolster support and keep staff focused on the end game.
Activities could include leadership videos reassuring staff of what is happening, and digital newsletters to provide more detail. Take a look at the BP example below to see this in practice.
See our change communications article for more tips on employee messaging during times of change.
2. Address known workplace issues
Internal marketing can be used proactively to address workplace issues identified through sentiment surveys. These issues might be a toxic company culture, team disfunction or general disengagement.
Promote activities which bring issues into the open and provide a foundation to remedy them. Include a facility for employees to voice their concerns, anonymously if desired. Failing to do this will see the same opinions being aired on social media – where they'll be much harder to contain.
3. Focus around a cause
A social or environmental cause provides an excellent internal marketing strategy. Identify a cause which resonates with employees and aligns to your corporate posture.
Workplace morale and engagement rises when employees rally enthusiastically around a common cause. This benefits employees, the organization and the charity or other recipients. See the AIA story below for a real-world example.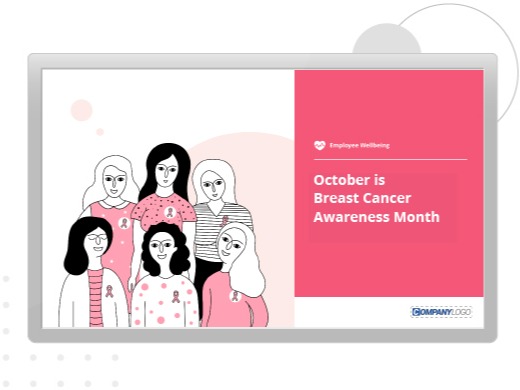 4. Gamify for high response and participation
If your workplace needs a boost, then game on! Gamification takes internal marketing to a new level. Game-based learning, online quizzes and other interactive tools make for a truly immersive experience.
Encourage social sharing by making content relevant and easy to share. Promote competition with points systems and leaderboards. Build participation through user-generated content. The possibilities are limitless.
5. Align with external marketing campaign
Time your internal marketing to piggyback an external campaign. Doing this means messaging is aligned and awareness is maximized when the profile is so high. It also allows you to re-use creative materials across each, ensuring consistency and saving development time.
Focusing on a single campaign across internal and external audiences is less distracting for staff, helping keep everyone's eyes on the prize. See the Nike example below for how they achieved this.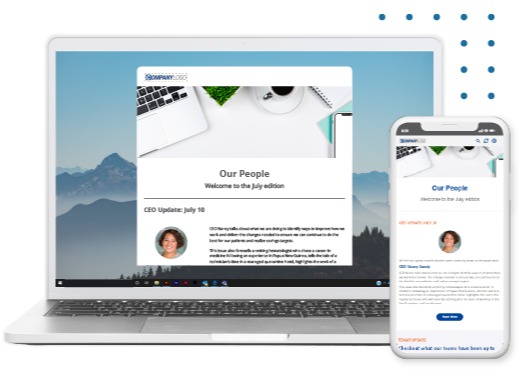 5 Examples of Internal Marketing
Sometimes the best way to do something is to learn from others. The five companies below provide a masterclass in internal marketing we can all take inspiration from.
1. Starbucks
In its formative years, Starbucks focused on staff instead of just products. The company invested a lot of effort into creating excitement among their baristas.
Staff were made partners in the company's success, with stock options and health insurance offered. The company invested in further education for its workers, paying for all US employees to complete an online degree at Arizona State University.
Even while the Starbucks brand is ubiquitous today, its success largely thanks to its focus on building strong employee advocacy.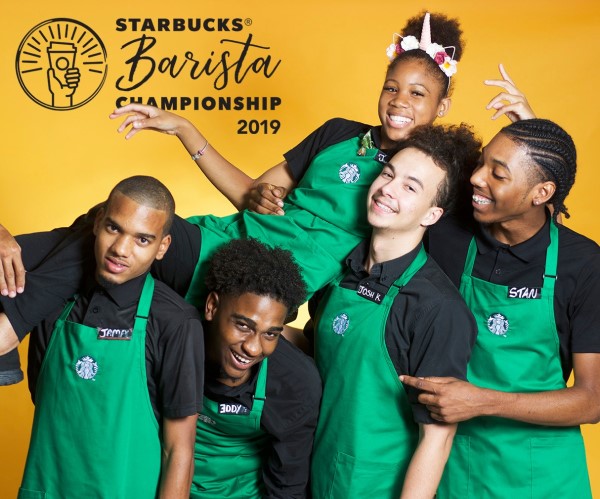 2. British Petroleum
When British Petroleum rebranded itself as BP, it launched a campaign to both staff and the public announcing that it was going "beyond petroleum." The company repositioned itself from an oil company to an energy company, moving from an old-style, closed corporation to an open, collaborative one.
As a result of the internal branding campaign, 76% of employees felt favorably toward the new brand. When more than three-quarters of your workforce are likely to advocate for you, you're in a great position.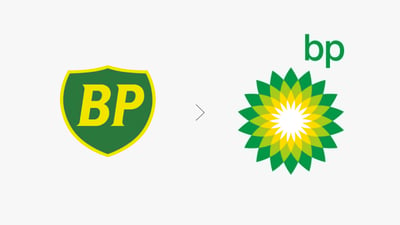 3. Google
Who wouldn't want to work for tech giant Google? The perks provided to staff are the stuff of legend. Paid education, fertility assistance, comprehensive medical insurance, free meals and snacks, and of course one of the coolest workspaces on the planet.
Google invests a lot of effort into looking after its staff, providing workers with the perks to recompense their hard work. Google benefits are created using data on what employees want. By extending these to both 'Googlers' and their families, the company shows how it fulfills its goal of being an inspiring place to work.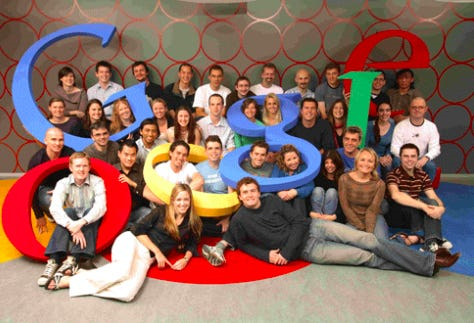 4. Nike
The Nike tagline of 'Just Do It' is known the world over. But it's more than just words on an advertising campaign. It's something the company has baked into its culture through internal marketing.
They deliberately avoid stories of financial successes and concentrate instead on real-world examples of "just doing it". Nike keeps a spirit of innovation alive throughout the company by encouraging staff to share inventive stories.
It's a focus that begins at the top. Several senior executives have an additional title of "Corporate Storyteller."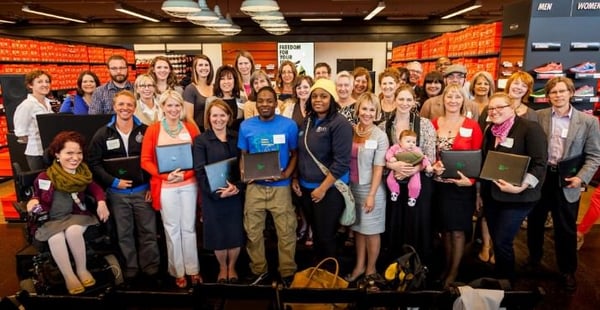 5. AIA Insurance
As part of their mission to transform the way life insurance is perceived, AIA Insurance launched AIA Vitality, a program designed to help people improve their health and wellbeing.
Internal marketing was integral to the program's success. Free access was given to the program in order to create a team of employee advocates to help promote it to the wider market. A range of innovative launch events were created, including the popular 'smoothie bike'.
Did it work? Within three weeks of launch, 80% of employees were actively engaged with the program.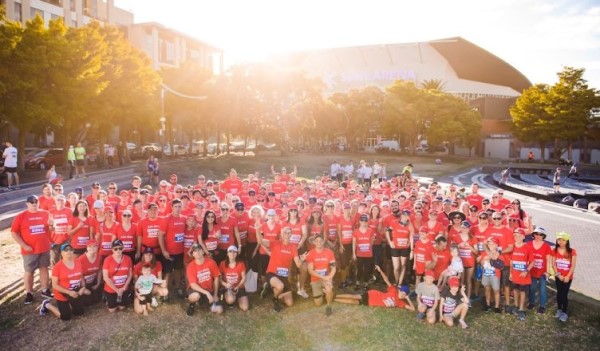 Internal marketing is an essential area for organizations to focus on. By growing employee advocacy, organizations foster greater engagement, more productive workplaces and earn more successful results. Never before has people power been so important.
The SnapComms internal communication platform connects employers with employees through dynamic, multi-format messaging across mobile, desktop and digital signage. Contact us to learn how it could be the ideal fit for your workplace.