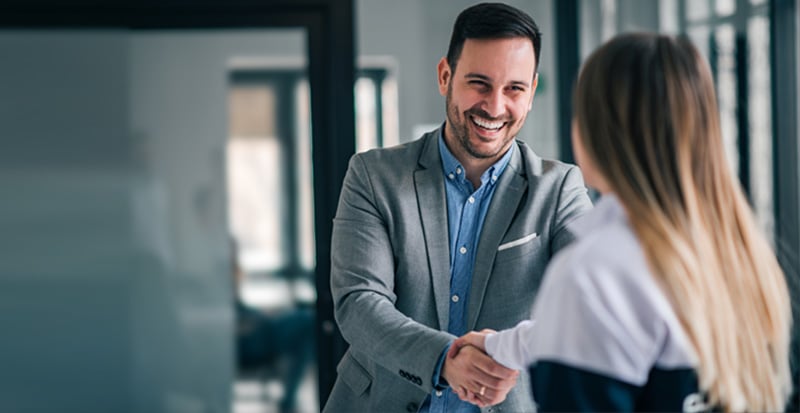 First impressions matter. Whether on a first date, meeting people or starting a new job, a bad first impression is hard to recover from.
But a bad first impression at work causes more than just staying single. It means lower employee engagement, higher dissatisfaction and ultimately greater turnover.
What's the solution? Excellent onboarding. Not just box-ticking onboarding, but excellent onboarding. After all, nearly 70% of employees are likely to stay with a company for three years if they experienced great onboarding. That's important when replacing staff is so costly.
The challenge for HR Managers is introducing new employees in a way that makes them feel welcome and which generates interest across the organization. If this sounds like you, kiss those boring new hire announcement emails goodbye. It's time to take the bored out of onboard!
Below are the 16 best ideas for onboarding new employees, plus examples of great employee onboarding templates and a FREE downloadable checklist.
Jump ahead to what you want to read:
New employee onboarding ideas
Finding onboarding ideas that are creative, fun and professional might seem a tough ask. But it's worth it when a strong new hires onboarding process could improve retention by 82% and productivity by over 70%. Here are 16 ideas for you to try with your next hire.
1. Sign of the times - Use your office's digital signage screens to share your new hire announcement. This is a great way to capture interest when staff are waiting at printers or in common rooms, broadening awareness beyond just the immediate team.
2. And the survey says – Before they start, send new employees a mini-survey with a few quirky questions to answer. Their responses will help make them seem 'real people' and provide a handy icebreaker with existing staff.
3. Sit up and take notice – Grab attention and create a buzz about new staff through a pop-up profile message. Focus on them as a person, not on the role they're filling, and include animation to increase visibility. The employee onboarding templates below are a great example of this.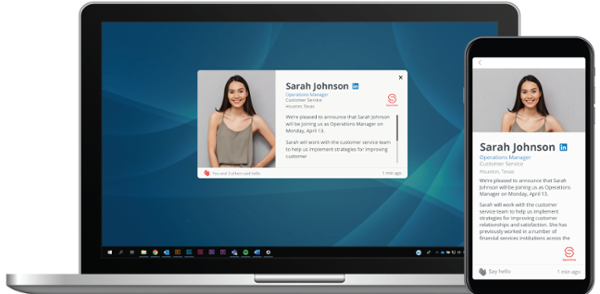 4. A video says a million words – Produce a video overview of the company, featuring your CEO and other key personnel, to bring it to life for new staff. This conveys company culture, adds interest and humanizes those at the top, plus with online tools available today it needn't be costly to create.
5. Cheatsheet – This handy guide should cover the who, what and where for new employees. Key personnel, what each department does, important locations (both physical, like bathrooms, and digital, like the intranet URL), food and retail outlets nearby etc. At SnapComms, our QuickStart Guide includes everything new employees could need to know to hit the ground running.
6. Now screening – Use screensavers to remind new staff of helpful information and reinforce brand values. Guiding positive behaviors creates a domino effect, where employees become brand ambassadors, positive word of mouth spreads and business lifts.
7. How was it for you? – Survey staff on how they're finding the onboarding process. Do this at intervals through the first 90 days – at the end of day one, week one, day 30, etc. This provides reassurance for the employee and a valuable gauge of onboarding effectiveness for HR Managers.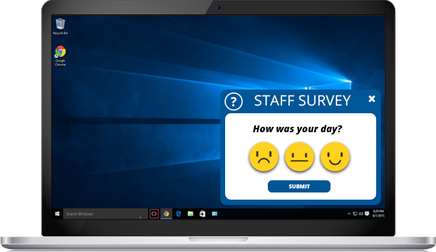 8. Get involved – Encourage participation early to help new staff immerse themselves in the company faster and alleviate that common feeling of being 'useless' early on. This could be reviewing promotional material, doing online learning or suggesting website improvements.
9. Buddy up – Assign new staff an existing employee to guide them in their first week and answer any questions. Having a buddy like this helps form valuable personal connections and reduces any reluctance of new staff to ask questions of their manager.
10. Be app-ealing – Spotlight new hires in your employee app content feed so that everyone in the organization sees, including remote and non-desk-based workers. Encourage new employees to download the app to stay connected and 'in the know' with company news.
11. Food for thought – They say an army marches on its stomach. Well, so do staff. Having a morning tea or off-site paid lunch with teammates on the first day provides valuable bonding time, as well as filling hungry bellies.
12. This time it's personal – A personalized welcome gift waiting on a new employee's desk is a great way to make them immediately feel part of the team. This could be a coffee mug, stress ball, balloons, a welcome card from team members or anything else. Get creative!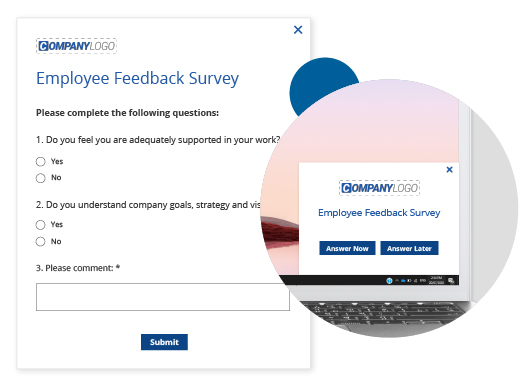 13. Let's get quizzicle – Introduce a light-hearted quiz to test and reward new employees' knowledge of the company, products and even general trivia. Professional services giant Deloitte took gamification to the next level with their zombie apocalypse onboarding game.
14. A welcome surprise – Send a welcome gift pack to the new employee's address before they start, including a company t-shirt, notebook, food, welcome note from the team etc. There's no better way to set things on the right foot straight from the get-go.
15. Hunters and collectors – An in-office scavenger hunt is where new employees need to visit other staff members to collect an item from them. This fun diversion eases the awkwardness of first conversations, as well as helps new hires get to know key contacts in other departments.
16. Checking in – Set regular check-ins between new hires and their manager to help them settle in and address any concerns. One-on-one time with their direct manager is the most important part of onboarding for 72% of employees.

Employee onboarding template
Making your company a more welcoming workplace and championing employee engagement needn't be a chore. Create a fun and consistent ritual of welcoming new hires. This gets the existing team excited and helps them understand what the new employee brings to the table.
The example employee onboarding template below uses a unique and discrete, yet engaging, pop-up notification. It shares the new employee's name, title, picture, profile, LinkedIn profile and any fun facts. Current staff can engage with the message by adding a digital "Hello" to the new starter. Watch the video to see this in action!
This works for onboarding because it's simple but effective. The pop-up message allows employees to find commonality and shared interests to ensure the new employee gets a warm welcome. These templates are available free with the SnapComms Engage package.
View the template in action with a no-obligation Free 30-day Trial
Employee onboarding checklist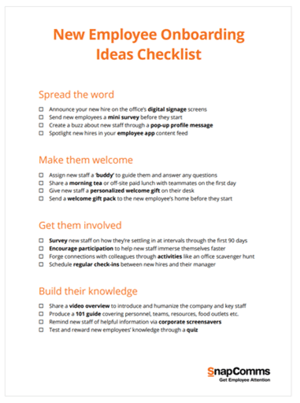 Onboarding new employees means juggling a lot of things.
There are tools and permissions to be arranged, an onboarding schedule to prepare, a plethora of other staff to liaise with and much more. All without overwhelming the new hire such that the first day also becomes the last day!
We feel your pain, so we've put together a handy one-page checklist to take some of the stress away and help ensure nothing is overlooked. Download and use it yourself now.
Download Onboarding Ideas Checklist
First impressions matter so don't let your new employees down. Ensure they receive a warm welcome from their co-workers so that first-day nerves are transformed into a killer career.