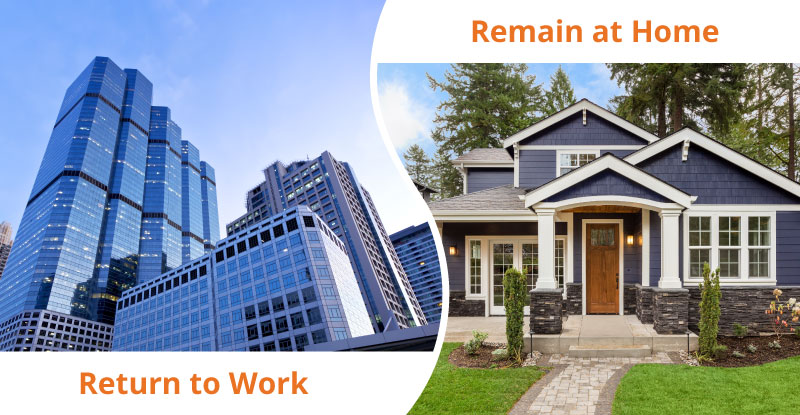 Is your business struggling with the decision between returning to work or remaining at home after COVID-19? Too many factors to consider and don't know where to start?
It's a decision with profound implications for leadership teams and their employees. Will it be a full return, partial return, or a hybrid model with some employees at work and some at home?
For many businesses, working from home has proved an unexpected success. A recent survey of HR Managers revealed near-unanimous agreement of the benefits of remote workers. For employers concerned with how to best keep their employees and workplaces safe, working remotely is an appealing option.
Yet for others, working centrally full time provides the strongest basis for productive cross-functional collaboration. Returning to work promises a faster means of kick-starting business transformation projects and rebuilding workplace culture. A return to work plan with communication checklists is available.
Whatever the decision, it's essential to get it right if your business is to enjoy sustained success and avoid an immediate reversal if the worst happens.

Returning to work template
To help businesses like yours navigate this issue, we've produced a free template for weighing up the pros and cons of returning to a central workplace versus continuing with working remotely. This includes:
Management considerations

Physical workspace considerations

Departmental considerations

Employee, customer, and stakeholder considerations
Based on your responses to each, returning or remaining is recommended. Use this template to help you answer questions such as these:
What's the optimal balance of reward vs risk for your business?

How effectively can your workplaces be configured to meet health and safety regulations?

Are departments equipped with the necessary information and resources?

Under what circumstances will team members and other stakeholders benefit most?
Download your free template: Return to Work or Remain at Home? Considerations for your Business After COVID-19
Note: It is the responsibility of businesses to assess whether it is right for them to return, to weigh up these considerations, and to follow their own local government guidelines. These considerations are provided only as a guide to enable businesses to make the right decision for their circumstances. We encourage businesses to build upon this for their own situation.