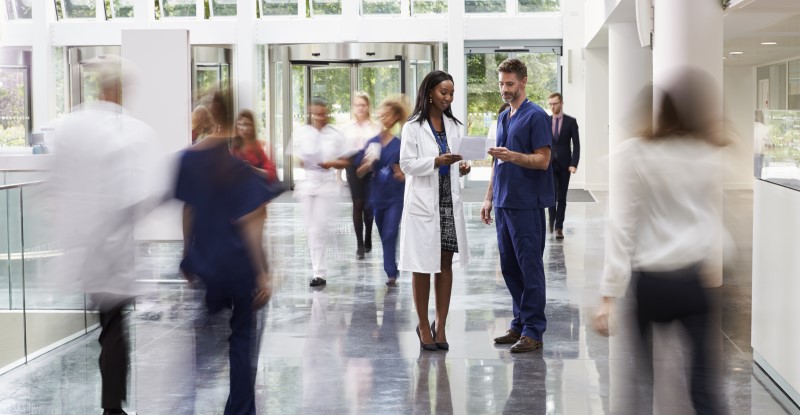 Change is coming to healthcare organizations. But it may not be welcome news to already-overworked staff.
Significant change programs are on the horizon – restructures, mergers and digital transformation. For healthcare leadership, such change is essential for long-term growth and competitive advantage.
Mergers and acquisitions announced in the first half of 2021 were worth US $17.2 billion. Experts predict this will continue, as deals delayed by the COVID-19 pandemic are pushed through.
To keep staff informed and secure their buy-in, organizations need robust change management programs. Effective healthcare communication is essential. When workers don't support change, or actively resist it, success is threatened.
Effective change communications are a key focus for human resources in healthcare. It maintains employee focus, engagement and motivation.
Below are the five key attributes to successful change management in healthcare – and how you can achieve them through communication. Plus get your copy of the essential healthcare communication guide.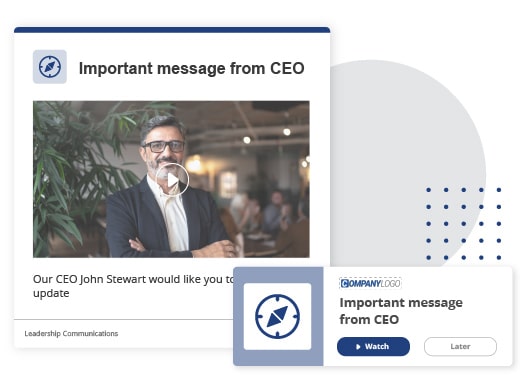 1. Transparency
Be clear with staff about the reason for the change, when it's happening and how it may affect them. In the healthcare industry with large numbers of workers, rumors spread quickly, and unrest can fester.
Clarity of information is important in combatting misinformation. Be as frank as possible. Honesty makes staff more accepting of change, even if it's unpalatable.
Notify affected employees around the change as early as possible, even if some of the finer details are still being ironed out. Letting staff find out through the media is disastrous for morale and will reduce trust in leadership.
Important or time-critical announcements should be delivered through tools like Desktop Alerts, where the on-screen pop-up notifications are impossible for staff to miss.
2. Consistency
Many change programs take months or even years to come to fruition. The potential $12 billion, 22-hospital merger between two Michigan healthcare organizations has been in the wind for some time.
Even with long timeframes, situations can evolve quickly, so it's essential to maintain a regular cadence of communication. Keep staff informed of the current status, what's changed since the initial announcement, and the new timeline for launch.
Provide updates to staff even if there's nothing new to say. Silence can be misconstrued as something more sinister. When it comes to change management, no news is never good news.
Consider creating a regular staff newsletter dedicated to the program. This can collate the latest news, answer common questions and provide a leadership update, all in one easy to read format. Digital newsletters can be sent to staff across all device types, reaching both desk and mobile workers.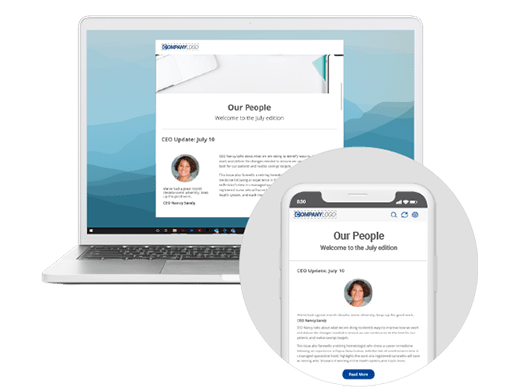 3. Accessibility
Staff appreciate leadership 'facing up' to their decisions. Research in healthcare has shown that facilitative leadership creates more open, collaborative working environments.
Ensure leaders are visible and accessible to staff. Where possible, leaders should be there in person. Face-to-face communication conveys sincerity and authenticity. It helps foster a positive emotional connection between staff and management.
Set aside dedicated times when staff can ask questions of managers and supervisors. These could be in the style of AMA (Ask Me Anything) townhall meetings, where leaders respond to staff questions. Seek questions from staff in advance through an online survey to help ensure leaders are adequately prepared.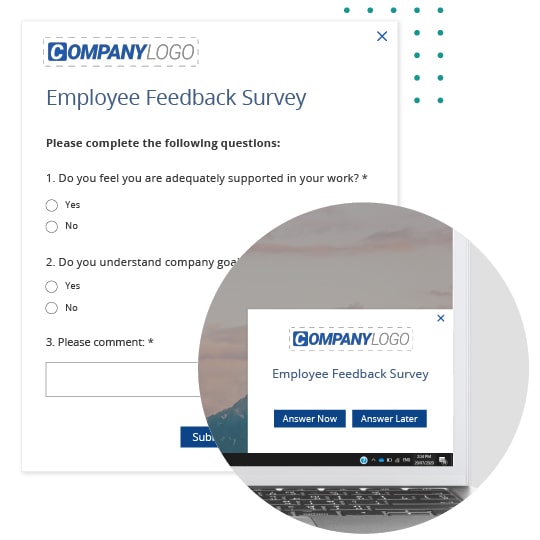 4. Adaptability
The most successful change programs are when both the organization and employees have their needs met. Too often change is derailed when one is neglected.
Familiarize yourself with the employee change curve. This is a sequence of stages people go through when dealing with periods of significant change. The Engage to Excel Change Framework shows how to align organizational and staff needs, and how to overcome obstacles through communication.
Using this approach is important in both maintaining change momentum and fostering a more responsive workplace. Even failed change programs can have lasting impacts, with greater staff uncertainty and increased management fatigue.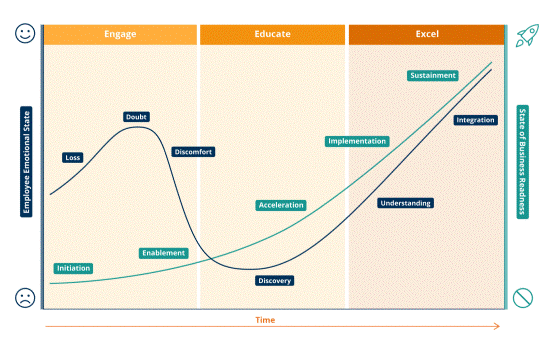 5. Empathy
Healthcare staff have faced a lot of challenges the last couple of years. Patient caseloads continue to be high as a result of COVID. Further change could exacerbate burnout.
Showing sensitivity towards the situation staff are in is essential to avoid any negative impact on patient care. Provide support to staff as they respond to any new change program. Make free, independent services available to them.
Encourage leaders to always be empathic and listen to worker concerns – see the person, not the practitioner. Acting in this way builds a stronger workplace culture and minimizes the risk of staff simply leaving and taking their expertise elsewhere.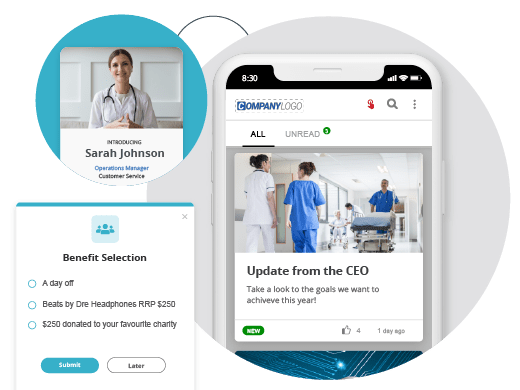 It's said that change is the only constant. Healthcare workers are set to find that this has never been more true. Leaders must step up their communications to address staff concerns and support change success.
Guide to Improving Communications in Healthcare
The SnapComms team have developed an essential guide to improving communication in healthcare and protecting patient care. It's designed to work in hospitals and healthcare facilities of all sizes and locations.
The guide includes:
Communication breakdown – insights on today's healthcare workplaces

Operating with efficiency – the link between communication and care

Multi-channel comms – tips for optimizing channel selection

The Communications Spectrum – a template you can use immediately

The Communications Spectrum is a strategic framework for today's successful healthcare communicators. In practically aligning organizational objectives with patient outputs, it provides a powerful tool for driving your communications performance.
Download your free copy now.