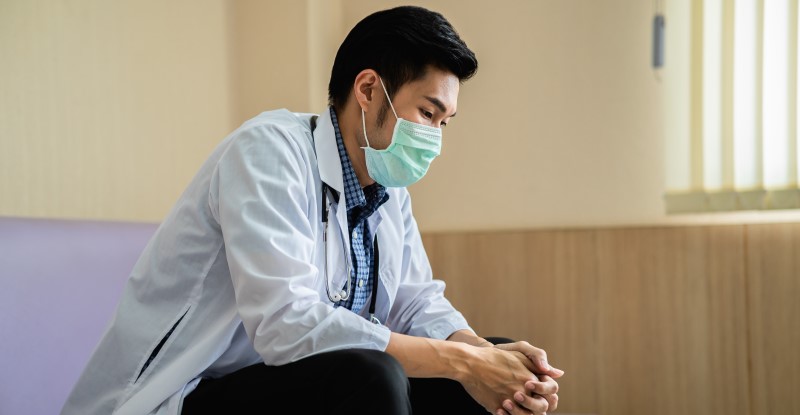 Healthcare faces a crisis. Confronted with the immense ongoing pressures of their job, workers are burning out. Their wellbeing is low and their vulnerability high. Employees are leaving in droves. Employers must introduce change to stop our healthcare heroes from becoming healthcare martyrs.
A study by Mental Health America revealed that 93% of healthcare workers reported stress in the past three months, and 76% experienced burnout and exhaustion.
The symptoms of burnout are readily apparent. Emotional exhaustion, personal detachment and low feelings of professional achievement. This is exacerbated in healthcare because of the unique stresses of the environment. Workers are regularly dealing with distress from both patients and colleagues.
Many in the industry see resigning as the only option. One Canadian study reported half of all nurses surveyed intended to leave. At a time when the need for health services has never been greater, this places the entire industry, and patients, at significant risk.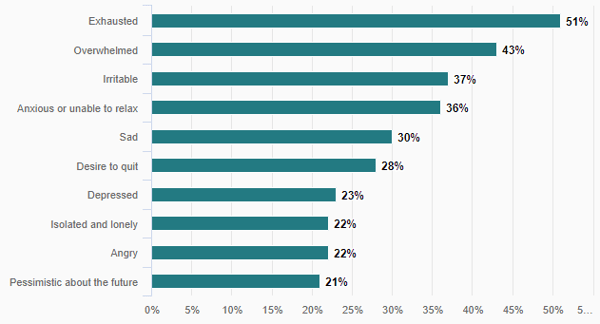 (Top Negative Experiences for Nurses: Source)
Across the world, providers and hospitals are grappling with how to address the emotional and mental toll on workers and reduce healthcare burnout. Achieving this is essential to retain staff, reduce errors in patient care and improve performance.
Communications in healthcare can play a valuable role in strengthening the connection between employees and employers. The following examples demonstrate five ways that managers can harness their internal communications to support employee wellbeing and reduce burnout.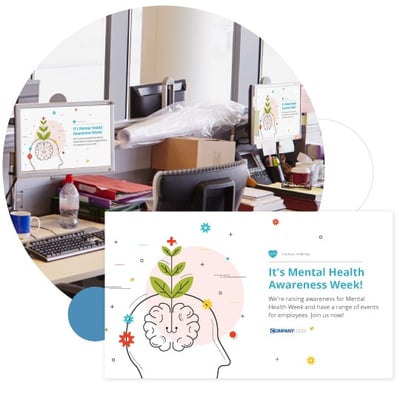 1. Protecting Mental Health
While many healthcare workers suffer exhaustion and anxiety, most don't seek out professional mental health support. That's the finding of an American Nurses Foundation survey on the impact of the COVID-19 pandemic.
Doctors and nurses are overworked, stressed and struggling with depression, but in devoting themselves to the care of others, many neglect to also look after themselves.
The solution goes beyond simply circulating emails in praise of their work or holding "healthcare heroes" celebrations. Those in the industry believe there should be more focus on eliminating the stigma around mental health issues.
Communication channels can be powerful agents for positive behavioral change. Computer screensavers or staff notice boards can be used to promote positive messages about seeking help when needed. Staff must be assured that feeling the way they do is normal. They're not alone. And it's okay to ask for help.
Make sure workers are aware of the resources available to them, whether internal specialists or external agencies. This not only reminds them that such avenues are open, it normalizes the need to reach out.
2. Improving Processes
The administrative burden faced by clinicians is a significant contributor to burnout rates. Workers are overwhelmed by the volume of work transacted in urgency through often outdated and cumbersome systems.
This is a problem that predates the pandemic. In the Medscape National Physician Burnout & Suicide Report 2021, 79% of the more than 12,000 physicians who responded said their burnout began before the pandemic.
Improvement of processes can reduce a significant area of stress which distracts staff from more important areas of care. Experts suggest giving clinicians more flexibility in their schedules. This makes staff better able to balance work responsibilities with family or community commitments.
Employers can identify opportunities for process improvement by asking staff, either directly in face-to-face meetings or anonymously through online surveys. Having some level of control over their working environments empowers workforces. Staff own the job – the job doesn't own them.
3. Demonstrating Leadership Support
Feelings of frustration and burnout are exacerbated when employees feel neglected or unsupported. Left unaddressed, this can quickly develop into a disillusionment with the job which undermines performance and patient safety.
Endorsement of value from line management and the executive leadership team is essential. Studies have shown the relationship between the leadership qualities of immediate supervisors and burnout levels of healthcare employees.
Leaders must demonstrate regular, visible, genuine support for their staff. Open and accessible leaders who walk the wards and interact with staff minimize any sense of faceless executives removed from the reality of daily healthcare.
Video messages from management provide a digital alternative when in-person communication isn't possible. Staff can be updated on issues of interest to them and hear about what management are doing to help them in their jobs. Conviction and sincerity can be conveyed better than via a cold corporate email.
4. Introducing New Technology
Technology presents many benefits, but the process of introducing them can destabilize workplaces. Poorly designed electronic health record systems were linked to accelerated clinician burnout, according to an American Public Health Association study.
Nursing staff are especially affected. Research found that nurses working with systems that had poor usability were 41% more likely to experience burnout, 61% more likely to be dissatisfied with their job and 31% more likely to want to leave their position.
Departmental training, personalized coaching and ongoing support are critical components of any digital transformation project. More knowledgeable, confident and better-equipped staff are not only less frustrated, but also less likely to make compromising mistakes.
Build staff engagement into any technology release, ideally well in advance of go-live. Ensure all staff participate in training programs, regardless of their department or location. Test their understanding with online quizzes to verify effectiveness.

5. Promoting Healthy Practices
Healthcare employers have a role to play in encouraging staff to adopt healthy practices and introducing workplace initiatives to enable this.
Some companies have provided a $750 wellness stipend as an incentive to take five consecutive days off out of their vacation days. Others have launched "refresh days" to ensure staff have dedicated time to recharge.
Wellness for remote workers has been addressed by "no camera days" to limit screen time and "no-meeting days" for focused work.
Internal communications publicize these initiatives and remind staff of the importance of attending to their personal wellness. Animation alerts can be sent to pop up on employees' computer screens to remind them to stay hydrated or take breaks. Employee communication apps can deliver similar messages to ward-based staff via their mobile devices.
Employee burnout isn't an issue to be taken lightly. Healthcare communications are only a small part of the solution.
But in raising awareness of resources and support available, and encouraging an open dialogue between management and staff, it can help foster an environment where staff want to work and where patients receive the best possible care.