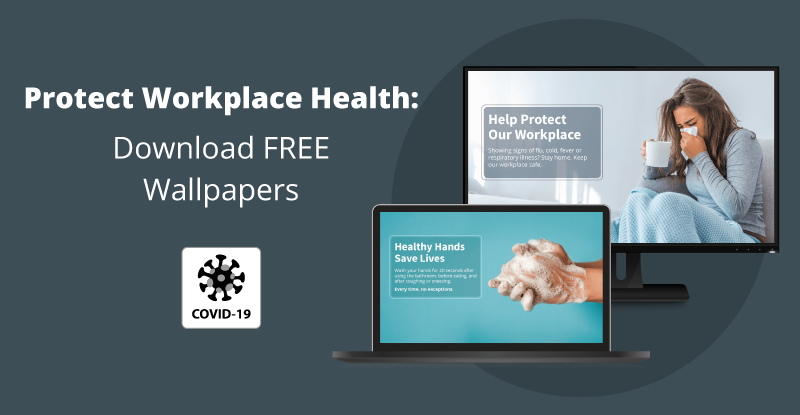 As the COVID-19 coronavirus continues to spread across the globe, it's critical that everybody take precautions to keep themselves and others safe.
Businesses play an important role in this - communicating to staff the best ways to stay healthy and protect workplace wellbeing. Coronavirus communications must be done accurately and sensitively, to inform staff without scaring them.
Recommendations from health authorities are that following some simple practices will provide greater protection against contracting the virus.
We've created some free wallpapers to help businesses communicate simple health and wellness messages to employees. These are available free to use - you don't need SnapComms software. Just download the designs you want from the links below.
If you're a SnapComms customer, you'll also be able to use new message templates to help you communicate with staff around the coronavirus. A series of Alerts, Tickers and Screensavers offer pre-configured content ready for you to use immediately.
We've also summarized some tips for improving workplace wellbeing, following recommended best practices from health officials.

Looking for more resources, tips and templates? Visit our Coronavirus Communications hub.
Download wallpapers:
Mental health and wellness wallpapers:
Get active wallpaper option 1 | option 2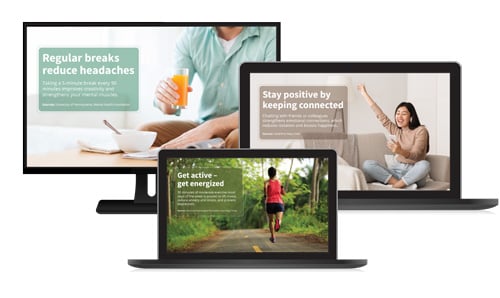 Instructions:
If you're a SnapComms wallpaper or screensaver customer, upload the images in your SnapComms Content Manager and publish to all staff. View the user guide for creating wallpapers.
If you aren't a SnapComms wallpaper or screensaver customer, set these images as windows screensavers on your internal screens.
Alternatively you can start a free 30-day trial of SnapComms to try these wallpapers and screensavers for yourself. You'll also get access to a range of other pre-configured message templates created specifically to support organizations communicating during this time - from leadership updates and working remotely to compliance and cyber security.