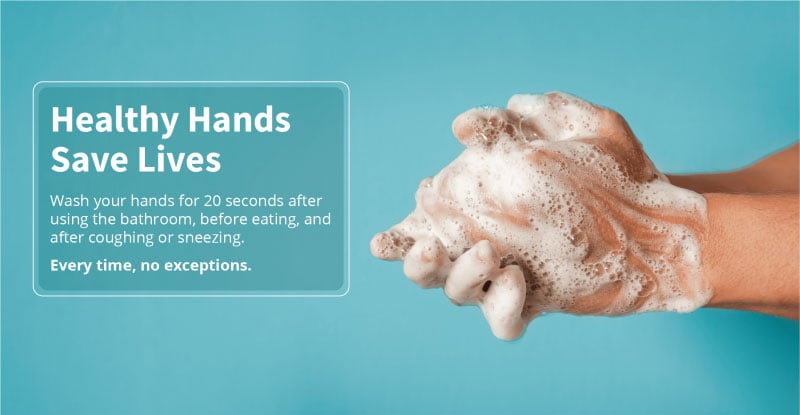 Personal health is in the spotlight more than ever. The coronavirus is the latest global health crisis, contracted by more than 80,000 people and resulting in loss of life.
But the coronavirus is only the latest in a series of epidemics which have occurred. In addition, hundreds of thousands of people continue to be affected every year by the flu. The effects of these are felt directly in our workplaces.
Education is the best protection – and employers play a critical role.
A focus on employee health is proven to benefit both employees and the business, in reduced healthcare costs, lower absenteeism and increased productivity.
To be effective, employee wellness communications must engage staff with the issue and inform them of the best ways to protect their safety and maintain a healthy workplace.
Here are five practical things you can introduce in your workplace today.
1. Educate on travel precautions
Ensure staff leaving to go on holiday are aware of the right health precautions to take. This includes avoiding contact with people showing symptoms, carrying health consumables (such as hand sanitizers and face masks) with them wherever they go, and staying away from large crowds of people.
Summarize your helpful tips in a list and make these available to staff – a handy downloadable checklist is a great way to do this.
For employers, forewarned is forearmed. Instruct managers to keep track of their employees' travel movements, both for leisure and business, especially if visiting any known contagion hotspots. This will help manage the risk to employee safety following any future outbreaks.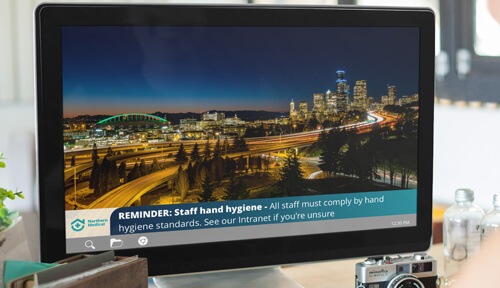 2. Promote healthy practices
Publish highly visible reminders on common health threats, such as door handles and computer keyboards being key breeding grounds for bugs. Promote the benefits of healthy hygiene practices, like regular handwashing and sanitizing. This is especially critical in high-risk industries such as healthcare, where every breach can have serious implications for patient care.
Promote these as part of your company culture through highly-visible corporate screensavers on every screen and digital signage in shared spaces. Involve your designers to produce eye-catching infographics which deliver employee safety information in engaging, bite-size snippets.
It may seem common knowledge, but seeing the message multiple times is proven to boost staff awareness and influence behavior change. And everyone needs a reminder every now and again.
3. Equip staff with the tools to stay safe
Ensure staff have both the materials and the knowledge to protect their health. Make hand sanitizer and antibacterial wipes available in all your locations and encourage their use.
Keep your company intranet up to date with current workplace safety and health policies, infectious disease protocols, hygiene standards and travel advice. Maintaining a central resource like this helps raise awareness and compliance among employees.
Your content needn't only be cautionary policies though. They should also benefit employees, such as a provision for working remotely when necessary. Today's digital workplaces make this easy to arrange, allowing productivity to continue without introducing any threats to wider workplace health.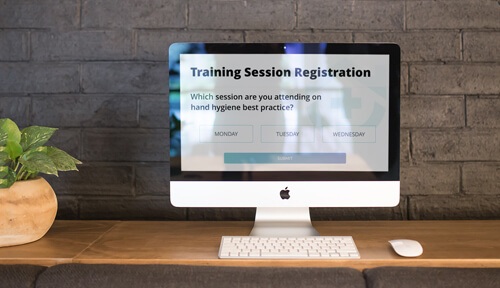 4. Discourage presenteeism
Discourage the tendency towards "presenteeism", or coming to work when knowingly sick.
Presenteeism doesn't just risk the wellbeing of colleagues, it also represents a huge economic cost. The American Productivity Audit estimates that presenteeism costs the US economy $150 billion in lost productivity every year.
Remind staff of the annual company allowance for sick days at the beginning of winter or flu season, or whenever a major event like the coronavirus occurs. Even better, provide staff an update of how many sick days they have remaining such that they're not conserving days needlessly.
The message is that sick days are there to be used – don't bring bugs into the workplace if you know you're unwell.
5. Provide more information
No internal communications campaign can cover everything, so provide guidance on where interested employees can find out more. Reputable health websites can provide further information for staff concerned about the risks or their own symptoms.
Insert links to these websites in all your communications, including digital channels such as screensavers (from which staff can navigate directly to the site).
Examples of good online resources could include:
Local government travel advisory updates
Your HR Manager should maintain a list of useful, trusted websites as part of the company health and wellness program.
The coronavirus has shown again that diseases can spread fast, even before their symptoms show. For the best protection, it's essential to act immediately – and correctly. Following these simple steps will help protect employee safety and a healthy workplace, whatever is just around the corner.