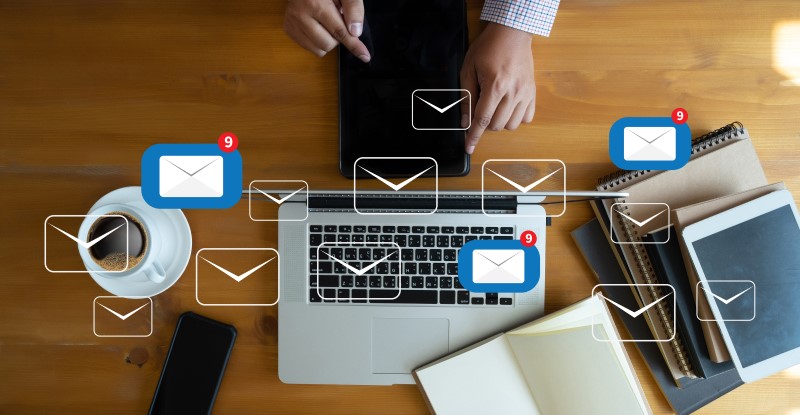 When was the last time you saw someone drive around in a horse and carriage? Or live in a thatched hut? Or phone friends on a chunky Motorola DynaTAC 8000X?
These were all great things in their day, but the world has moved on.
It's the same evolution with corporate emails. Once the mainstay of internal communications, they've become increasingly ineffective at engaging staff in modern workplaces.
Open rates are only around 18%, while click-through rates languish at 2.6%.
What's behind the fall of this once-mighty giant? We've dug beyond the numbers to unearth the reasons why so many company emails fail - and what the email alternatives are.
Read on or download our summary infographic.
1. Inundated inboxes
Every day, an average of 122 emails are received by every employee. Email inboxes grow by the minute as staff are inundated by messages – often of low (or no) relevance. As a result, staff get 'message wear-out' and emails get ignored.
2. It's about time
There's no guarantee when staff will see a message – hours, days, or even not at all. It's too easy for staff to miss emails. Timing and delivery is unpredictable. Messages get auto-filtered into sub-folders. Emails quickly drop down the inbox as new messages arrive.
3. Out of office
The workplace of today is changing. Remote staff, virtual teams, and mobile workers are all on the rise. By 2024, 60% of the US workforce will be mobile workers. Email's low engagement and lack of mobile optimization means these staff miss important messages – and internal communicators can't rely on the channel.

4. Not making the grade
Consumer comms are dynamic and visual – but email no longer makes the grade. Outside of work, staff receive digital content in appealing, visually-rich ways. They expect this richer content experience in the workplace. The flat, tired quality of email doesn't stack up, and staff engages less as a result.
5. Shot in the dark
Consumers need multiple message exposures for the information to cut-through – up to 10 times. Integrated, cross-channel communications are far more effective. As in advertising campaigns, using a variety of formats helps reinforce messages and build momentum. The 'one and done' nature of emails lessen the likelihood of being heard.
6. Get to the point
The long-form nature of emails is at odds with the current preference for concise, bite-sized info chunks. Consumers' reading habits have changed. They're now skimmers of text, snackers of content. Delivering short bursts of highly-focused information aligns with them far better than long-winded emails.
Email has its place but when it comes to engagement, new tools and strategies deliver far greater results.
The SnapComms platform of dynamic, visual tools bypass email to truly engage employees – wherever they are, whatever device they're on. From urgent notifications to awareness and behavioral change, SnapComms helps internal communicators like you get employee attention.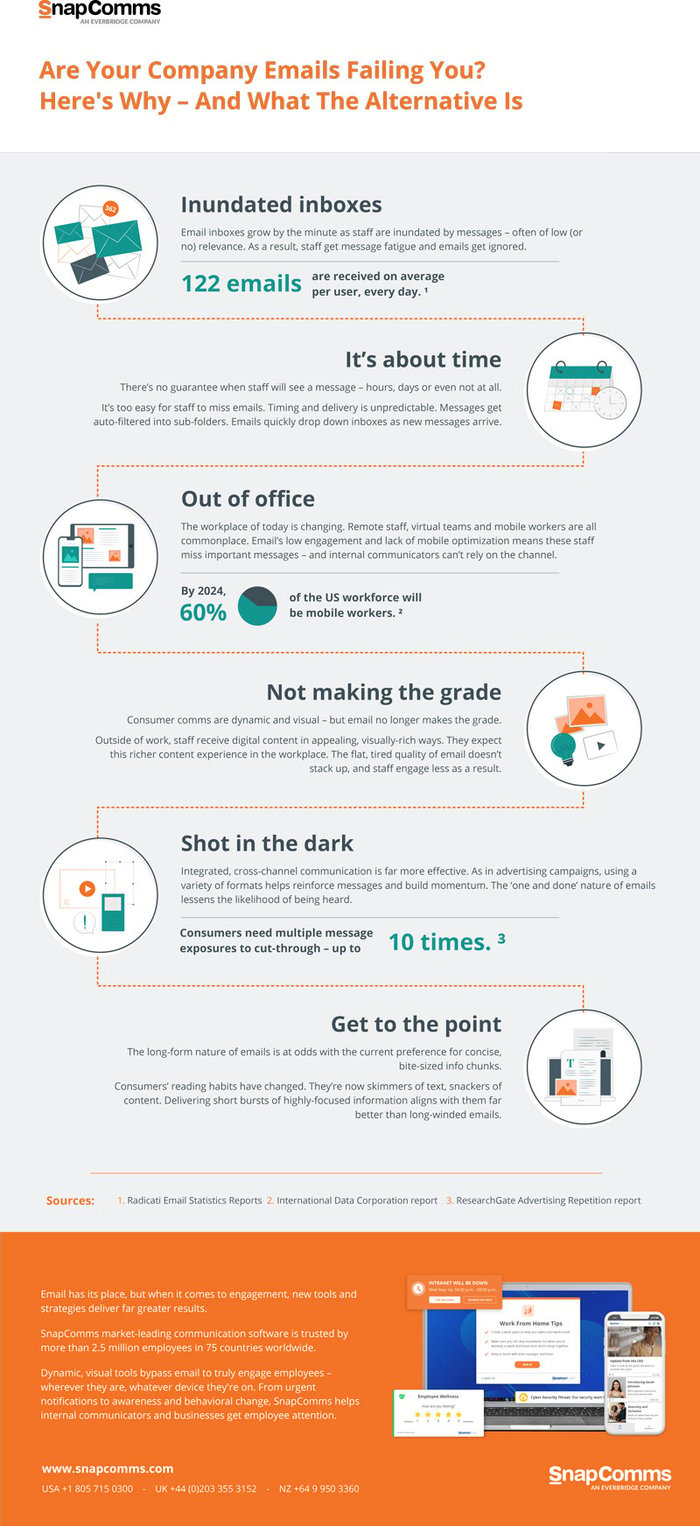 Are emails letting your company down? Are you sending lots of business emails but staff still aren't getting the message? If so, your internal communications need an upgrade.
SnapComms offers the full communications mix in one platform, including high-impact channels which guarantee 100% cut-through.
See our platform to learn more or contact us for a chat about improving your employee communications.
Share this Infographic On Your Site