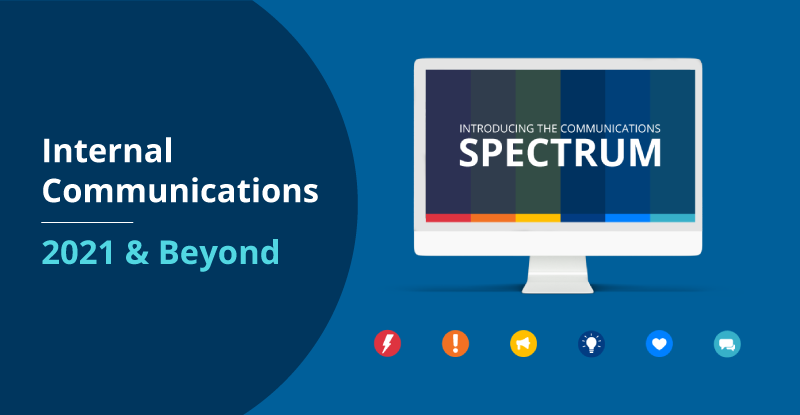 2020 was a massive year for internal communications. Never before have businesses across the world relied so much on the power of communications to keep their staff informed, engaged and inspired – all while a major crisis unfolds around us!
But the communications environment for the rest of 2021 and beyond will look very different.
Traditional ways of communicating won't cut it. In the past, staff have been flooded with messages through a single channel. Urgent and non-urgent messages blend together without a way to prioritize which are most important. Every piece of communication is competing for employee attention.
You've probably heard the stat from Towers Watson that half of all internal communications aren't read. If your communications are in the 50% of messages that staff aren't reading, your efforts are wasted. More importantly, messages don't get through, the effectiveness of the channel is diluted, and business performance is compromised.
It's time for a new approach. One that matches internal communication best practice with business strategic goals. For the full story, download our comprehensive guide.

Internal Communications and the Future of Work
You might have seen in the news recently that Spotify is one of the companies to introduce a 'Work From Anywhere' model, where staff aren't required to work from a centralized office.
Other companies haven't gone quite this far, but are instead moving to a hybrid model, where staff work partly at home and partly in central offices. For example, at JP Morgan employees can work from home on some days, but not on Mondays or Fridays.
Many businesses are also restructuring their teams and introducing new processes to better align their business for what it needs to be successful in the post-COVID world.
Internal communications will need to enable this future of work through clear and authoritative messaging. It must build trust in leadership, rebuild workplace culture, assuage the concerns employees will have, and above all it will need to be effective – communicators will need to be able to guarantee employee readership.
For communications professionals, this means recalibrating your communications strategy to optimize performance. It means constructing messages in a way that maximizes readership and delivering them in the channel best suited to what you need to achieve.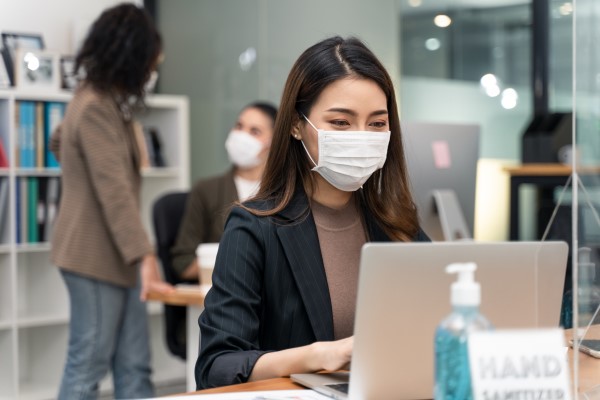 Communication Priorities for 2021 and Beyond
Communication is the biggest influence on transformation success. At companies where management communicate openly about the transformation's progress, employees are 8 times more likely to report a successful outcome, according to a Quantum Workplace study.
That's critical at a time like now when businesses are continuing to go through changes. If employees aren't kept informed about what's happening and aren't invested in making it a success, the change is doomed to failure. Employees will disengage, productivity takes a dive and the whole company performance suffers.
In the chart below we've identified four key areas internal comms needs to focus on now.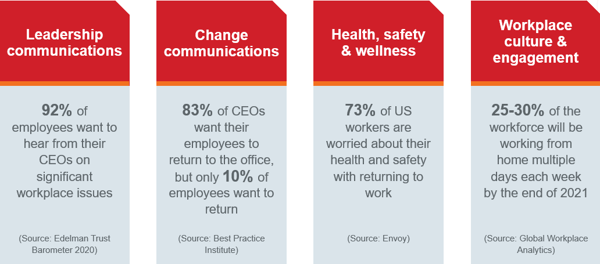 It's clear that Internal Communication Managers will need to wear a lot of hats this year. Messaging will serve many different purposes. They will need to be delivered differently, reach staff differently and achieve different outcomes. And it's why you need a new approach to improve internal communication success.
A Communications Framework for Business Improvement
The Communications Spectrum is a framework that aligns business objectives with workplace outputs. It integrates fully into your wider internal communication strategy, defining the critical pathways linking objectives, communications channels, execution and results.
The Communications Spectrum takes the messages we need to send, and considers the characteristics of each channel, to understand which method of communication is appropriate for each. The messages you need to send are matched with the channel most optimized for success.
The tiered format of the Communications Spectrum reflects the hierarchy of business decision-making and communication. Business requirements are defined (top layer), which are translated into communication needs (middle layer), before being communicated to staff (bottom layer), who then respond accordingly. A failure in any of these steps undermines the success of the entire process.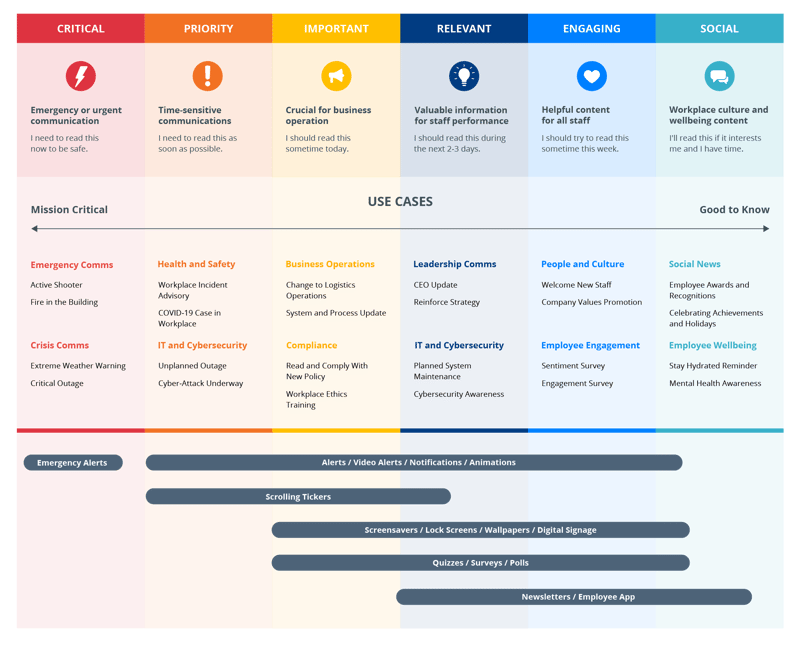 You can see in the chart a number of reasons why we communicate with employees. These use cases have been grouped into familiar categories such as emergency comms, health and safety, and business operations.
All these use cases are plotted in a continuum that ranges from mission-critical communication that needs to be intrusive, to good to know messages that should be unobtrusive and not interrupt staff.
Critical messages need fast cut-through for important information so staff can act now, whereas social messages drive behavioral change, build company culture and support employee engagement.
The Communications Spectrum in Action
Let's bring this to life with some internal communication examples for specific use cases along the spectrum.
1. Critical: We have a fire warning and staff need to evacuate immediately. This is delivered in a full-screen Alert with a red hazard outline to give it the highest visibility.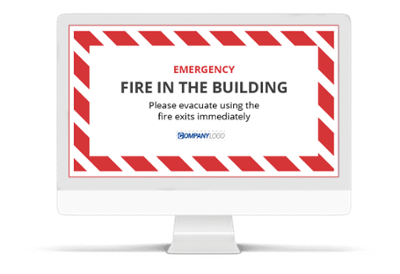 2. Relevant: This is a very common type of message at the moment – a leadership update. The CEO has recorded a short video message on the state of the business, which all staff should see. It's being delivered as a Video Alert which pops up on employee computer screens.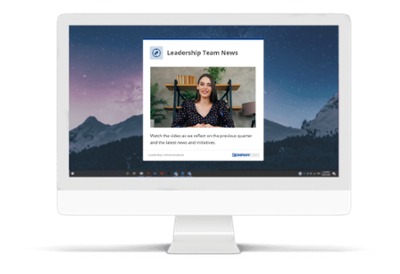 3. Engaging: This employee health check survey is extremely important as staff begin returning to workplaces. We need to know if anyone is feeling unwell in order to keep everyone protected. How are staff feeling? Do they have any symptoms of illness? Staff surveys are ideally suited for capturing this essential information.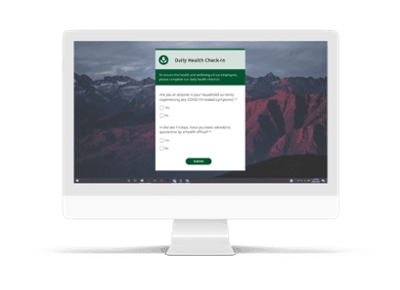 With the evolving future of work and all the changes this will entail, there will be a range of communication objectives across your organization, all with very different messaging needs.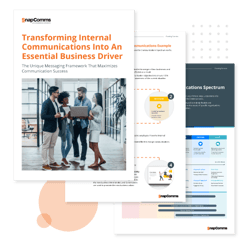 The Communications Spectrum is an essential communication tool for organizations to reach and engage employees more effectively. The guide 'Transforming Internal Communications Into An Essential Business Driver' includes more research, tips and examples your internal communications team can use. It also features the full Communications Spectrum framework.
Download the guide now through the form below – and improve your internal communications.