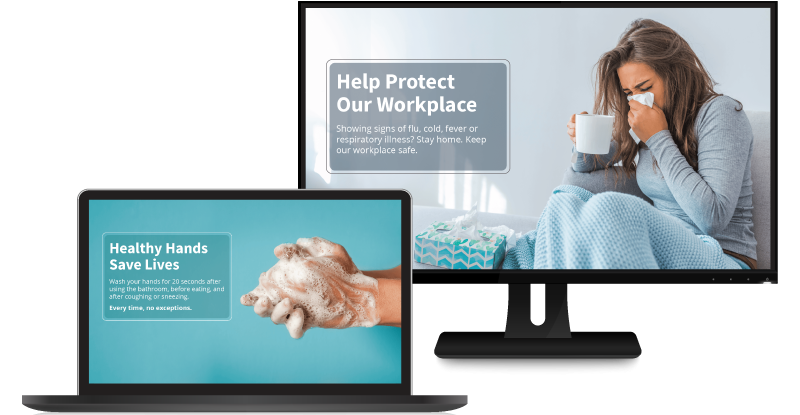 If you're familiar with marketing, you'll know the 'rule of seven'. It's the old adage that people only remember a message when they've been exposed to it seven times.
A similar principle applies for internal communications. Messages are most effective when they're reinforced. Digital channels plus with eye-catching designs equal high cut-through.
Corporate desktop wallpaper is a simple but effective channel for reaching staff with company messages. Non-intrusive but with high repetition, wallpaper messages embed themselves in employees' minds.
Staff become more knowledgeable and follow correct processes without even being aware of it. And it's a tool virtually any organization can use. For the power of passive persuasion, look no further than corporate wallpapers.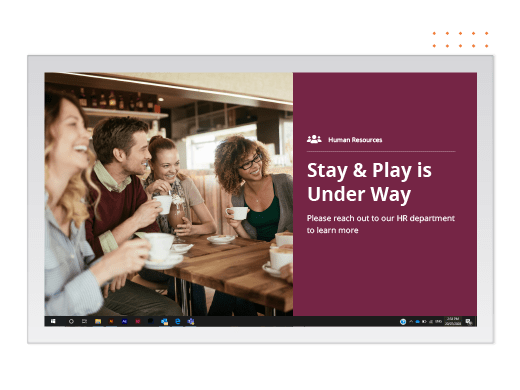 The Benefits of Wallpapers
Company wallpapers are an effective way to communicate with employees without disturbing their workflow. Every time they view or access their computer desktop is an opportunity for your important messages to be read.
While emails are easily missed, and collaboration tools are cluttered with content, wallpapers are clean, simple and able to be understood instantly. They're also easy to deploy, reducing the need for IT involvement.
They can be used for a wide range of communication objectives:
Awareness – make staff aware of important company updates, change announcements, product launches and coming events

Engagement – improve workplace wellbeing, culture, commitment and productivity

Reinforcement – promote training sessions, updated policies, company values, strategic goals and achievements

How to Create Corporate Wallpapers for Desktop
You don't need to be a design ace to create great corporate wallpapers for internal communication. There are some free websites available which do a lot of the work for you.
Canva is a communicators' dream, offering thousands of beautifully designed templates across a range of themes. There's a free plan for individuals and those part of only a small team.
Pexels is your go-to for high quality images to add wow factor to your wallpaper. The range of corporate photos will suit just about any business topic or team.
Content creators can set wallpapers up easily in the SnapComms platform. Imagery can be created in the Designer Canvas and targeted to appear on some or all employee screens. Alternatively, designs can be created in separate tools like PowerPoint and imported into SnapComms.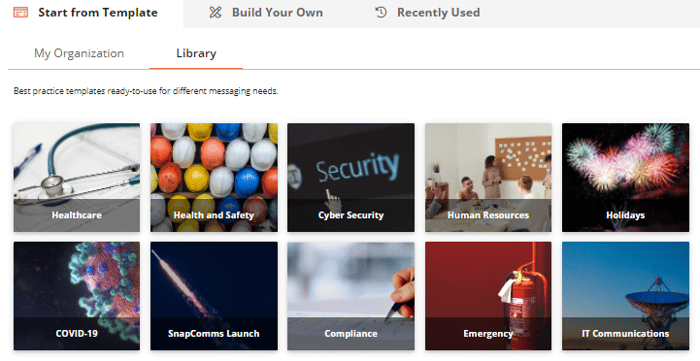 Corporate Wallpaper Design Tips
Creating effective wallpaper messages needn't be hard work. Here are five tips to follow to ensure your content is most impactful.
Change wallpapers every two weeks. This timeframe is long enough for employees to soak up the message, but not so long they start ignoring it.

Make your content 'snackable'. Use headlines with fewer than seven words, only one sentence of body text, and bold imagery.

Use keywords in your heading. This helps employees quickly recognize the topic of the message (such as a leadership update, training reminder or business tip).

Use color-coding for different themes. For example, green for ESG communications, yellow for compliance, red for important issues, blue for IT and cyber security, orange for general announcements, and so on.

Ensure best image resolution. The optimum image size varies, however the most common screen resolution used on desktop is 1920 x 1080 or higher.
For more tips, see our full list of 44 internal communications best practices.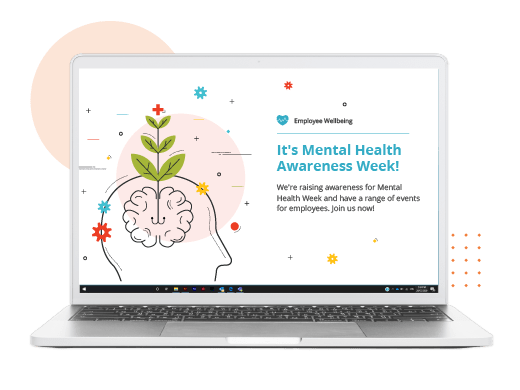 10 Corporate Desktop Wallpaper Ideas
Now that you know how to create your own wallpapers, and the tricks to make them most effective, let's look at some examples of how to use corporate wallpapers in your workplace.
Change announcements – In times of change, like restructures, mergers or office moves, there's a lot for staff to remember. Wallpaper messages can remind them of important information or town hall meetings they should attend.

Work anniversaries – We all love good news, so recognize employees who have reached work milestones through celebratory wallpaper messages.

Motivation – A healthy dose of inspiration is just the tonic to get employees motivated for the day. Create inspirational messages that relate to your company values and mission, right there on computer screens when employees log in.

Training – Ongoing education is a key part of employee development. Wallpaper messages can be used both before and after training sessions. Remind staff of forthcoming sessions and reinforce learnings from past events.

Health and safety – As many organizations return to centralized working after COVID, keep employees safe by enforcing workplace safety. Create memorable wallpaper designs to communicate best practices (like the importance of handwashing, new safety policies, how to handle incidents etc.).




Wellbeing – In our busy lives we often don't take the time to look after ourselves as well as we should. Encourage positive physical and mental health with wellbeing tips and information about resources available to employees.

Workplace culture – Build a feeling of teamwork, trust and connection with images of company events or team building days. Remind employees of what we're all working towards with vibrant wallpapers summarizing company value and mission.

Awareness days – Holidays and special events throughout the year are great opportunities to bring everyone together. Spread awareness about days or causes that matter to your organization. For example, Black History Month, Pride Month and so on.

Employee recognition – Who's gone above and beyond recently? Who's gained an important certification? Which team has smashed their objectives? Recognize employees or teams who have earned promotions, received praise or achieved awards.

Events – Promote upcoming events or display a static event calendar so employees know what's happening during the month and are encouraged to get involved.

Corporate desktop wallpapers are an effective employee communication tool. The SnapComms Wallpaper offers full flexibility in design and format, to get employee attention and raise message awareness. Find out more by visiting our corporate wallpaper page or exploring our platform.