We're all suckers for cool brands. Perhaps that's because we hope some of their coolness might rub off..
But if your organization hasn't yet made it on to the shortlist of the world's best brands – think Amazon, Apple & Google - fear not.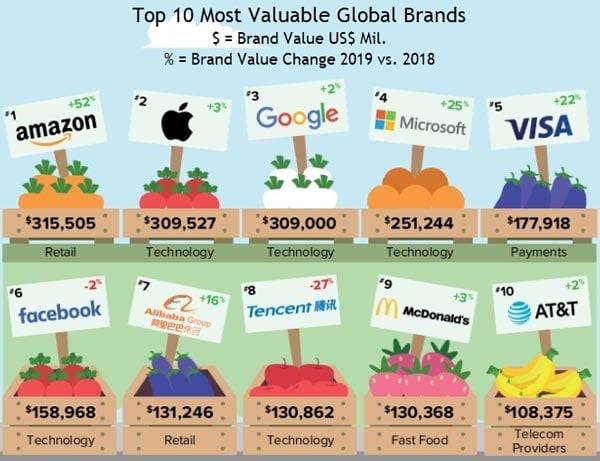 Global Top Brands 2019
The good news is there are lots of ways to get employees to back your brand, authentically and enthusiastically – and you don't have to be hipster!
Having worked with multiple brands throughout the years, we've learnt a thing or two about what works and what doesn't in internal brand engagement.
From hospitals to large enterprises, major banks to the armed forces, we've helped many internal communicators meet the challenge of brand engagement. So we've taken these insights and created the following tips to help develop your internal brand communication.
Here's 6 tips to develop your internal brand:
1. Two are better than one
Don't let the marketing team have all the fun! The best examples of employee brand engagement are when internal communicators and the marketing team come together.
Agree on how to get staff involved with the branding process from the outset: a good starting point is to run a series of joint workshops and/or quizzes to discover how staff currently feel about your brand.
Invite staff to complete a brand spectrum survey (see example below) to see how current and desired perceptions match up.

An effective workshop or survey idea is to ask employees to choose from a selection of images and words that they believe best define the brand. Open-ended questions, such as 'what makes us unique', or 'describe our brand to someone you've just met' can return incredibly honest and insightful responses.
Remember to play these back to staff later, as this shows their opinions count and reinforces engagement.
These initiatives are great for uncovering your brand DNA, and for identifying areas of focus.
2. Frontline to the fore
Be sure to capture frontline staff feedback. These employees are highly influential as they interact with customers regularly, and are the personification of your brand.
They're also the most likely to have an accurate picture of how the organization is currently perceived.
With some simple internal communication tools, you can capture their important insights without taking staff away from their day job – often an operational concern. Staff surveys can be sent direct to employees devices and completed during downtime.
3. Corporate narrative that's simple and memorable
In other words, make the brand story easy to understand and easy to repeat. This helps your staff understand how they can influence people beyond what's listed on their job description, and unites them behind a common purpose i.e. your strategic objective.
When creating your corporate narrative (also known as brand story), resist the urge to incorporate a long list of brand values. It overwhelms and bores your staff. This is a common mistake when trying to keep multiple stakeholders happy. The challenge is usually not what goes into the narrative, but what is taken out.
Once you have a tight corporate narrative in place, you can then start to plan: a) how to deliver the message; and b) how to ensure you've got the attention of employees. This leads on to the next point: how to get your message noticed.
4. Get employee attention
Be mindful that email overload is one of the biggest challenges facing organization's today. That means there's a high risk your beautifully written email gets overlooked among the inbox clutter.
These days, the best internal brand campaigns are those delivered creatively, using a variety of formats such as video, screensavers, desktop alerts, internal launches and more. Include plenty of feedback and opportunities for conversations too, for early detection of perception shifts.
Take into consideration how your employees consume content e.g. on mobile devices, in open plan offices etc. Also plan for different learning styles e.g. visual (spatial) using pictures; verbal (linguistic) using speech and written documents.
5. Celebrate your brand heroes
Showcase those employees who demonstrate brand values. This helps others understand the type of behavior that supports the brand intentions, and see the connection between their own work and your organizational strategy.
Video vignettes are perfect for this – and add an element of fun to your company culture. Encourage staff to nominate their brand hero colleagues to feature in these videos. Make sure the story loops back explicitly to the value being demonstrated, and promoted internally as such.
Here's a great example of a bank using video to instill trust and engage employees, which fits perfectly with their brand engagement strategy.
6. Keep the brand alive through reinforcement messages
It's vital to keep the momentum going with regular brand reinforcement messages.
Take a leaf out of your marketing friends' book and develop an 'advertising campaign' approach. Once the narrative is established, create a series of on-point messages across different channels. For example, your brand hero videos can be delivered via a desktop video alert. Reminder messages about your corporate narrative can be reinforced via a screensaver or corporate desktop wallpaper.
These types of communications can be sequentially drip fed and repeated over time as an internal campaign to boost recall.
Finally, remember that internal brand engagement is not a 'set and forget' task. Allow and encourage adaptation to your brand over time by capturing staff feedback and assessing engagement levels through online quizzes and surveys. It's an ongoing journey with lots of passengers. And lots of navigators keen to give directions along the way.
Updated: 14/06/2019