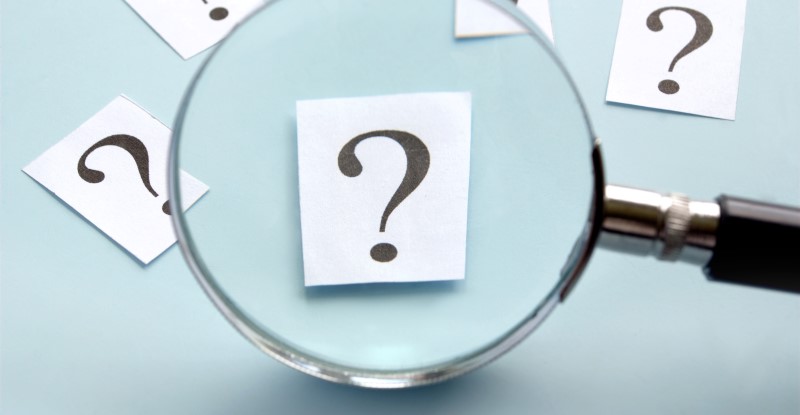 Looking for a versatile and dynamic tool to boost employee engagement? It's time to get quizzicle!
Everyone loves to test their knowledge. It's a personal challenge to see just how much we know – and to feel good about ourselves when we do well. That's why pub quizzes are so popular.
It's something that can be used in the workplace as well. An online quiz can bring teams together, improve workplace culture and keep the organization safe.
Whether serious or frivolous, an employee quiz can be a valuable part of any communication plan.
What is an Employee Quiz?
An employee quiz is a game or competition which tests staff knowledge on a subject. It can include a range of different question types and present scores at the end for employees to see their results.
Employee quiz questions can be created in a variety of formats, including multiple-choice, true-false, and short answers. Different media formats can be used, from text and images to videos.
Correct or incorrect answers are collected as employees continue through the quiz, with a final score presented at the end. Employees can compete against each other by comparing scores achieved on a quiz leaderboard (perfect for office bragging rights!).
While a fun employee engagement quiz is normally managed by Human Resources, the flexible nature makes them suitable for any subject, from any department. Test knowledge, support training, and boost morale.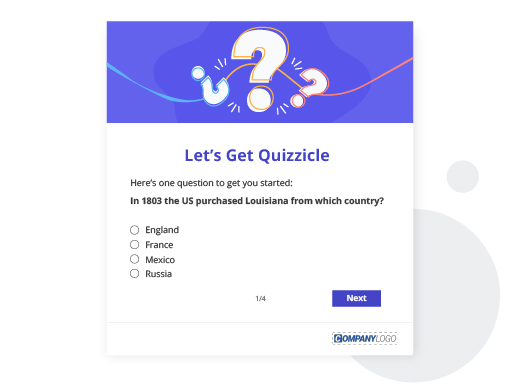 What's the Difference Between a Quiz and a Survey?
A quiz differs from an employee survey in that quizzes are answers to questions that are always right or wrong; surveys are subjective opinions on subjects. Put simply, it's answers vs opinions.
If a Compliance Manager wanted to test staff understanding of a new policy, a quiz would be better. While if an HR Manager wanted to assess the state of workplace sentiment, a survey is ideal.
Both channels can be used in tandem to support organizational goals like improving culture. Quizzes are a fun way to improve culture, while surveys are an effective mechanism to assess it.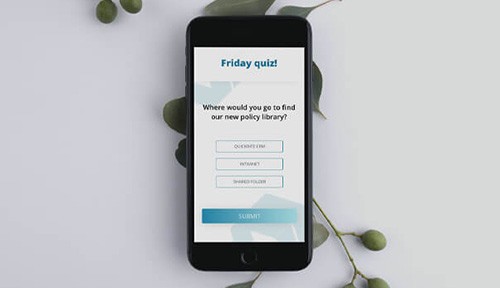 The Benefits of Quizzes
The main benefit of an employee quiz is its versatility for different business goals. They can support a wide range of communication needs, within a non-threatening format that is enjoyable for staff to complete.
The ease of completion and appeal of the format is important. Greater appeal equals higher engagement. Higher engagement equals better responses. These responses can then be turned into valuable insights to support organizational decision-making.
Business goals which an employee quiz can support include testing staff knowledge, improving training effectiveness, and connecting remote teams.
As sales and marketing legend David Ogilvy once said, "Where people aren't having any fun, they seldom produce good work." Online quizzes can be a highly effective tool for injecting fun into any workplace – whatever the subject.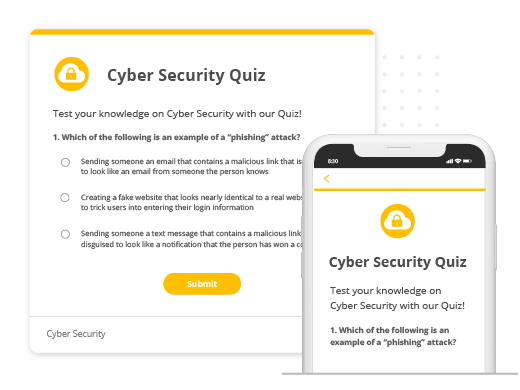 Employee Quiz Examples
The uses to which you can put an employee quiz are only limited by imagination, but here are four common examples of employee quizzes in action.
1. Knowledge check-ins
Before scheduling education sessions, use quizzes to assess current levels of staff knowledge and identify training needs. Low scores on a particular question are a red flag that further training or reinforcement is necessary.
Health and safety training is a good example. Do staff know where the workplace incident register is? Do they understand the organization's current COVID policy? Who should staff go to for first aid if required?
Understanding what staff know – and more importantly, don't know – allows you to address these gaps, which helps keep staff and the business safe.
2. Post-training follow-up
Arranging a series of training sessions for staff is a great way to improve knowledge – but only if staff are actually listening. How can you tell if your training has hit the mark – or fallen on deaf ears?
Sending a follow-up quiz to all attendees tests their understanding of what was covered. Include questions to capture both their knowledge and their ability to apply it in real-world situations.
If your Information Security team arranged some cybersecurity training, quiz employees on what a VPN is. When should they use a VPN? Which password has the highest strength?
3. Onboarding new hires
Starting a new job is an exciting time for employees, but one that comes with risk for employers. Your new hire is absorbing a wealth of information at a fast rate, so it's essential to ensure they've understood everything.
It's also an opportune time to reinforce your awesome people-first culture. An online quiz during onboarding breaks up the intensive learning program with something practical and enjoyable.
As part of your fun quiz for employees, ask new hires how many products your business sells. What are your company values? How many employees do you have worldwide?
4. Gamification
When there's a need to rebuild culture after COVID or lift employee morale, then game on! Gamification for internal communications adds excitement and a healthy dose of competition.
But there's no need to go full-on zombie invasion. A trivia game or teambuilding quiz makes for a fun contest with high engagement. Pit Finance against Operations and Marketing against IT, or create cross-functional teams.
Question teams on company knowledge (e.g. when was our company founded, how many countries do we operate in, etc.), industry knowledge (e.g. what do common acronyms stand for, what do new laws or regulations cover, etc.), or general knowledge (e.g. sports, history, music trivia questions).
Including an online employee quiz in your communications toolkit offers you a versatile tool for many different uses. The SnapComms employee communication platform includes a quiz channel with built-in features to drive higher response rates than traditional quizzes.
Find out more by visiting our employee quiz page or speaking with one of our communication specialists.