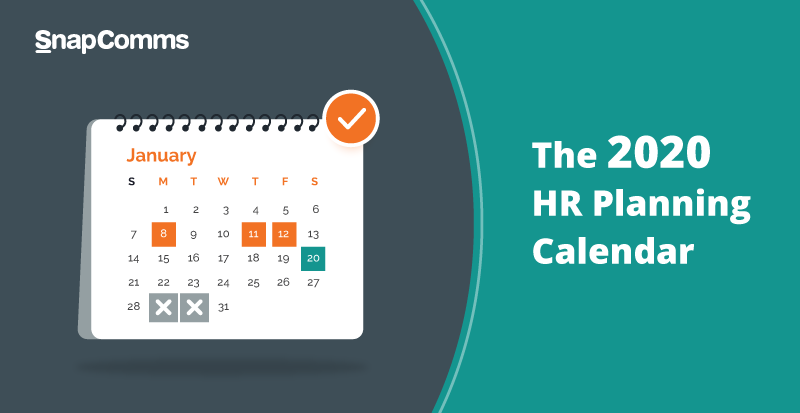 So you've come up with some awesome HR activities and events for 2020? Or have some big, juicy internal communications strategies to launch? That's fantastic – but hard to keep track of, right?
The year 2020 will be a busy one. So many moving parts, so much to manage. You have the great ideas – now you need the plan.
That's where we can help. We've created a super-useful 2020 HR Annual Planning Calendar. It's an ideal editable planning tool that also includes handy dates to remember and tips to help you along the way. And best of all, it's free!
From federal/public holidays, national awareness days, birthdays and anniversaries, to employee surveys, training sessions, new hire on-boarding, CEO updates, quarterly updates and conferences, there are a variety of things that can be planned in advance using this calendar.
You can also use it for planning internal communications campaigns, showing when messages and updates are being sent out to employees. You can give an overview into the messages, themes and channels required.
It's not just for HR either!
Make sure you talk to other internal departments (IT, Marketing, etc) to discover their plans for the year ahead and include them in the calendar to prepare for any comms necessary to support their activities.
Give yourself a head start and level up your communications for the year ahead.
How to use this HR calendar
The 2020 HR Calendar includes dates and key info on some of the major HR and Internal Communications events which should be on your radar. It's designed to benefit you and your business – and is simple to use.
Here's how to get started:
1. Download the calendar using the form below.
2. The first worksheet is your high-level view of the full year (note: this worksheet is password-protected).
3. Each monthly worksheet show your detailed events and tips for relevant resources – Make any additions or changes in these monthly worksheets, not the full year overview.
4. Add your own events, milestones or other key timings in the appropriate monthly worksheet – anything added in these will automatically pull through to the full year overview - yay no more copy and pasting!
5. If you need to make a change to the full year worksheet, the password is: 123
6. Let us know if you find this calendar useful or have suggestions for things you'd like to see.
Can I use this as an employee engagement calendar?
Absolutely! Throughout the calendar we've included tips around special occasions. Use these as inspiration for maximizing their potential for engaging employees and building teamwork. Then add your own unique events.
Which events specific to your company, industry or location can you include? Company celebrating a birthday? Industry celebrating a milestone? Cultural occasion being observed?
There are numerous events you could add to this calendar to boost engagement levels among employees - especially as you create content that's relevant and interesting to your audience.
Download the 2020 HR Calendar:
Just complete the form below and hit the 'Submit' button!