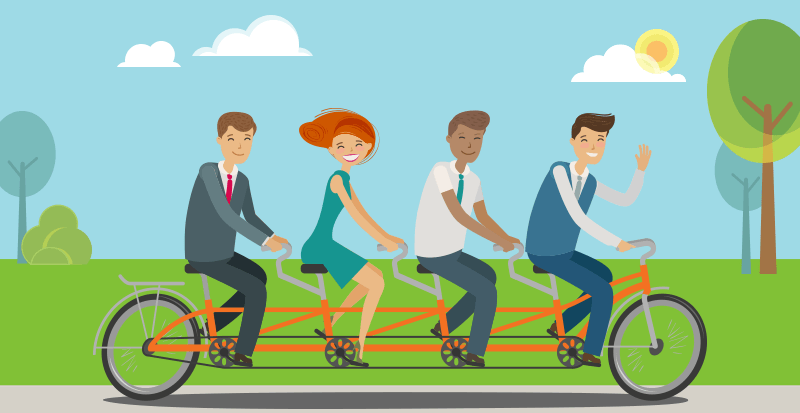 Spring has arrived in the Northern Hemisphere, making it the ideal time for a workplace team-building event to get everyone humming.
To make the most of the sunny days and warm temperatures, we've got ten seasonal suggestions to encourage you out of the office.
Wherever you go, make sure to generate some anticipation and excitement leading up to the event. Announce where you're going using a vibrant desktop alert, then keep everyone's eyes on the prize with a specially branded wallpaper.
1. Orienteering
A fun way for a team to find their feet is to get lost first. Split your employees into groups, give them a map, compass, and series of clues to follow, then send them on their way to see if they reach their destination correctly. Have each group start from a different place, but with the same final destination. Traditionally this takes place in areas like forests, but it can work equally well in cities.
2. Boat fishing or sightseeing trip
Got a seashore or lake nearby? Don't just admire it – get on it! Charter a boat for a sightseeing or fishing trip, and feel those office cares drift away on the breeze. Some operators also offer catering services, giving you the option of including a meal as well.
3. Vineyard visit or wine-tasting
This combination of scenery and liquid refreshment is a guaranteed winner. Few outdoor venues are as picturesque as vineyards. Some come with the benefit of being out of cellphone range – forcing those staff glued to their mobile to put it aside for a while. Find out the budding sommeliers by having a wine-tasting and identification challenge. Certain to be a grape success.
4. Support a charity or local cause
Helping other people is a fantastic way to get your team to bond, and warm a few hearts along the way. Local schools or charities are always looking for volunteers to help them organize events. Getting involved with activities like a charity hiking event, or a sports day for special needs children, really makes people feel they're making a difference in the lives of others.
5. Creative-building challenge
This one will require some lateral thinking. Split your team into groups and set them the challenge of building something using unusual objects – then test them against each other at the end. One idea is to build a car (not life-size, obviously!) using only fruit and vegetables; after they've constructed their pear-ari, race them all down a hill to see which takes the checkered flag.
6. Vibrant venues
Your team-building day doesn't need to lose you an entire day of productive work – sometimes just a change of scenery will suffice. Invite staff from your remote offices to join with you somewhere different, like a zoo or theme park. Fresh thinking from a vibrant venue is sure to inspire fresh perspectives on your business.
7. Sports stadium visit
How better to get your team pumping than to see how professional athletes get pumped for the big game? Most NFL, NBA, and EPL teams offer stadium tours that get you behind the scenes where great athletes transform into magic teams. From the changing room to the pitch, this is the place to inspire your team by some of the best in the world.
8. Escape room
To fire the minds of your team, try the challenge of escape rooms. Split into groups and attempt to solve a series of brain-bending clues in order to solve a mystery and escape the room. Working as a team will be essential to success in these venues – though deerstalker hats, pipes, and magnifying glasses are strictly optional.
9. Archery
Here's one to bring out the competitive streak in your team. Find a local archery range, get everybody into groups, and see how many points they can score on targets. Higher points gained for greater distances and hitting the bullseye. Clay target shooting is an alternative to archery if your team prefers a gun to a bow.
10. Whodunnit?
Bring out your team's inner George Clooney or Keira Knightley with a murder mystery they not only need to solve – but also play a part in. Hold a themed dinner or event (for example, a fake wedding), and give everyone attending a specific role to play, including personal details, costume, etc. But only one will be the murderer – everyone else will need to work out who it is.

So there you have it. Ten team-building suggestions from targets to tastings, and clues to cruise. Make sure to also get some great feedback afterward with a custom staff survey - and start thinking about the next one!