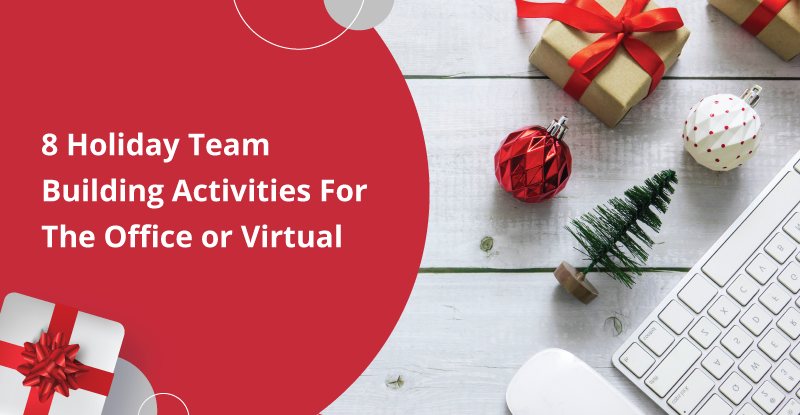 Updated November 23, 2021
It's the most wonderful time of the year - as we've never seen it before. This time around the holiday season in the office looks a lot different to what we're used to.
Christmas parties and office celebrations will likely be entirely different this year, as the work holiday season becomes the latest casualty of the proverbial 'new normal'.
But the pandemic doesn't have to be the Grinch who stole Christmas. We've put together some fun office holiday ideas to spread some holiday cheer through our workplace - whether you're working from home or in the office.
Take the holiday season to the digital realm with 8 holiday team-building ideas for work to improve culture and boost morale - plus a bonus idea for those teams back at work.
Table of Contents:
1. Set The Festive Tone With An Office Playlist
It's that magical time of year where you won't get yelled at for daring to belt out a Christmas song. To get staff in the holiday mood, get the whole team involved in making an Office Christmas playlist.

One study shows that music can improve both productivity and cognitive performance – especially in adults. It can help manage the pandemic anxiety and keep employees motivated.

Use an Employee Survey to get your staff to suggest their favorite holiday tunes. Then compile them into the ultimate staff holiday playlist. It's a great way to keep remote teams feeling connected whether they're away from or in the office.

Play it at home while you work during the holiday season or you can collate it and play it for end of year celebrations


2. Recognize A Bright Star
One of the best Christmas gifts you can give your employees is acknowledgment. Ask staff and/or senior management to nominate employees who have gone the extra mile during the past 12 months.
Start a daily 'Countdown to Christmas', whereby every day, a short description of the difference these employees have made and their photo are circulated to the whole company. This is great for engagement for all staff to see the appreciation of hard workers.
This idea can really hum if you use a mix of messaging tools – think Desktop Newsfeeds and Screensavers – rather than a standard email. On the final day (or at the Christmas party), publicly thank all 12-star performers and send them a Christmas hamper.

3. Hold A Virtual Secret Santa
Exchanging gifts Secret Santa-style is always a joy in the office. While not everyone will be able to get together to open their gifts in person, there's still a lot of fun to be had with a virtual Secret Santa.
Send out a Registration Alert to your employees so they can decide whether to opt-in. Set a clear price limit and a date so people have a clear idea of expectations from the outset. Then, enlist the help of a Secret Santa Generator to draw the names.
Now it's time for the big reveal. On the day of the virtual gift exchange, have your employees come together via video call to unwrap their presents. Don't forget to use Pop-up Alerts beforehand to remind employees to send their gifts out on time.
4. Host A Virtual Remote Desk Decorating Competition
The festive spirit doesn't have to stop if your staff aren't at their office desks. Hold a holiday-themed desk decorating competition and get your employees to decorate their at-home workspaces.
It's a great way to make remote teams feel closer and more connected when working from home. Have everyone show off their festive spaces but take a photograph and award prizes for them the most creative decorations.
Create a slideshow of the best desks and give them pride of place using Corporate Screensavers or Lock Screens so the whole team can get in on the festive fun.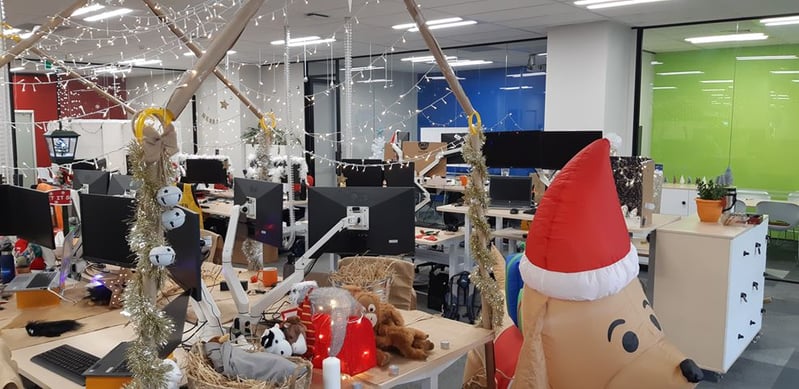 5. Put Together A Staff Holiday Recipe Book
Whether you're celebrating Hanukah, Kwanza, or Christmas, one of the best parts of the holiday season is the food. There's probably a whole world of delicious holiday recipes to be discovered from your employees.
Ask your team to put forward their best holiday recipe with an Employee Survey and use them to put together a Staff Recipe Book full of mouth-watering dishes.
If you've got a design team, get them in on making it look beautiful. Once it's ready, present the recipe book as a holiday gift to your employees by including it in an Internal Newsletter so they try out the recipes at home.
6. Celebrate The Diversity Of Your Workplace
The holidays aren't just about tinsel and turkeys. Celebrate the diversity of your workplace by encouraging your team to share the variety of holidays they'll be celebrating this season.
Showcase what your team has shared in your company Newsletter so employees can learn more about the varying ways their fellow team members celebrate.
Support this with Pop-Up Alerts about the different holidays you've learned about to make sure staff feel seen and heard.
7. Have A Christmas Movie Quiz Night
By now we've all probably taken part in a Zoom quiz, but you only get one chance a year to go big with a festive-themed edition. Here's one of our favorite virtual holiday party ideas.
Everyone loves a good Christmas movie – surprisingly even after the 20th screening. Put your staff's Christmas movie knowledge to the test and find out whether they know their Home Alone 1 from their Home Alone 2 with an office Christmas movie quiz.
Use a pop-up Employee Quiz to give employees working from home a break from day-to-day office tasks. Or better yet, liven things up and organize a team video call and get the entire team to dress up and participate live to facilitate some well-needed facetime.
8. Host A Virtual Holiday Happy Hour
Enjoying a cheeky after-work drink isn't quite the same in isolation. Hold a holiday virtual happy hour and encourage the team to share drinks over Zoom.
Keep it low-key by keeping attendance optional with a Staff RVSP Invitation so there's no pressure to join in. Then to begin the merrymaking - kick things off with a virtual toast for a team bonding moment.
You could even spice things up by inviting a mixologist to the call to show everyone how to make some great cocktails and mocktails with ingredients they have at home.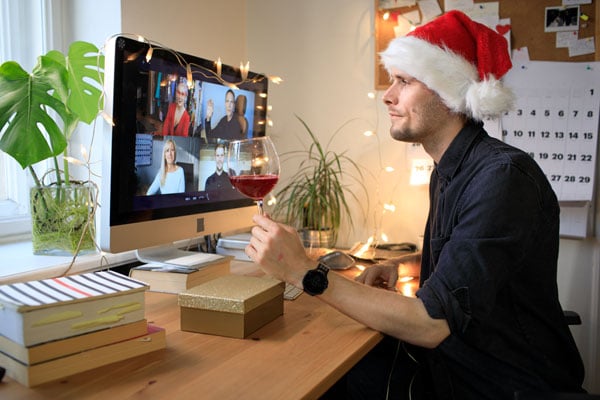 Bonus in-office activity: Dress Up Santa
If your team is back working centrally, try this comical game where teams race against the clock to dress up as Santa.
You'll need at least two sets of Santa Claus outfits, including a suit, beard, hat, boots, and sack plus a stash of small cardboard boxes (pretend presents) and wrapping paper.
Divide staff into equal-sized teams. Each team member takes it in turns to put on the Santa outfit. Once they are dressed up, they must quickly wrap a present before taking off the Santa outfit and passing it on to their next team member to do the same. The first team to complete the tasks is the winner.
There you have it. Even if you're not in the office there are still plenty of ways to engage your workforce with some festive team-building activities.
Enjoy the season - Happy Holidays from the SnapComms Team!
---
Looking for more team-building ideas?
Download our HR Planning Calendar - packed with more than 70 events, awareness days, conferences, and ways to bring them to life in your workplace.
---