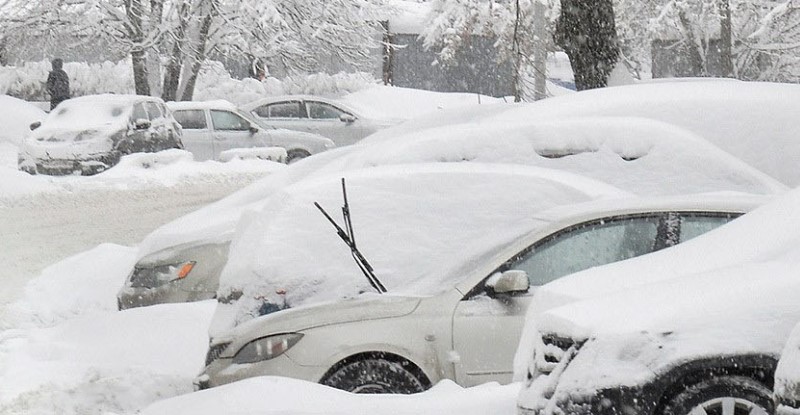 From a dumping of snow or a sudden flash flood to a powerful hurricane, severe weather events cause major disruptions to organizations and their staff.
The US experienced 20 weather and climate disasters in 2021, with damages of $145 billion. There is an increasing trend of high-cost, diverse extreme events which greatly impact on people and their livelihoods.
During these inclement weather events, organizations need to act quickly to implement crisis management plans and ensure employee safety.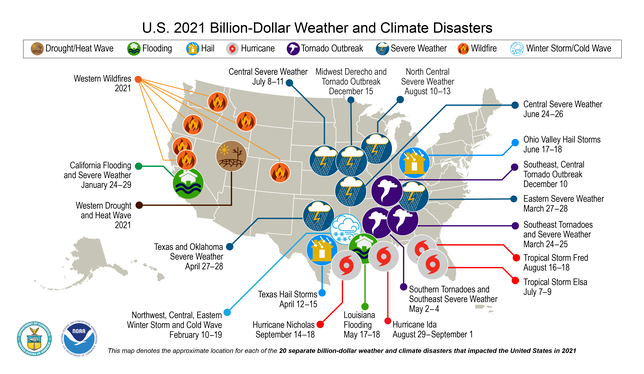 Source: NOAA map by NCEI
What is Inclement Weather and Why do you Need a Policy for it?
Inclement weather is a severe weather event or conditions where travel or work is unsafe (for example, hurricanes, snowstorms and floods). The number of severe weather and climate-related risk events have increased five times over the last decade.
An inclement weather policy should address the main concerns of staff. It should outline frequently asked questions such as if remote working is permitted, how absence from work will be treated (paid, unpaid, or taken as annual leave), what the correct procedure is to notify absence, and if missed hours can be made up later.
This policy must be easily available to employees in advance and then promoted in the advent of a possible weather event. This will prevent HR teams from being inundated during what is already a challenging time and help avoid any confusion and conflict later. Most importantly it will keep your employees safe.
What to Include in an Inclement Weather Policy
During inclement weather, getting to and from work can be difficult, even dangerous, for staff. In severe cases, infrastructure or building damage means their normal place of work is out-of-bounds.
Typical concerns that employees will have, and that your policy should address, include:
Should they attempt to make their way into work?
How can they keep themselves safe?
How may their job and pay be affected?
How will they be notified of closures or other situations?
Address the main concerns of staff by producing a corporate inclement weather policy. This should cover three key areas: employee rights, employee safety, and employee communications.
1. Employee Rights
Be clear on how staff compensation is affected. Include what provisions are in place to allow staff to manage any family responsibilities, such as caring for children or elderly relatives. Confirm the procedures for remote working – when it should be enacted, which role types are able to use it, and any special processes which should be followed.
2. Employee Safety
Clarify the procedures to follow in the event of an evacuation or if a lockdown is enforced. Include what actions staff should take and who they should notify of any complications.
3. Employee Communications
Confirm how instructions will be provided to staff – through which channels and from which departments. Also specify where they should go for updates on the status of the weather event and office situation. Use a crisis management plan to cover everything related to incident teams and messaging.
Make sure staff are aware of your inclement weather policy by using corporate screensavers as passive reminders to promote where the policy may be found and to reinforce key messages.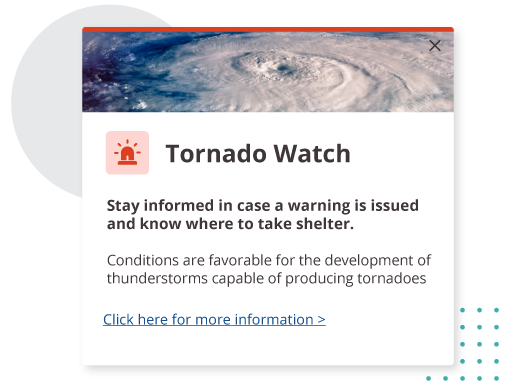 Communications During an Inclement Weather Event
Having an effective communications strategy during this challenging time is critical – not just to check on employee welfare, but also to cascade important status updates, explicit instructions such as evacuation procedures, and HR-specific information, such as employees' rights.
Inclement Weather Message Template
Having messages ready to go before an event saves valuable time later. Use the text below for your messaging, adapted to your organization. This can also be used as a sample inclement weather email to employees.
---
Due to [NAME OF EVENT], our [LOCATION] office is closed. Contact [MANAGER] for information about working remotely and when to return to the office. Please follow local weather safety alerts to ensure you stay protected.
If you are affected by [NAME OF EVENT], please contact [DESIGNATED PERSON] to find out how to receive assistance during this time of need.
---
There are steps organizations can take before, during, and after an event, which will make them better able to weather the storm.
Before an event
Draft a series of pre-configured messages around events that are most likely to affect your staff. For example, if your region is prone to tornadoes or flooding, preempt the instructions staff will need to heed, such as "Head to the underground shelter immediately!"
Being prepared is the best insurance to minimize the impact. Emergency preparedness training will help your employees know how to react and equip them with the tools to survive without harm.
Part of this plan should define the communication tree. That is, who's ultimately responsible for publishing content? Rehearse this process so that in the hour of need, any confusion is avoided.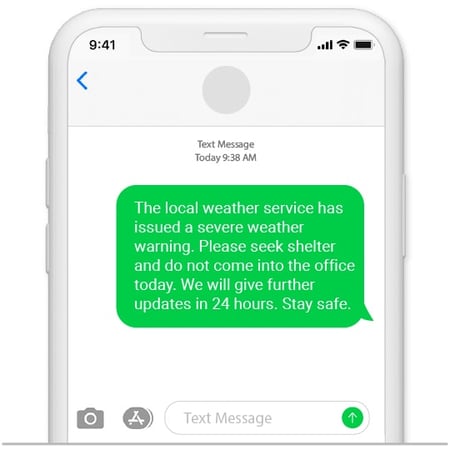 During an event
When a weather event strikes, employees need up-to-the-minute information from a single, reliable source that they trust. Utilize all available internal communication channels to 'flood' your message. Emergency communication channels help coordinate and advise staff during any crisis event.
If the speed of message delivery is important, choose a channel that gets immediate cut-through. Tools such as Alerts and panic button notifications override other applications to appear directly on all desktop and mobile screens, bypassing email completely. Emails are not timely enough and are easily missed.
Provide explicit instructions and include links to more detailed information if required.
As well as urgent mass communications, managers should also be able to reach out to staff and check on their safety. Quick-reply mechanisms that enable staff to confirm receipt of the message, such as a tick box response of "I'm safe", allow emergency teams to track employee welfare and divert help as needed.
Read a real-life story about Holiday Inn and how they kept communications running during a major weather event.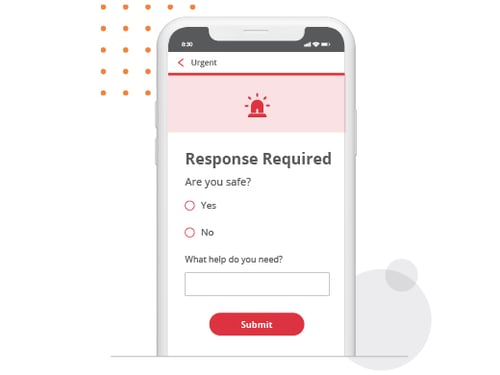 After an event
Once the event has passed, a review of the communication strategy is important to identify what worked well and what needs improving. Get feedback from staff through a survey. You may discover the frequency of communications needs to be increased, or that one format has a much higher readership rate than other channels.
Most importantly, keep your emergency communication plan up to date. Staff will continue to join and leave the organization; remote offices may open or close; the communications co-coordinator themselves may move on, taking their knowledge with them.
Urgency is essential when extreme weather events strike. A comprehensive crisis communications plan will help your organization be prepared, minimize risk and save lives.

Download a free crisis comms template now.