COVID-19 has had a profound effect on business continuity, creating unfathomable disruption, challenging regular business operations and indelibly changing the way we work forever.
Throughout the pandemic, businesses have been doing what they can to stay operational. But business leaders must now consider how to manage a safe and seamless return to work in a new environment.
As employees readjust to a new reality of working, along with the myriad challenges they're already facing, it's the job of internal communicators to ensure the transition runs smoothly.
With 45% of employees continuing to feel anxious about returning to the workplace, strong internal communication will play a crucial role in easing the transition, minimizing friction and building business resilience and continuity. Here's some tips for achieving that.

1. Consult With Employees To Mentally Prepare Them
Research has taught us that returning to work after large scale disruptive and traumatic events can unsettle employees and make it difficult for them to stay focused at work. It's important for employers to put measures in place for employees to readjust. That starts with focusing on your team and prioritizing their needs.
Consultation can reduce anxiety about returning to the workplace. When surveyed by CIPID, 62% of people who didn't feel adequately consulted were anxious about returning, compared with 42% of people who were adequately consulted.
Encourage two-way communication by using Surveys to gauge the sentiment and level of comfort around the move back to the office and before any actions are taken. Then, adjust your re-entry plan if needed.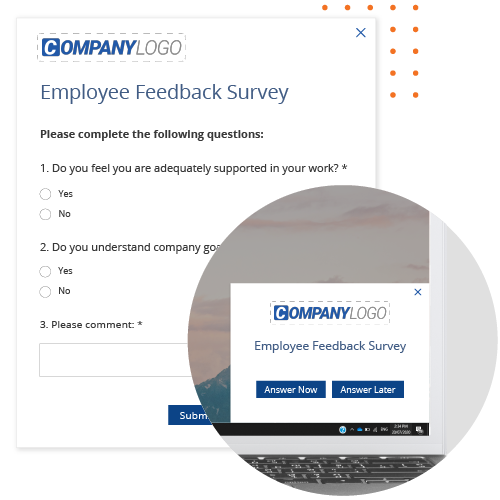 2. Put Measures In Place For Employees To Feel Safe
Physical safety will be top of mind for all employees during the return to work. One survey found that 32% of employees going back to their normal workplace were anxious about catching or spreading COVID-19 at work. Tensions can flare up as people have different expectations around physical distancing and safety precautions.
Incorporate COVID-19 protections into ongoing workplace safety programs and policies. Circulate policy updates to employees well before you're back in the office and use Pop-Up Alerts to get information to staff instantly. Employ triggers to track whether staff have seen and understood the polices and utilize recurrence tools to ensure messages are seen.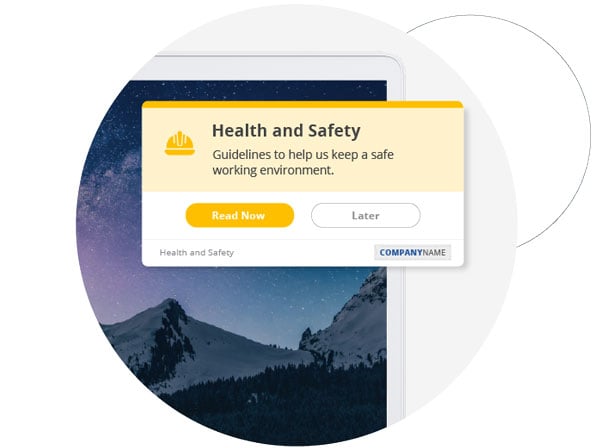 3. Address Cross-Team Communication Silos
Fortune 500 companies reportedly lose an estimated $31.5 billion per year by failing to share knowledge across teams. As employees tend to only engage with members of their own team when working remotely, it's hard to keep in touch with what's going on in the wider business.
These silos can form bottlenecks and inefficiencies in how time and resources are used as we return to the office. This can create misalignment, a lack of trust between teams and a drop in operational efficiency.
Silos form when there's no way to collaborate. Encouraging collaboration and communication in the workplace is a common trait in high-performing businesses, with extremely connected teams demonstrating a 21% increase in profitability.
Creating opportunities for employees to work, train and learn together in cross-departmental exercises can help break down silos. This should start from the top with visible and personalized communications from leadership. Use Video Messages to communicate business goals and values to keep everyone on the same page.
4. Tackle Differences Of Opinion Surrounding Vaccination
Throughout the pandemic we've seen a polarity of attitudes concerning how the pandemic should be handled. With vaccines now circulating, employers will need to take note of how the rising anti-vax movement might result in workplace conflict and create obstacles in the return to work.
A daily mandatory Health Check-In Survey is a great way to keep employees safe, vaccine or no vaccine. It means employees must acknowledge whether they're symptomatic and have been advised to quarantine by a health professional.
It's a great way to ensure employees are healthy and safe enough to work with others. It also helps emphasize how crucial it is to stay home when ill to mitigate the risk of spreading illnesses around the office.
5. Foster Culture Through Team Building
After months of performing most of their human interaction through a screen, your workforce can feel disconnected and breakdowns in team relationships and workplace culture can arise. In fact, 54% of remote workers feel disconnected from the business.
Employees may feel uneasy about interacting with the wider team in a physical workspace. When ignored, this can spiral into a lack of trust and undermine relationships across the organization.
Before returning to the workplace, make remote team-building activities common practice. Quizzes are a great way to encourage interdepartmental interaction outside of daily work.
Once you return, keep up the momentum with exercises to help reinforce team relationships before jumping straight into work mode. Keep social activities like Friday happy hours and team lunches in place to nurture employee rapport.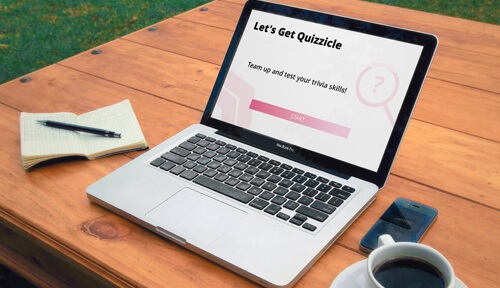 6. Provide Flexible Working Opportunities
74% of companies plan to shift part of their workforce to remote working permanently after the pandemic. However, some employees may prefer working from home while others are less productive outside of traditional work settings. Balancing these opposing needs will present a new challenge for employers.
It's important to understand the benefits of giving employees flexibility in where and how they work. 73% of employees said that having flexible work arrangements increased their work satisfaction.
Add an Employee App to your internal communications plan to share business updates and staff milestones with the wider team wherever they are. It's a good way to establish a sense of culture and keep dispersed teams connected.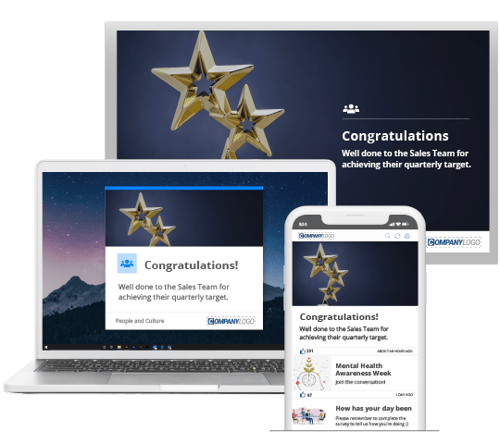 7. Protect Positive Mental Health And Wellbeing
More than one-third of Americans have shown signs of clinical anxiety, depression or both since the pandemic started. Employers must watch out for signs of emotional impact as their employees may experience fatigue, anxiety or reduced work tolerance.
Happy employees stay longer, work better and are more productive. Promote and reinforce positive working behaviors in the office with Screensavers and Digital Signage. Make sure your workforce is aware of where to find mental health support information within the business and from external sources.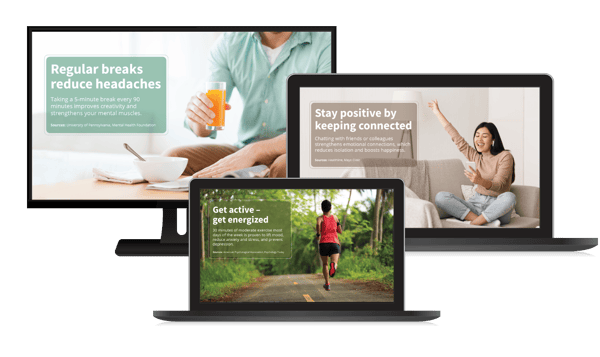 Keep in constant dialogue with your employees when it comes to their mental wellbeing with daily Employee Sentiment Surveys so you can track and tackle issues as soon as they emerge.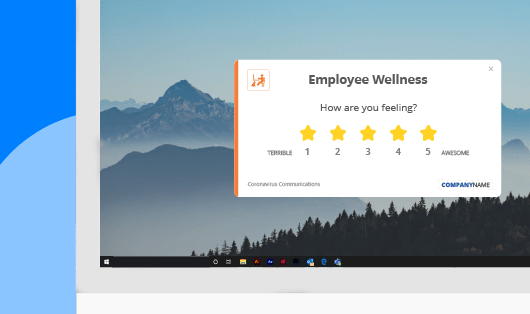 The pace of change and disruption caused by the pandemic has meant businesses have had to think carefully about how best to prepare their employees for a new working environment.
Effective internal communication will be key in managing frustrations to build business resilience and continuity during a return to work.

Contact us or explore our products to find out how we can help you ensure you're best placed for the future.