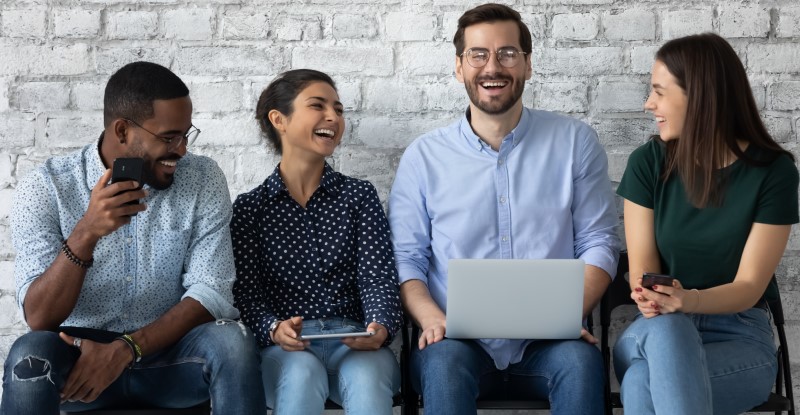 One of the key business priorities for 2023 is rebuilding employee experience and engagement. Lack of engagement at work is costing companies an average of over $3 million every year.
Employee engagement is a challenge with our new world of work. More and more of the global workforce is working remotely. Knowledge workers are no longer tied to their company office to do their job.
In addition, frontline or deskless workers make up 80% of workers globally, of which 71% are aged under 30.
Employee communication apps are essential for connecting with and engaging these employees. For employers, having an app is now more important than having an office.
But with so many options available, how can you tell which is right for you? We've shared best practice tips for researching and selecting business apps, plus the top 10 best apps for employee communication in 2023.
1. What is an Employee Communication App?
2. How to Select an App for your Organization
3. The Top 10 Employee Communication Apps
What is an Employee Communication App?
Employee communication apps are digital platforms for connecting organizations with their staff, most commonly via mobile devices. These apps typically include features like interactivity, personalization, easy search and two-way communication.
Apps fulfill a vital role in ensuring all employees are equipped with content which engages them with their job and helps them best perform it.
Employees can browse company content, find stories which interest them and interact with it. Types of content and visual presentation can be personalized for greater relevance.
This consumer-grade experience is what staff prefer. It reflects the online and social media experiences they have in their personal lives.
The best apps provide a single gateway to company information. That's significant when 41% of remote workers are overwhelmed by the number of tools and technologies they must use.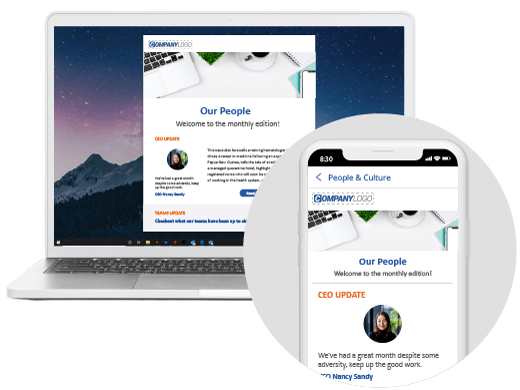 How to Select an App for your Organization
Selecting the right mobile apps for employee communication will depend on your objectives. Some apps are best suited for delivering latest company news, some for promoting collaboration, and others for creating a community.
Start by defining what you want your app to achieve. Then research the options to compare what each app offers with what you need. Every app will be stronger in some areas and weaker in others, so it's important to always keep your objectives in mind.
Consider the types of messages you'll be sending. If you'll be publishing important company updates that staff need to see, consider which app is best equipped to do this.
Compare the features each app offers. Which allow targeting of messages to different employee groups? Which permit customization so you can apply your corporate branding? Which offer a chat functionality or support two-way communication?
Confirm the budget you have available. Cost is always a selection factor, and some apps are more expensive than others. By keeping your overall objectives in mind, you'll only pay for the functionality you really need.
Read more: 5 Reasons Employee Apps Will Solve Your Engagement Woes

The Top 10 Internal Communication Apps
With so many options to choose between, it can sometimes be hard to get started – even when you've got your objectives and done your research.
The following ten apps will help you communicate and collaborate across your organization. They cover a wide range of communication types, with many different features and at varying cost levels. You're sure to find one here that meets your needs.
1. SnapComms
Summary: SnapComms is a multi-channel communications platform that delivers messages to employees across desktop, mobile and digital signage screens. All channels bypass email, ensuring staff get the messages they need without adding to email-overload.
Features: SnapComms is a feature-rich platform. Targeting allows messages to be sent to discreet employee groups. Scheduling means messages can be sent at set times. Recurrence allows messages to be resent to each employee until they have read or responded. Customization permits branding with company colors and logos. See the full list of product features.
Pricing: SnapComms is available in two packages: Inform for essential channels and Engage for the full, comprehensive platform. Pricing varies depending on package and the number of employees – see both pricing packages.
For those wishing to try before they buy, a free trial is also available, with complete access to the whole SnapComms platform.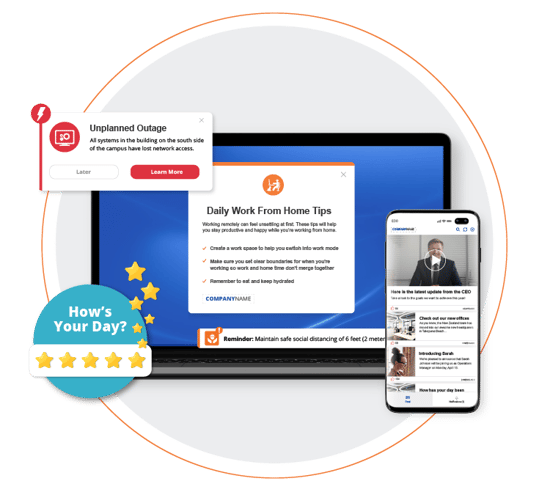 2. Slack
Summary: Slack is the ubiquitous peer-to-peer messaging tool. It provides a fast, simple way for employees to message each other, all wrapped in an easy to navigate interface. The ability to respond and add emoji reactions in seconds ensures a well-used, high-volume platform for chat-style messaging.
Features: Dedicated channels can be set up for specific teams, topics, projects or anything else. Administration settings control who can access which channel. Staff can video call other employees through the built-in video tool. Huddles are video calls to enhance team communication.
Pricing: Slack offers three plans with different pricing, from Pro to Business+ and Enterprise. Visit the website for Slack pricing.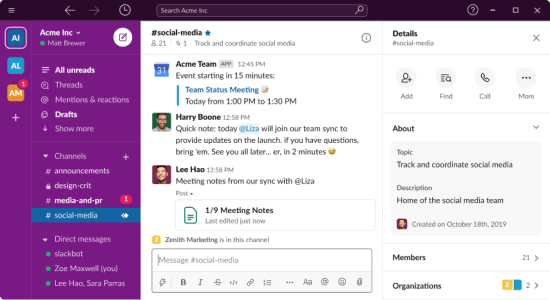 3. Beekeeper
Summary: Beekeeper is a mobile-only app designed primarily for use by frontline workers. As well as delivering company messages to those staff not working behind a desk, the app provides an easy way for team members to manage their schedules and find desired information.
Features: Being a mobile-first app, Beekeeper's chat feature is pretty comprehensive, including video, surveys and news streams. The document library allows files and information to be accessed quickly. Scheduling allows employers and staff to view and update work rosters in real time. Inline translations make content available in different languages.
Pricing: Beekeeper's three plans for Standard, Professional and Enterprise all come at different price levels. Visit their website for Beekeeper pricing.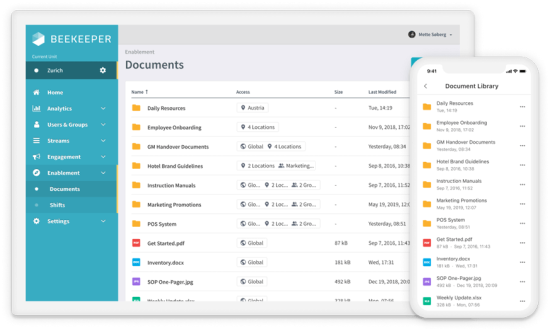 4. Staffbase
Summary: Staffbase combine an intranet, email newsletter and newsfeed across mobile devices. Their app includes a company news feed, employee chat and intranet-like 'home pages' grouping content on different topics.
Features: Integrations are one of Staffbase's best features – the app integrates with major platforms like Slack, Salesforce and Microsoft 365. Messages can be translated instantly to your language of choice. Employees can reply and post reactions to messages in the news feed. The mobile employee directory is a handy feature for deskless workers.
Pricing: Three solutions are on offer, for each of the app, intranet and mobile communication products. Pricing is available on request through the Staffbase website.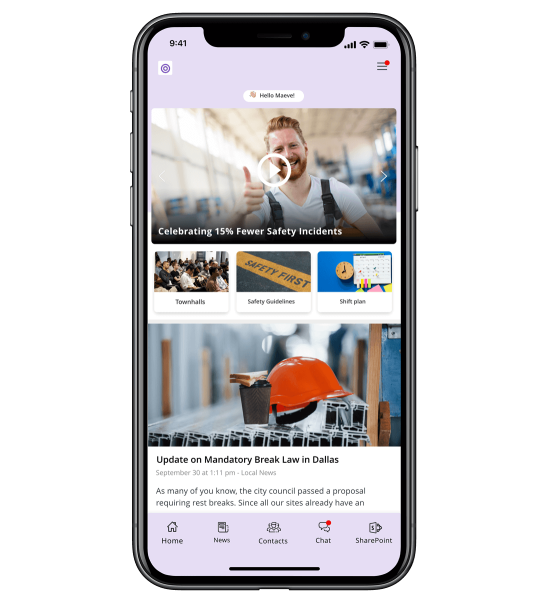 5. Facebook Workplace
Summary: Workplace is predominantly an employee messaging and video tool, managed by Facebook. Like Slack, it provides a platform to keep employees talking, regardless of where they're based. It also includes an intranet-style Knowledge Library and AI-powered news feed.
Features: Setting up Groups is a key feature of Workplace and allows for sending highly targeted messaging. Short polls and surveys can also be sent to collect staff feedback. The Insights area is pretty smart, displaying communication performance in easy to understand visual charts.
Pricing: The basic price for Workplace is their Core plan, after which extra functionality and levels of support can be added on. All the pricing is on the Workplace website.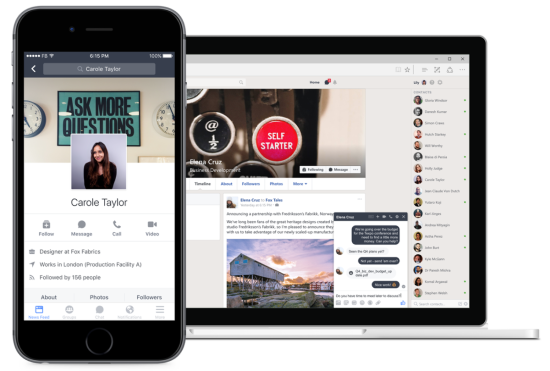 6. Simpplr
Summary: Simpplr is a specialist intranet platform designed for enterprise-level organizations. A quantum leap from the static intranets of old, Simpplr offers a dynamic, visual and interactive platform for employees to access company news, documentation and resources.
Features: Perhaps Simpplr's best feature is personalization, where the content displayed is targeted down to the individual employee level. Staff can share files easily. The comprehensive search feature makes finding any type of content a breeze. SMS notifications can advise staff of updates or new content.
Pricing: To find out the cost of the platform, users must request the information from the Simpplr website.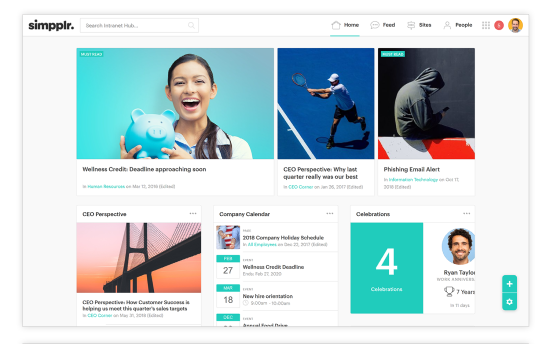 7. Workvivo
Summary: Workvivo is a highly visual employee experience app aimed at HR teams. Taking a leaf out of the social media design book, Workvivo offers news posts, livestreams, podcasts, polls and surveys to promote company messages and support workplace culture.
Features: Company articles, podcasts and other content can be hosted in the Workvivo intranet. The events calendar and people directory allow staff to find the activities and personnel they need. Email digests summarize the most noteworthy new content each day or week. Shout-outs to recognize achievement are a nice feature to improve employee engagement.
Pricing: Costs are absent from the Workvivo website, so to learn pricing you'll need to contact them.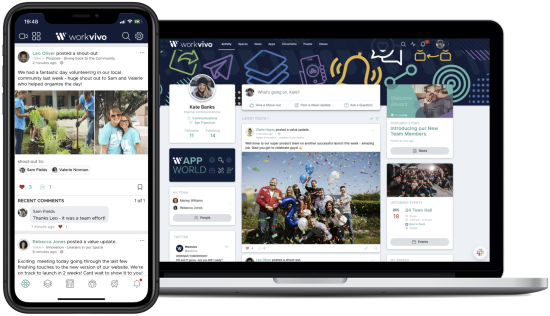 8. Blink
Summary: Blink is the communication app that puts frontline workers first. A relatively new kid on the block, Blink offers a news feed, intranet, staff directory and instant messaging. Their focus on labor-intensive sectors like healthcare, construction and hospitality makes Blink worth a look.
Features: The Blink intranet dashboard is a big feature, bringing a range of company information together in a visually-appealing format. Micro-apps provide solutions to specific information needs, such as payslips, leave requests and menus. Many types of content are easy to create, like dynamic forms and staff surveys.
Pricing: Four plans are available, from the basic Essential through to comprehensive Enterprise Plus. Pricing for most of these are only available on request, but basic plan pricing is on the Blink website.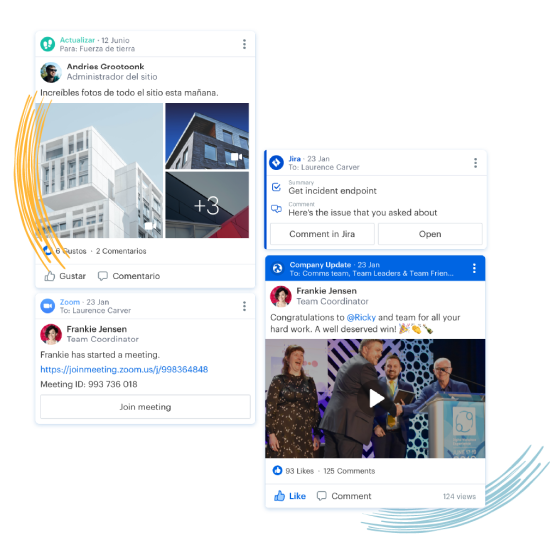 9. BlogIn
Summary: BlogIn is an app dedicated to company blogging – whether serious or frivolous. It provides an alternative to intranet platforms for storing company information, news and resources, but with a more personal touch.
Features: As well as all the simple setup and ease of creating content you'd expect, BlogIn also includes email and SMS push notifications to advise staff of anything new. The platform integrates with Slack and provides simple, helpful reporting on performance for each blog.
Pricing: Monthly or annual options are available on the website for BlogIn pricing.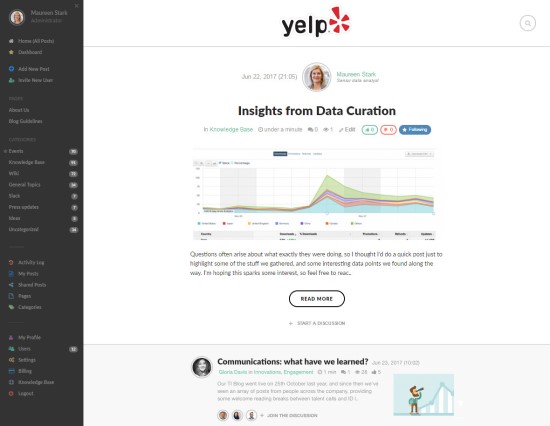 10. RingCentral
Summary: RingCentral is an app for unified message, phone and video communication. The app allows staff to seamlessly transition from chat messaging to phone or video calls, across mobile, desktop or desk-based conference phones.
Features: Team messaging and video conferencing are the main features of RingCentral, but it also includes a document storage facility. The contact center feature is designed to easily route customer calls and manage agents to provide faster service.
Pricing: There are many options to choose from, depending on the products you want, your number of employees and preferred billing frequency. All pricing is available on the RingCentral website.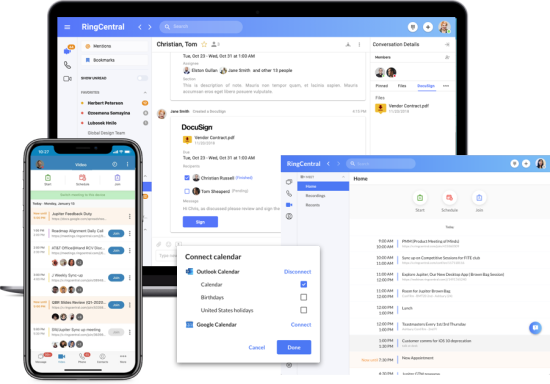 Organizations that flourish in the post-pandemic world will be those who reach, communicate with and engage today's decentralized, deskless workers. Employee communication apps provide an appealing, reliable channel to achieve this.
Still unsure what app is right for you? Talk to our communication experts to help you figure it out.