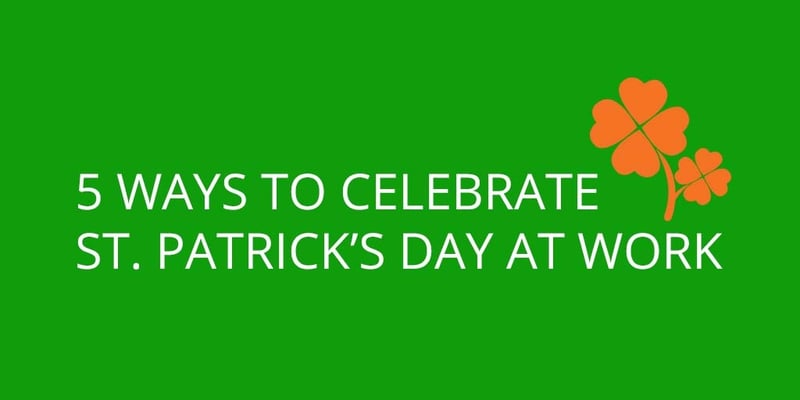 There's something about St. Patrick's Day that brings out the light-hearted side in all of us.
For organizations, it's the perfect excuse to get co-workers together and celebrate.
Here are five fun, culture-building ideas to put your employees in high spirits on March 17th.
Irish and Famous
Did you know that it was an Irishman, James Hoban, who designed Capitol Hill's White House? Or that one of the world's largest organizations, Procter & Gamble, was co-founded by James Gamble, originating from County Fermanagh? Getting staff to nominate their most-admired famous Irish person is a popular, non-tacky way to acknowledge the special day – and improve general knowledge at the same time.
Feast Fit for a Saint
Guinness in the workplace isn't appropriate for many offices. But how about swapping a pint of the black stuff for a shot of something green and healthy – such as a delicious, high-protein smoothie for morning tea? To balance out all that goodness, add a slice of warm, buttery soda bread, or a piece of traditional Irish fruitcake Barmbrack as a side. Irish eyes will be smiling all around the office!
Paint the Town Green
Well, maybe not the 'town' as rock band The Script would have us do. But how about painting the office green? And by painting, we really only mean giving it a fun, festive makeover. Vivid green balloons; garlands of shamrocks; pots of gold (chocolate coins) and of course, the obligatory sounds of traditional Irish folk (or rock) music in the background, will transform a so-so workplace into a cheerful and atmospheric space.
Gift of the Gab
Anyone who's kissed the Blarney Stone in County Cork is said to have the gift of the gab: a great natural ability to talk confidently and charmingly, in a way that is highly persuasive. Sales people are often said to have this smooth-talking trait.
A fun competition to run during the lunch break is to ask individuals to describe their favorite Irish song (or anything Irish-themed) without saying the words "Ah", "Um" or "Like". Finalists can compete in a 'talk-off' to decide the overall winner.
Green Hats and Costumes
They'll need a day or two's notice, but why not encourage staff to dress up for St. Patrick's day – either as their favorite Irish persona (expect to see dozens of U2 Bono's and Leprechauns) or simply don a bright green hat?
With their permission, take a group photo and share it via your social media channels. Demonstrating your company's sense of fun and workplace culture has become increasingly important for attracting good talent – and keeping those already in the team.
Celebrating while working from home
You don't need to give up all the fun celebrations just because you're at home. Staff can get together and celebrate with video call events throughout the day (e.g. hold a virtual lunch, a quiz, virtual happy hour, etc.). Plus you could hold a contest on the best green outfit or green decorated workspace, get staff to submit photos to a unique chatroom, and select a winner.
Don't forget to make use of all available internal communication channels to drum up support and employee engagement for the big day.
Create Irish-themed screensavers to countdown to the 17th March - download ours for free here.
Launch scrolling tickers to remind staff about your chosen celebrations, and use quiz and survey tools to elicit staff feedback and ideas on the suggestions above.
Finally, enjoy the 'craic', and may the luck of the Irish always be with you!
---
Plan a year's worth of engaging employee events with the free HR Calendar
---