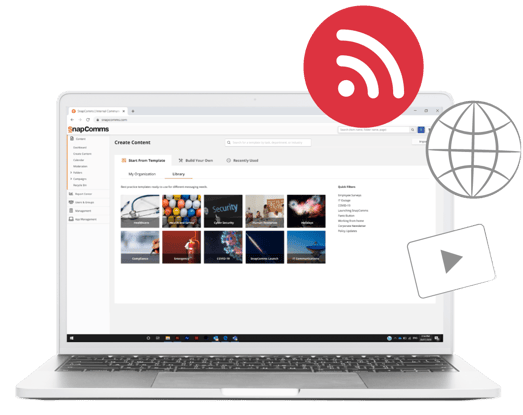 The Create Content page in the SnapComms Content Manager has had a refresh! It's now even easier for customers to create and send pre-configured content in just a few clicks.
This update features more imagery to help show what you're clicking, clearer descriptions, filters, previews and a search bar to help you find relevant Templates based on keywords. *

Navigating through the Create Content page is easy. There are four ways to create and send a message - each option serves a different purpose, depending on your required outcome.
1. Build Your Own: Blank Channels and layouts for maximum flexibility
If you already have some content and imagery in mind, you can start from scratch by selecting the Channel that most resonates with your employees and best aligns with your required outcome.
Once you've selected your Channel, you're able to insert your own logos, icons and imagery, and choose the notification settings that you feel will be most effective for your employees.
2. Template Library: Best practice Templates, ready to use for different messaging needs
Our Template Library takes all the guesswork out of communicating with your employees. Just click the category that relates to your message, and you'll find a range of communication Templates.
Just select the Template you want and publish immediately, or make any minor alterations to suit your style and send.
These Templates are designed using best practice in design, content, imagery and placement to achieve greater communications success. More than 60 Templates are available, with more continually being added, to address every communication need.
3. Organization Templates: Pre-designed Templates created by your organization
All the saved Templates created by your organization, or saved from the Template Library, can be found under Organization Templates. If you want to send a message, just select the Template relating to your requirements and send.
4. My History: Your most recently used Templates
The My History tab is where you'll find all your Template activity, whether sent or still in editing. This will help you get an overall view of the different types of messages that have been sent, and how recently they were sent.
Search Bar and Filter
If you want to search for a Template by name, Category or keyword, you can simply enter what you want to search for in the search bar. This will provide results that are most relevant to your search, across multiple Categories and Channels. You can also view the most popular Categories in the filters tab on the left.
*Note that the updated Create Content page is available for cloud-based customers only. If you're a SnapComms customer who isn't cloud-based, please speak to your Customer Success Manager to discuss the advantages of migrating to the enhanced cloud-based solution.
These enhancements aim to help customers save time and achieve greater message success. To find out more about the SnapComms platform, talk to one of our Communications Specialists or start a free 30-day trial today.