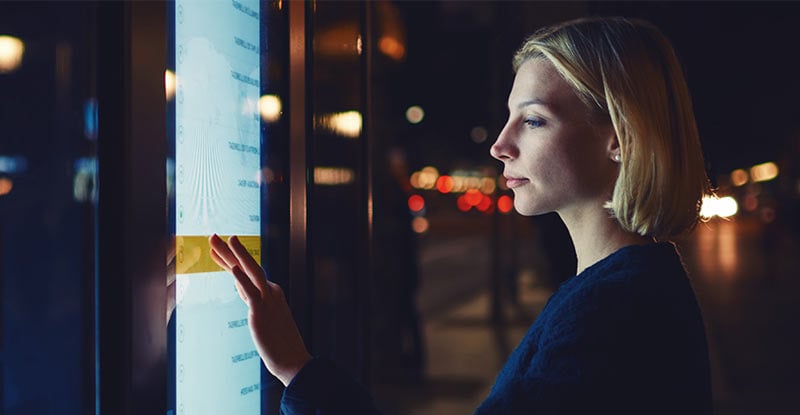 In 1994, Bill Gates said that "Banking is necessary, banks are not." Twenty years later, time has proved him right.
Cryptocurrencies, cashless societies, and even Bank of America's solar-powered remote ATM reflect that financial services are on the cusp of a digital transformation. New technologies promise to make banking better, easier, and more innovative.
Digitalization in finance has turned into a top business imperative, encouraging the development of new products and services that improve customer experiences. This evolution is putting pressure on IT Managers to reassess their technological approach.
As a result, 97% of financial services firms are pumping resources into digital transformation strategies after being forced to reshape their business models to stay competitive in an evolving sector.
So, what are the key digital transformation trends IT Managers need to know? We've scoped out the most important shifts redefining the financial landscape.
1. Artificial Intelligence And Machine Learning Enhance Customer Experiences
Artificial Intelligence (AI) and Machine Learning (ML) are two of the biggest trends shaping the banking industry, making up a core component of financial services' digital strategy.
They're already creating change in all ends of the business, handling processes long thought to be distinctly human. Analysts estimate that over time they could save financial institutions more than $1 trillion.
For IT Managers, one of AI's most promising solutions is the automation of low-value repetitive processes and customer queries, freeing up IT staff to take on more complex and high-value processes and projects.
Erica, the virtual assistant by Bank of America, proved the value of chatbots to customer engagement, having already exceeded six million users and processed over 35 million requests.
(Image: Bank of America)
2. Mobile Banking Is On The Rise
The global pandemic has seen consumers flocking to mobile solutions for their everyday banking needs. While mobile banking isn't new, in April, lockdown saw new mobile banking registrations skyrocket by 200%, forcing IT managers to put more emphasis on their business' digital capabilities.
The ubiquitous use of smartphones in our daily lives has seen more and more of us turn our mobiles for everyday banking functions like electronic bill payments, peer-to-peer payments, and instant transfers. Deloitte claims that 72% of people already access their primary bank through their mobile phones.
For IT Managers, embracing mobile communication is an increasingly important part of the business. Use an employee communication app to keep staff in the loop with the latest updates and enhancements. That way, you can stay in constant communication with your employees wherever they are, so they don't miss important information.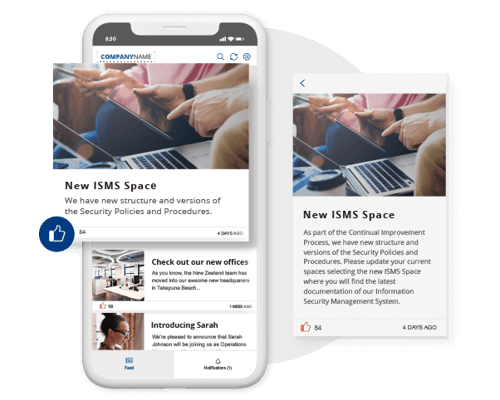 3. Big Data Enables Digital Innovation
Data is everywhere. In fact, there's so much of it, no IT Manager alone could possibly extract all the insights that lead to opportunity. By 2025, Seagate Technology claims that the global amount of data will reach 175 zettabytes.
The financial sector is already beginning to realize Big Data's potential. As it gets smarter and faster, banks are thinking up new ways to market their services and use data to facilitate more personalized experiences for their customers.
One of the most crucial ways big banks will be able to leverage the hordes of consumer data they have is to use it to train ML algorithms to automate their processes - saving IT staff hours of work.
When implementing new technologies, IT Managers must step up their communication. Use Video Alerts to introduce digital changes and showcase the benefits of digital transformation in banking to staff. Digital signage is a powerful tool in raising broad staff awareness and increasing buy-in by leveraging the power of passive communications in common areas like staff rooms and kitchen areas etc.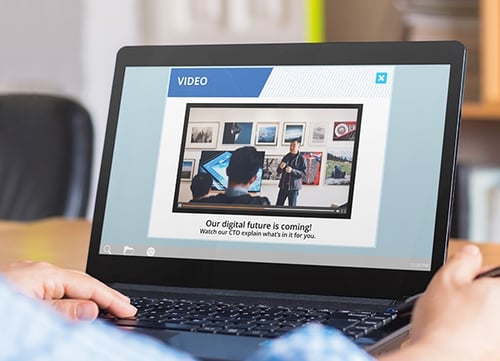 4. Cloud Banking Creates New Business Opportunities
Finance organizations are increasingly seeing the cloud as their route to digital reinvention. A report from IEEE found that cloud computing has shifted the roles and responsibilities of IT staff, helping them focus on delivering better services.
The cloud offers a destination for financial services to outsource their data storage and access advanced software applications. It enables IT managers to spend less time 'keeping the lights on' and more time creating new processes to aid innovation, create value and increase revenue.
More traditional financial services are embracing cloud technology because of the huge reduction in IT costs it provides, both in hardware and IT Operations administration as well as the cost of staff. Cloud migration saves around 15% on all IT spending, with small to medium-sized businesses saving up to 36%.
Desktop Tickers are a great way to keep staff updated on the development and deployment of the move to the cloud. They can provide news-feed-style IT staff status updates that capture the excitement of the latest changes as they happen.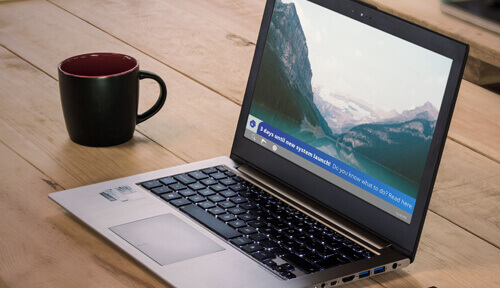 5. Robotic Process Automation (RPA) Streamlines Banking Processes
Financial institutions are under immense pressure to optimize their costs, generate higher ROI, and boost productivity. RPA has become their saving grace already driving greater efficiency and increasing productivity business-wide. In 2021, they're predicted to be a $2.9 billion industry.
RPA describes a virtual robotic workforce that streamlines business processes by completing laborious and repetitive office tasks usually carried out by bank staff, particularly in the IT department. According to Gartner, around 80% of finance leaders have implemented or have plans to implement RPA.
A significant advantage automation provides IT Managers is the ability to automate save and recovery systems to protect the business from potential disk losses, or damages caused by human error.
It's crucial that IT Managers facilitate the support staff need to learn and adapt to the new technologies they'll be using to drive the business forward. Employee Quizzes can help reinforce companywide skills training for new tools, products and processes introduced during the transformation.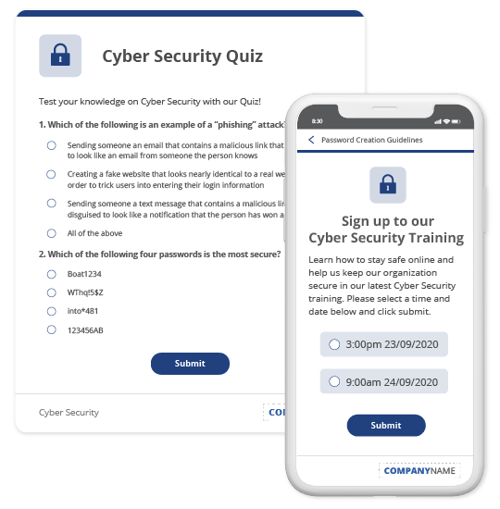 While the benefits digital transformation provides financial services are overwhelming, problems arise when they aren't communicated effectively to staff.
Download our IT Communications Guide to help minimize frustrations and improve engagement during your digital transformation journey or contact us to see how the SnapComms platform can help you.