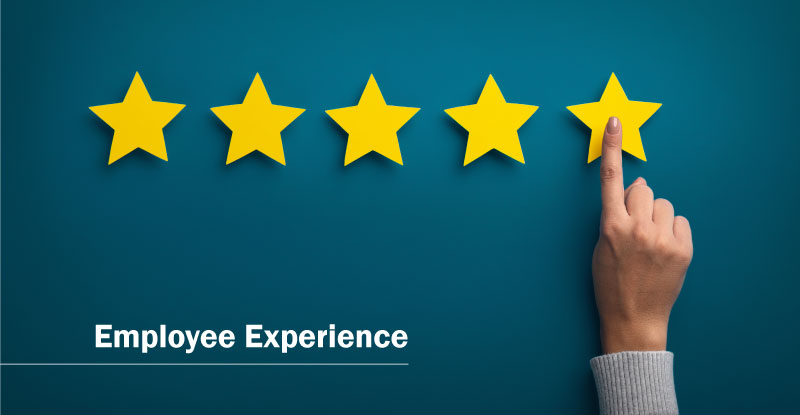 Employees have had a rough ride this year. The COVID-19 crisis has turned their world upside down, both at work and at home. Where we work, the way we work, even if we work, have all changed dramatically.
But with businesses across the world starting to get back on their feet, the question now is how employees will readjust. How will they be feeling when the dust has settled? And how will this affect business performance?
Employee experience is a critical consideration for business leaders during and after COVID-19. Organizations that invest most on employee experience have been proven to earn double the return on sales compared to organizations that least focus on it.
Employee experience is an investment in longer-term success. If you're in business for the long haul, a focus on improving employee experience is essential. Here's why this is more important after COVID-19 than ever before.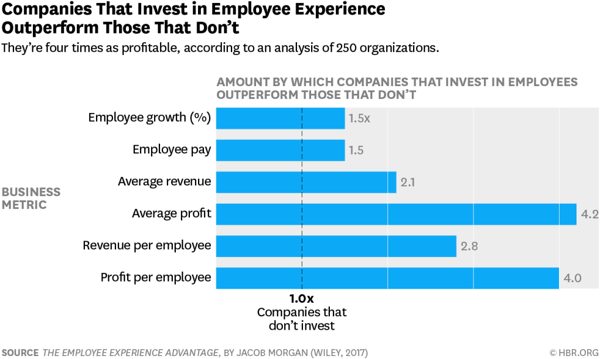 1. Increase empowerment
As businesses transition back to some mode of centralized working, leaders will need to foster an environment which empowers their people. Studies have shown that nearly three-quarters of employees believe being empowered is important to their engagement with their job.
During the enforced period of working from home, staff have become accustomed to higher levels of control over their workdays than they previously enjoyed in the office. While the outputs required of them may have remained the same, they've enjoyed considerably more freedom in managing their time. Relinquishing this control will be challenging for many.
Action: Resist the urge to revert to pre-COVID-19 workplace restrictions. Permit employees greater levels of self-management within the work environment. Check in with them regularly to gauge how effective this is and offer support or direction, but impress upon them how they should feel the owners of their work.
2. Grow organizational trust
In times of remote working, employers place trust in their employees to work effectively while away from the eyes of supervision. When returning to work, employees in turn need to trust their employers in order to feel connected with the company and invested in its success.
No business will be untouched by COVID-19. Changes to business operations are inevitable, but a culture of transparency and honesty can smooth these changes by building understanding and minimizing unhealthy water-cooler talk.
When 77% of employees feel corporate culture is extremely important, ensuring your organizational trust hasn't been eroded by weeks of remote work and changing circumstances is important.
Action: Demonstrate empathy with how staff are feeling and how their home life has influenced this. Establish standards of behavior for line managers to ensure consistency across all interactions. Communicate regularly through company newsletters or a leadership video update.
3. Provide meaningful work
For some employees, the roles they return to post COVID-19 may not be the ones they left before. Jobs may have been merged, split, migrated online, reduced or refocused. Despite this, businesses need to ensure employees feel the work they are doing is meaningful. Staff who don't feel their efforts are worthwhile will take less pride in the results.
Having leadership teams clearly articulate their vision for post-COVID-19 helps motivate employees and expedite change. Employees are encouraged to see where their role fits into the bigger picture and contribute to shared success.
Action: Develop an internal communications plan to explain the company vision and the implications for staff. Establish metrics to evaluate the impact of current projects on staff and the business.
4. Foster engagement
A lot of talk around returning to the workplace has centered on employees bringing their 'authentic selves' to the office. When working from home, employees have been freer with opening up their personal lives, sharing their interests and introducing their family or housemates. Suppressing 'authentic selves' for 'company selves' will inhibit employee engagement.
That doesn't mean a workplace of comfy pants and irregular bathing though. It means encouraging staff to share their passions, achievements and milestones. It means open conversations between employees and managers where employees can speak truthfully about what's on their mind. Allowing staff to be more authentic helps foster collaboration and innovation.
Action: Use employee surveys as a tool for starting conversations around employee feedback. Analyze common responses and identify improvements which could be made as part of a workplace transformation project.

5. Improve customer service
Employee experience and customer experience are inextricably linked. Positive experiences for employees embed high standards of behavior and attitudes which result in greater customer satisfaction.
The lessons learned from a focus on employee experience can also be applied to understanding and delivering to the needs of customers. Companies that invest heavily in employee experience feature twice as much as companies that don't in the annual American Customer Satisfaction Index.
Action: Track the impact of workplace employee experience management. Identify which activities inspired a significant uplift in results. Adapt learnings into actions for refining customer success programs.
Employee experience will be a crucial factor in business success after COVID-19. Its importance is too great to be left to just HR leaders or any one department to manage. It's something which must be woven throughout the organization if the benefits are to be earned – and sustained throughout the employee lifecycle.
Smart leaders will find that if they invest in employees, employees will invest in them.