An employee wellness plan builds healthier, happier workplaces. When you have an ongoing plan to support employees develop healthier habits, morale and productivity goes up.
In fact, employees who feel their employer cares about their wellbeing are 69% less likely to actively search for a job.
Wellbeing initiatives are employee benefits designed to improve physical and mental health. Some benefit employees directly, by providing resources or tools to strengthen the body and mind.
Others focus on improving the overall working environment, transforming it into somewhere in which staff love to work.
These initiatives can be promoted to staff through dedicated employee wellness communication for maximum awareness and engagement.
There are many things your corporate wellness program could include. Get your program up and running with these great ideas for physical health, mental health and social health.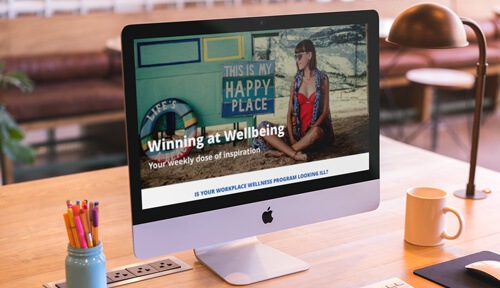 Physical Health
1. Healthy snacks
Get a fruit box delivered weekly and stop offering sugary snacks – get rid of the unhealthy vending machine! Order healthy lunches instead of muffins, cookies, and cakes for staff meetings. Provide a healthy breakfast bar for employees to enjoy.
2. Daily step challenge
Experts say that 10,000 steps – around five miles - is the recommended daily minimum distance for a healthy active person. A desk-bound person may only average around 2,000 steps a day.
Offer staff free pedometers (or if you're feeling super generous, a fitness watch) at the start of the year, and challenge them to beat their own personal best each month. Help them on their journey by listing the number of steps to the local park, shopping mall, public transport and taking the stairs.
Bear in mind accessibility for all employees and ensure activities are inclusive.
3. Standing desks
Offer everyone a height-adjustable desk if budget allows, or simply provide a stand-up desk option that staff can book. Stand-up desks are a great alternative to sitting all day, as standing promotes better blood flow, better posture, and has less risk of neck and shoulder injuries.
Also encourage staff with visual reminders to take the stairs, have a walking meeting, do some stretches etc.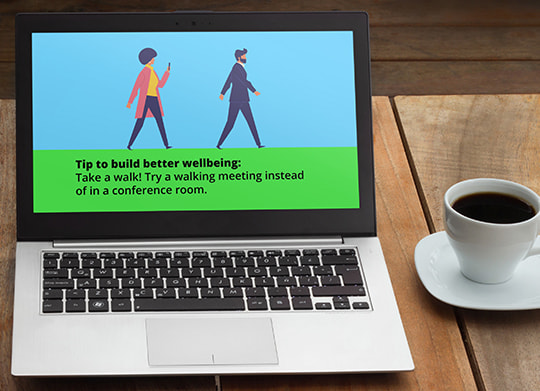 4. Gym discounts
Make it cheaper for staff to keep fit. Contact local gyms or other activity providers to get a special corporate deal based on quantities to encourage your staff to sign up. Notify staff when your local gym is having a special.
Promote benefits like this on eye-catching screensavers or digital signage for maximum visibility.
5. Wellness newsletter
Produce a regular digital newsletter dedicated to health and wellbeing, or just incorporate a section in your current staff newsletter.
You can focus on different topics in each issue, such as healthy eating, exercise ideas, strategies for improving mental health, health risk awareness, easy ways to get active at work, and healthy recipes for staff to try!
6. Wearable wellness
The latest innovations in wearable health devices take fitness monitoring to new heights. Users can track their steps, physical activity, sleep patterns, heart rate and more – all of which help motivate staff to stay active.
In the workplace, these fit wristbands act as great reminders to get up and move around, particularly for staff who work at their desks for long stints.
7. Health check-ups
Prevention is always the best policy, so arrange free (or subsidized) health checks through local health insurance providers.
In the winter months, the dreaded flu continues to lurk, putting staff out of action for days. The best way to avoid it is to vaccinate against it. Offer staff on-site flu vaccines, or reimburse them the fee if they've already been vaccinated.
Prevent cross-contamination by having hand sanitizers freely available, and reminding staff about the importance of regular hand washing.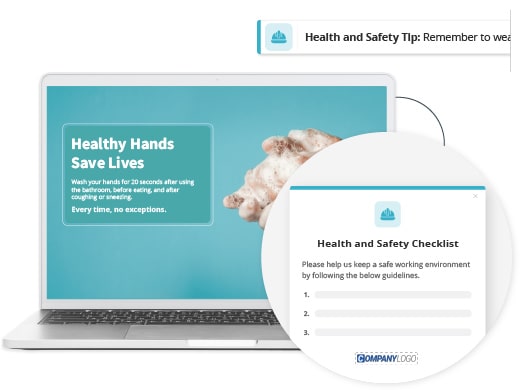 8. Team challenges
There's nothing like a dose of healthy competition between departments or regional offices to rev people into action. Encourage staff to enter corporate fitness challenges, a staff-wide fun run, local gym challenges or start up a staff sports team.
Alternatively, organize internal challenges to improve wellness, run a mile a day, get 8 hours sleep or drink 8 glasses of water per day for a month.
Create a buzz when launching these by using pop-up notifications on all employee screens. You can use leader boards and a prize to incentivize staff.
9. Bootcamps
Build morale, release stress, and improve employee engagement with corporate bootcamps. The pain of getting up early is well worth the gain in higher physical fitness and stronger bonds with teammates.
Most providers offer a range of options, including circuit training, boxing and aerobic exercises, so you're sure to find something that suits your group.

Mental Health
10. Flexible working
Staff have been spending more time working from home than ever before. Many may not relish the thought of returning permanently to centralized work.
Introduce a hybrid working model and offer flexible working hours if your organization permits it. This is especially helpful to staff juggling job and family responsibilities, and indeed is increasingly being expected from employers by staff.
11. Survey staff
It's important to get input from your employees to see which current initiatives are working well for them. Give them the opportunity to suggest new initiatives, challenges and changes you could make around the office to improve their wellness.
Check-in with employees through a staff survey each week or month to see how they're feeling and offer additional support to those who need it.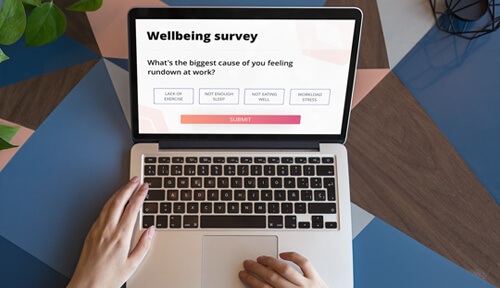 12. Rethink your office layout
To counter the sedentary effects of a desk job, review your office layout with a view to encouraging staff to move around more.
For example, reposition frequently-visited sites – such as the water cooler, stationery cupboard, and printer/scanner to a higher floor, or further down the hall. Repurpose a disused office into a mini gym. Introduce pods of standing desks.
13. Wellbeing webinars
Arm employees with knowledge to help them improve their mental health. Offer webinars or lunch & learn sessions on how to manage work/life balance, breathing or yoga exercises for stress, how to be a better public speaker, parenting tips and so on.

Social Health
14. Donut sessions
Pair up employees who may not know each other to foster collaboration and positive relationships across your organization. Set up a channel in Slack (or whichever chat tool you use) for staff to connect with others for virtual coffee, tea or countless donuts.
15. TGIF
End of week virtual social hours are a time-honored but always enjoyable way to get staff together for some fun and a drink. Mix some virtual games into the mix and watch the stress of the week just melt away!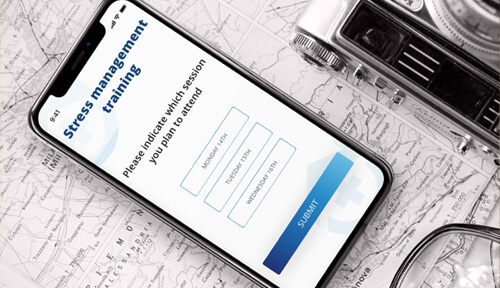 16. Education
Arrange education sessions for employees to learn more about subjects that affect them, either in their professional or personal lives. This could be on financial planning, new laws or policy changes, buying a house etc.
These simple but effective employee wellbeing initiatives will ensure your team is on track for a healthy, happy and productive year.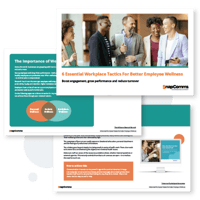 Download: Employee Wellness Guide
Get the guide for six tactics to improve employee wellness and how to achieve these through your communications.