Conflicts of interest and sexual harassment are the priority themes that Ethics and Compliance officers will be communicating in the coming months, according to our survey at SCCE's Compliance & Ethics conference in Chicago last week (September 2016).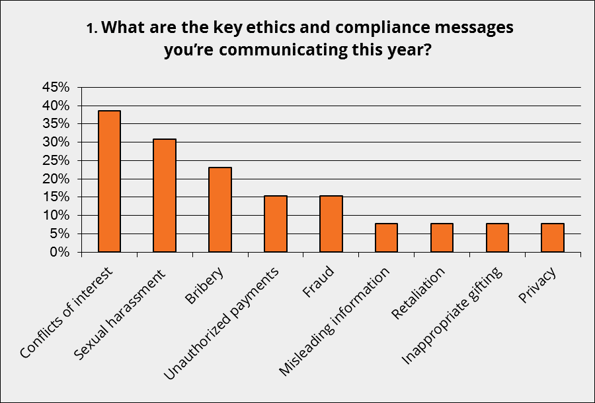 Often regarded as two of the most difficult behaviors to effect change, it's a positive sign that organizations remain determined to improve internal culture and not shy away from promoting good ethics, says SnapComms CEO, Sarah Perry,
"In the past 12 months, we've experienced a threefold increase in enquiries from organizations looking for better ways to communicate these and other ethics-related topics.
"Our experience reflects other external indicative factors*, which prove there is now greater value placed on promoting the right behavior within the workplace. There's a noticeable shift taking place."
But this movement is not without its obstacles.
According to SnapComms survey respondents, a key challenge remains how to genuinely get employee attention in today's information-overloaded world.
As one delegate put it: "Getting buy-in is getting tougher - everyone is so busy - compliance is the last thing on their list. You can no longer have just one method to deliver a message."
Sarah Perry agrees. "People want to consume work-related content in the same way they consume content in their private lives. That means short, snappy, engaging, creative, informative content. This is what gets message cut-through today."
SnapComms also asked delegates which teams (or functional areas) are the most difficult to communicate with.
IT teams topped the list with 47% of respondents citing this team as the most difficult to communicate with.
Sarah Perry suggests this may be because IT often works shift patterns and during office downtime periods in order to complete essential IT maintenance and upgrades.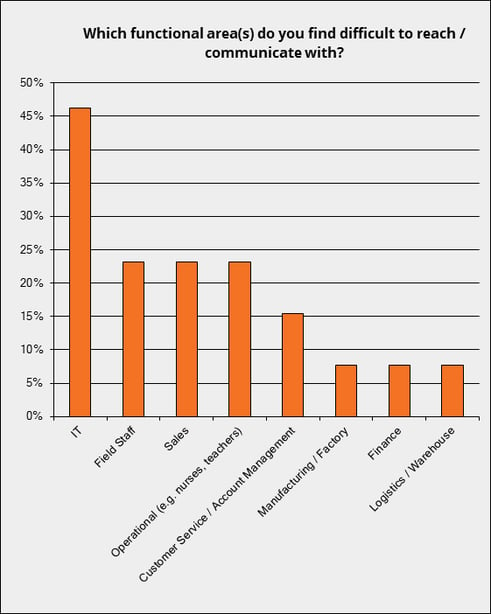 Based on responses to SnapComms' survey 'Ethics & Compliance 2016', SCCE Ethics and Compliance Conference, Chicago, September 2016.
One final, open-ended question posed to conference delegates was: 'What's causing you the biggest headache in your role right now?'
Responses ranged from 'Getting beyond checking the box'; 'Tracking and verifying training', and 'Changing company culture'.
To help solve these headaches, and also connect with hard-to-reach groups, Sarah Perry offers this: "A proven method to drive behavioral change across diverse teams is through short-burst, drip-style campaigns.
"This comprises a bundle of internal communication messages published across different formats, followed by a validation or acknowledgment element."
"If you want your comms to have any effect, it's time to move beyond email," Sarah Perry concludes.
*The National Business Ethics Survey reported an increase in organizations providing ethics training, from 74 percent to 81 percent in three years.
---
Do you face similar challenges to those shared with SnapComms at SCCE 2016? What are your priority topics to communicate for the year ahead? Any communication tips to help your peers? Feel free to leave a reply below.
Learn more about SnapComms compliance communication solution