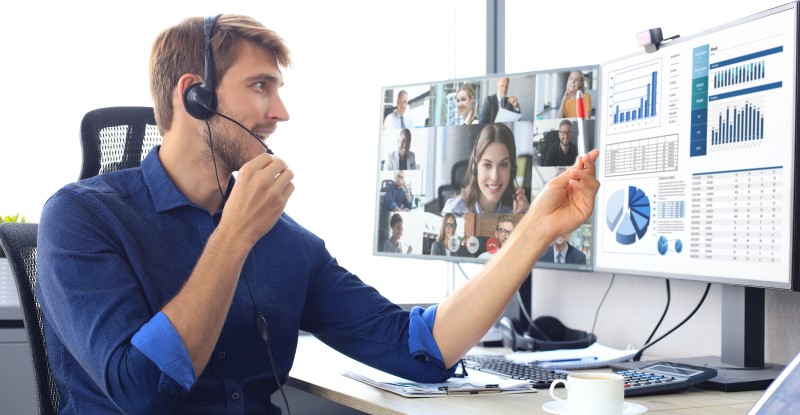 COVID-19 put technology in the spotlight like never before. Sudden changes to working environments forced a rapid refocus for technology teams.
Resources and budget were plowed into workforce enablement, digital security and accelerated digitalization. But the issues keeping CIOs awake at night were actually much broader, according to the 2020 Harvey Nash/KPMG CIO Survey.
While cyber security remained a top priority, 80% of IT leaders were also concerned about the mental health of their teams due to the pandemic.
Now, as organizations enter the post-pandemic world of work, the technology needs of businesses are set to change again. IT teams are likely to find the technology partners they've relied on in the past are no longer enough. But how to find the right IT vendor amidst all the options?
Communication is the common thread to all IT situations. It ensures a consistent, reliable flow of information to keep staff informed and productive. The following 3-step process will help your IT team come up with the perfect IT comms partner for your business.
1. Identify your IT needs and opportunities
The first step is to define your IT objectives and how communications support these.
What are the technology issues facing the business this year? Have some become more critical, or less critical? How will staff understanding of and behavior around these issues affect the success of your IT team's efforts – for better or worse?
A recent Executive Trend Survey named cyber security a top CIO priority by 59% of business leaders. Avoiding costly data breaches means improving employee knowledge, as well as strengthening technical protections. Employee training sessions and reinforcement campaigns will need to be part of all IT communication plans.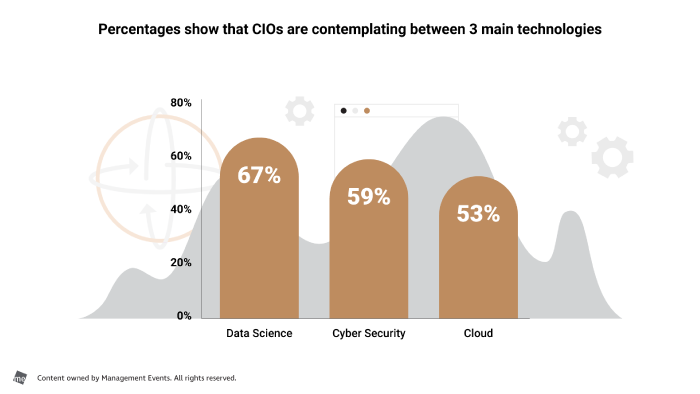 Source: Management Events
But employee engagement has also emerged as a priority, according to a PwC report, with 67% of organizations making new investments in listening and feedback systems.
It's a significant new area for IT leaders. Employee feedback has helped guide overall IT investment, with 95% of organizations having made improvements to existing technology as a result of staff feedback.
In this step it's also important to identify restrictions or deficiencies in your existing setup. How have business operations changed? How has this affected the need for IT services? What internal communication trends do you want to take advantage of?
Engaging employees is as important as ever, but in their busy, distracted work environments, emails are too easy to ignore.

2. Define your optimal solution
The second step is to formalize and prioritize the attributes which most matter to you.
All business communication technology platforms will be strong in certain areas, but weaker in others. Evaluating solutions is difficult without a common set of attributes to compare.
The answer is to compare solutions on only the most valuable attributes to you. The following templates suggest a way you can achieve this.
A range of different attributes are grouped into categories for Technology, Service and Expertise. Columns represent different levels of value, from Low/No Value to Mid Value through to High Value.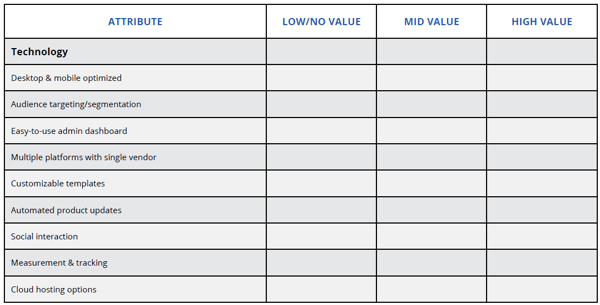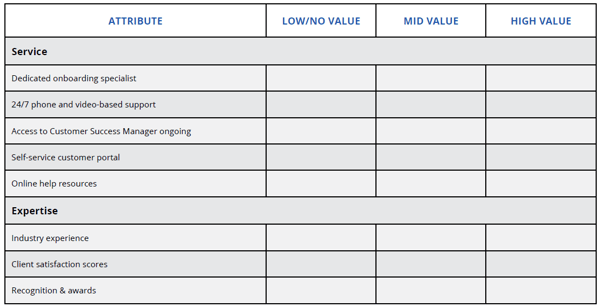 Place a tick in the appropriate column for each attribute to reflect how important it is to your organization. This list of attributes isn't exhaustive – feel free to add others of your own.
When completed, this should provide you with a better sense of the type of solution you need. Group the attributes by the level of value you're assigned, so that all the attributes of highest value are together. You now have a picture of the ideal solution your new IT partner must offer.
This exercise may reveal that multi-device capabilities are essential, but the ability to customize isn't. Alternatively, 24/7 support might be an absolute deal-breaker, but industry recognition and awards not a factor at all.
Now that you've defined your optimal technology solution, of all the options you've researched, which aligns best to what you need?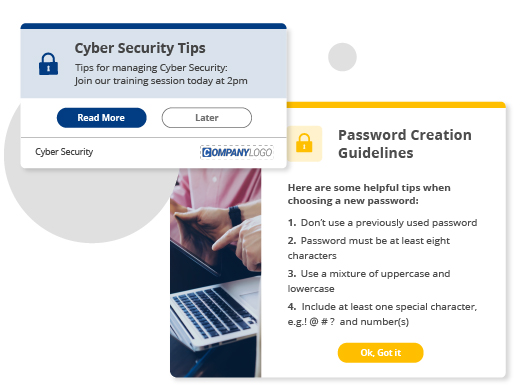 3. Match your ideal to the market
The third step is applying your ideal solution to the different options available in the market.
From the needs identification exercise, you now know your must-haves and your nice-to-haves. Comparing your must-haves with the various platform options will make vendor selection considerably easier – and ensure the choice you make delivers what your IT team and the organization actually needs.
There are a lot of good communication tools available. Always be mindful of your objectives. Do you really need a collaboration tool, or is top-down employer-to-employee communication better suited?
Here are some recommendations for common IT use cases.
IT outage / cyber security notifications
A system outage notification or cyber security breach requires immediate action. A high-impact, unmissable Desktop Alert would be optimal in these cases. After all, it's human instinct to react quickly to alerts.
Direct to-screen messaging outperforms email because it's attention-grabbing, timely and action-oriented. Repeating of unread messages can drive readership to 100%.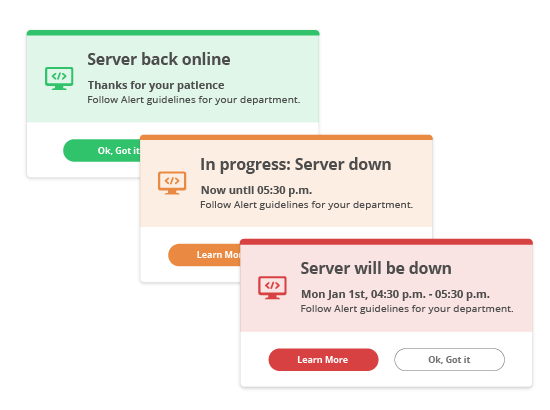 IT incident status updates
Tickers (also known as scrolling newsfeeds) are very effective for providing real-time status updates or reminding staff to do something. This might be to use an alternative system in the event of an IT outage, or to report suspicious emails to improve cyber security.
Information management
A repository of IT and corporate information is essential as a single source of truth for staff. With so many policies, processes and how-to's to follow, employees need somewhere they can easily find and access the information they need.
Confluence is a knowledge management platform designed to house information in a clean, accessible way. It offers pre-built templates to make getting started easier (and we use it at SnapComms!).
Collaboration tools
No business can be without a collaboration tool these days. With so many employees working from home or dispersed across the globe, a messaging tool for employee-to-employee communications has become a must-have.
Microsoft Teams and Slack are the two biggest names in this space. Which is better? That depends on the needs you've identified in step 2 above, but in general it's thought Slack has better usability and more integrations, but Teams is cheaper and slots in seamlessly alongside a business's Office365 platform.
Finding the right partner for your IT communications doesn't have to be a chore. By following the 3-step process above, your IT team will be best equipped to find the best solution for you – which makes everyone look good.