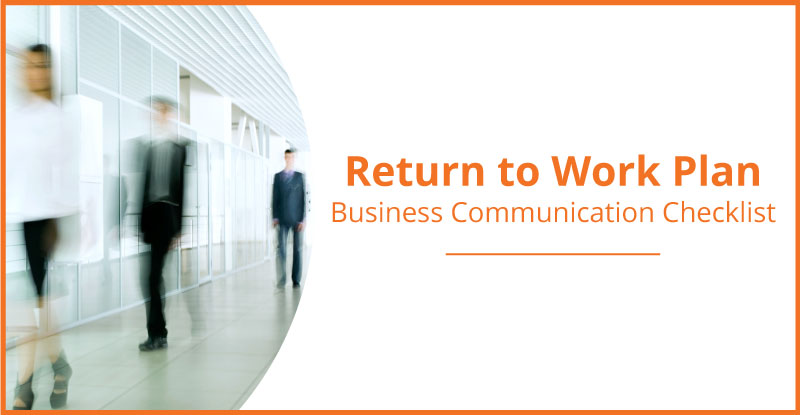 Successfully returning to work after the COVID-19 pandemic requires careful balancing of business objectives and employee needs.
Every department plays a crucial role in making this work. Each have essential tasks that must be completed to ensure a smooth and safe transition.
Internal communications need to keep employees informed with a consistent flow of timely, relevant and effective messaging.
Human Resources must focus on increasing employee engagement and rebuilding company culture.
IT need to ensure proper processes are followed to manage employee tech requirements and protect cyber security.
Other departments will be managing operational changes and handling re-engagement with customers and stakeholders.
In these challenging and fast-moving times, businesses without a back to work plan will find returning to the workplace a difficult transition to make.

Download the Return to Work Plan
We've produced a free guide to help you manage this. The Returning to the Workplace Plan includes communication checklists for every department. These checklists will help your teams:
• Understand the tasks required and manage progress
• Focus on what's most important
• Plan activities and align resources
• Achieve business requirements
Download your copy of the return to work guide through the form below (a copy will also be emailed to you):