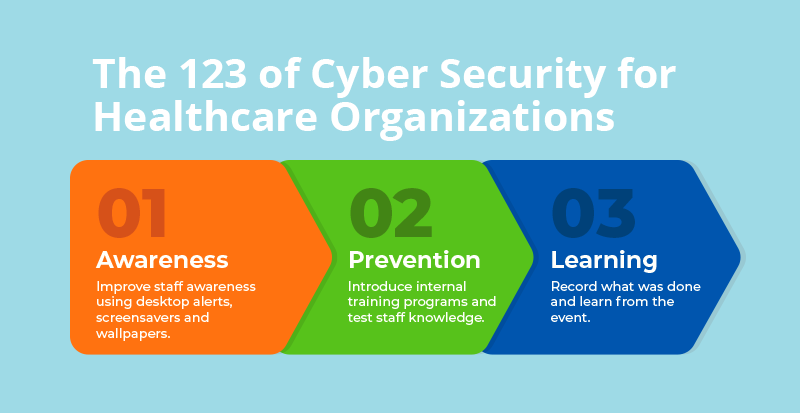 Hospitals and other healthcare organizations are increasingly the targets of cyber security attacks. In the first quarter of 2018, the sector has been hit with 77 breaches, affecting the records of more than one million patients.
The most recent of these attacks comes from a group of hackers called Orangeworm, who are responsible for targeting healthcare computer systems on around 30 instances.
But security threats are not just the responsibility of the hospital IT team – all staff have a duty to exhibit safe behavior online. To assist in the fight, we present the 1-2-3 of halting the hackers – Awareness, Prevention and Learning.
1. Awareness
Improving staff awareness is essential, but internal communication managers are already battling to get their attention.
Use desktop alerts to immediately grab staff attention for important security announcements. Design custom desktop screensavers or wallpapers to reinforce behavioral change every time staff log on to their computer. A free cyber security screensaver is available to be downloaded and used by any organization.
2. Prevention
Many recent cyber-attacks target organizations through a phishing email. But forewarned is forearmed. Smart organizations are introducing internal training programs to educate staff about best practice online.
Consider testing staff knowledge by occasionally sending around a dummy phishing email. Track the numbers of staff who open the email or click on any of the links. A scrolling ticker is a great way to update everyone on the results – and keep cyber security top of mind.
3. Learning
When a security breach is averted or blocked, unfortunately it's no time to sigh in relief and consider it 'job done'. It's important to record the details of what took place, how the attack originated, whether it involved emails, the corporate website or any other online channel, and ultimately to learn from the event.
Circulating a security quiz can be a non-threatening way for staff to test their knowledge, and managers to gauge where those critical gaps in knowledge are.
Beating cyber security breaches is an ongoing battle for organizations worldwide. Effective internal IT communication can help hospitals and other healthcare organizations stay ahead of the game.
Read the full version of this article at Becker's Healthcare.