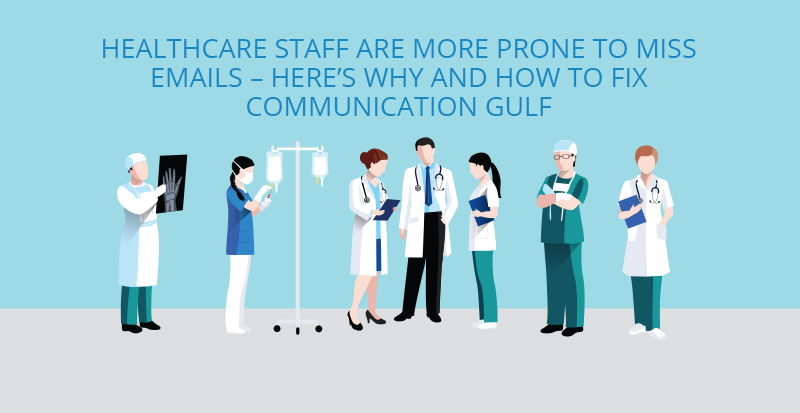 For too long, internal communications departments have relied on email to connect with staff.
In 2019, email alone won't cut it.
An analysis of internal email campaigns in 2016 found that the average open rate across all organizations was 66%. The click rate on links in those emails was only 10%.
What's more alarming is that the healthcare industry had an email open rate of just 39% and a click rate of 6%.
Put simply, hospital employees no longer engage with email like they used to.
This was a realization by Wallowa Community Hospital, based in Oregon. Traditionally, email had been this rural hospital's primary communication channel. But its information and technology services team was increasingly worried that staff were missing important alerts. They had concerns that a planned outage or time-sensitive announcement could be easily overlooked if employees did not have their email application open or in front of a computer.
John Straughan, Director of the hospital's ITS team, explains: "People in small healthcare organizations, like ours, wear many hats. They're extremely busy, often away from their desk, and can unwittingly miss an email."
Straughan trialled a novel approach to staff communications using desktop alerts and tickers. These are direct-to-screen message formats that bypasses email completely.
Since introducing the new technology, Straughan says Wallowa's hospital staff "really appreciate the prompt alerts. More end-users now see and receive our messages quicker than ever before. It makes things go that much smoother around here!"
The potential for usage is vast within a hospital setting: desktop alerts can be customized to include the organization's branding, color-coded for specific types of hospital-code notifications, and highly targeted towards relevant staff.
Article originally published on Beckers Hospital Review, read the full article here:
https://www.beckershospitalreview.com/healthcare-information-technology/how-to-tackle-the-gulf-of-missed-communications-in-hospitals.html