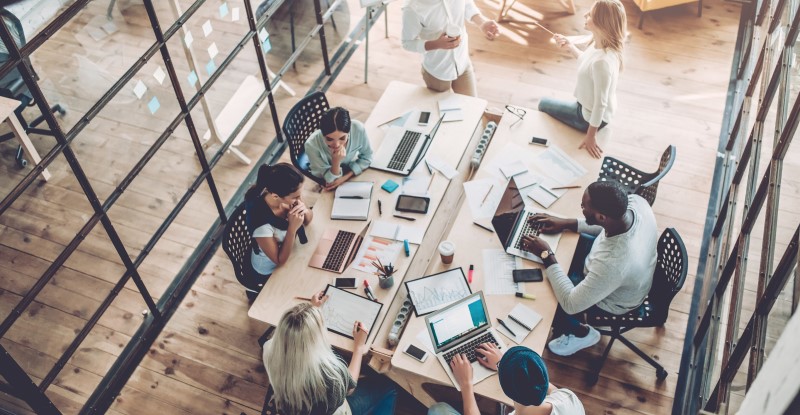 Take a look at photos from workplaces of 10 or 20 years ago. They're hardly recognizable to modern workers. That's because the type of work we do, the way we work, and the environment in which we work have changed dramatically.
Change in the workplace is both a challenge and an opportunity for today's leaders. Employees today have a vastly different perspective than in the past. The workers of "Then" in the table below are just a generation ago.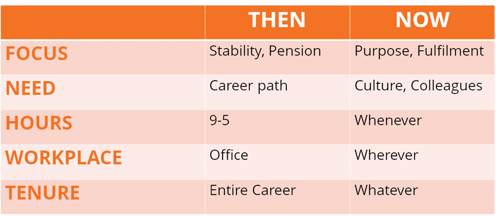 Employees then were looking for stable roles, with a company that they could stay at for a lifetime. They wanted a clearly defined career path and typically worked a 9-5 role.
Now we find that today's generation wants to understand a company's purpose. They want fulfillment from their role. What does their company stand for? What are its values and aspirations?
This is the new normal for Internal Communications Managers. Never has there been so much information coming our way. And never has there been so much pointless distraction.
But how did we get here? And how can communicators effectively operate in fast-changing workplace environments to get important information out to staff – without overloading or annoying them?

What are the global trends driving change?
Many factors are influencing employee communications and engagement, as they introduce either opportunities or uncertainties into the workplace.
1. Technology Continues To Evolve
Unsurprisingly, technology has been the single most significant catalyst for workplace change. All employees need now is a network connection, after which they can work from the trendy café around the corner or from the comfort of home – especially in times of major global pandemics!
Digital capabilities have opened up a global marketplace where shift workers operating in multiple time zones are the norm.
The increased use of 'consumer-led' technology in the workplace also brings challenges. Consider collaboration tools or social enterprise tools – how do organizations effectively integrate this mix of moderated and collaborative channels? Do you even moderate at all or allow them to run free?
Technological reliance can also prove a hurdle for businesses when essential systems go down, such as in a system outage.
Solution: Use your employee communications to streamline the use of technology and protect against unwanted risk. Messaging can be used to improve employee adoption of new tools, notify what to do during IT outages and reinforce correct cyber security practices.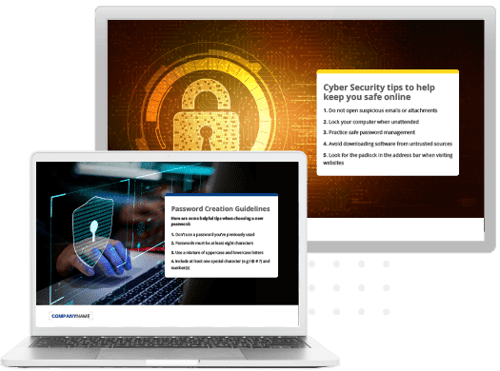 2. Organization Structure Grows More Complex
The structure of organizations is becoming considerably more complex and fragmented. Today's workforce is a blend of centralized and remote workers, freelancers and virtual assistants, operating in multiple time zones, using all types of devices.
Centralized workplaces are declining in popularity as organizations seek to reduce costs. This, coupled with the greater freedom of movement enjoyed by consumers today, are resulting in increasingly complex, far-flung teams.
According to one study, 80% of US workers don't work at a desk – a collection of 2.7 billion employees who make up the "deskless workforce".
In this new world of working, how do organizations unite centralized, flexible, remote and dispersed employees?
Solution: Employ multi-format communication tools to reach those staff who are rarely at a desk. Mobile employee apps for healthcare workers, retail staff or field-based salespeople; digital signage screens for warehouse or manufacturing staff.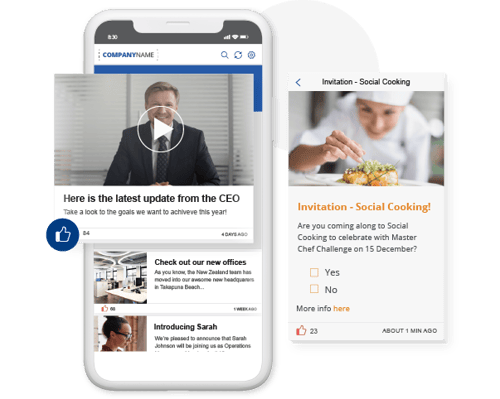 3. Inboxes Pushed To The Brink
The issue of workplace email and information-overload is already well understood. The average worker receives 122 emails every day, according to a Radicati Email Statistics Report.
The result is that staff have become active ignorers of messages they don't feel are important or relevant. Being inundated by so many emails each day, it's only natural that staff have got message wear-out.
Email continues to be a commonly-used tool for organizations and has its place as a simple and widely-accessible tool. But its ease of use has contributed to its declining efficacy – anyone in the organization can type and send quickly, with little governance applied.
It's easy for staff to miss or ignore emails – messages get auto-filtered into sub-folders, or quickly drop down the inbox as new emails supersede them. Timing and delivery of email is unpredictable – there's no guarantee whether staff will see a message in minutes, hours, days or not at all.
With such inundated inboxes, how can internal communicators ensure important messages don't get lost in the crowd?
Solution: Apply audience targeting and scheduling to your messages to improve message cut-through by sending relevant messages to staff at times of highest readership. Use alternative communication channels such as scrolling newsfeed-style Tickers to send important, yet discreet, messages to frontline staff in call centers or retail stores.
4. Diversity Is The New Norm
The dynamics of social change in the workplace are both generational and cultural. Generation Z have now entered the workforce. A distinct group from the Millennials before them, their upbringing and social contexts bring unique opportunities and challenges.
At the other end of the spectrum, larger volumes of older workers are staying in their jobs as consumers generally enjoy better health and longer life expectancies. In the United States, this represents a workforce of nearly 10.5 million people aged 65 and older.
In families, two-parent working households are increasingly the norm. This impacts upon workplaces in areas such as staff working from home, working non-standard hours etc.
Diversity and inclusion are powerful forces influencing global workplaces and are having profound impacts on company culture and employee engagement.
Solution: Kiss bland, 'one size fits all' messaging goodbye. Use vibrant video messages to capture interest and lift engagement. Give employees a voice (and listen to it!) through two-way communication tools like staff surveys. Introduce social media-style reactions like thumbs-up and claps to encourage participation and sharing.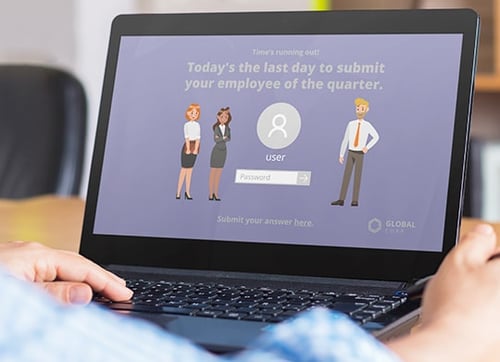 Workers of the last generation wouldn't recognize the workplaces of today. Combining modern employee communication tools with today's workplaces provide the greatest potential for successfully reaching and engaging every employee, every time.
SnapComms offers businesses solutions for the full communications mix, from high-priority alerts to animated notifications and interactive questionnaires.