An alternative to email
Kerri Cherry is the Customer Service Training Co-ordinator for Nationwide Towing & Transport. She is responsible for the ongoing training of their customer service teams. Prior to engaging with SnapComms the only option would have involved sending out a quiz via email, but that solution would involve a lot of extra work for Kerri, and wouldn't have been the most engaging method of delivery for her team members. She would have to check all answers manually which would have been time consuming. Kerri decided to look for a solution that would enable her to pull together quiz and surveys and send these out to her team. The SnapComms Quiz ticked all the boxes, the tool would enable her to easily build a quiz made up of multiple choice and free form answer questions (within the same quiz).
Initially the short Quizzes were sent out to her team weekly, but on surveying her team via the SnapComms Survey tool, the overwhelming feedback was this was too frequent. Kerry decided to settle on a longer format quiz called 'Transport Trivia' that was only sent out monthly, as soon as this change was made, staff engagement with the quiz improved.
"I think it's a very good tool, I like it" Kerri Cherry – Customer SERVICE Training Co-ordinator.
Linked to Staff KPIs
Because the monthly quizzes are part of the additional training Kerri oversees, the quizzes are designed to challenge staff. In most cases staff will need to use tools they use as part of their daily role in order to correctly answer the questions. There are also some health and safety questions that require staff to actively search out the answers from around the building ie, location of First Aid Kit, Fire extinguishers etc. Staff aren't expected to answer the entire quiz in one go, it is meant to be completed alongside their day job, therefore the ability for the SnapComms Quiz tool to remember the answers that have already been inputed means staff can answer part of the quiz, close it, then return to it at a later stage confident that the quiz is in the same state as when they closed it.
Ability to give real time feedback
The SnapComms Quiz allows the administrator the ability for staff to see the answers they got right and wrong once they have submitted the quiz. It also shows the correct answers helping to re-enforce the learning.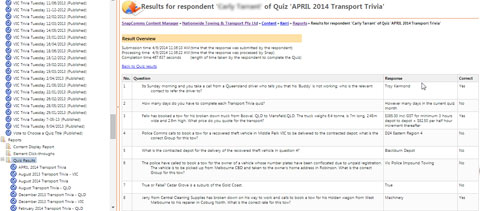 Kerri has chosen not to enable this feature, some of the questions require an in-depth explanation of where they might have gone wrong, so Kerri pulls all the answers from the Admin panel and exports these as individual emails to staff with detailed notes around where they went wrong and how to correctly get the right answer.
This process also gives Kerri a greater understanding of any areas where there are patterns or knowledge gaps That information is fed back into the training programme ensuring a consistent high quality customer experience for NTT customers.
"It's an excellent training tool"
Kerri Cherry – Customer SERVICE Training Co-ordinator.