9 SharePoint Tips and Ideas:
SharePoint Tip 1 - Think of SharePoint as a Development Platform Not a Product
It is a common mistake for people to assume that SharePoint will give them what they want without customization. As a sophisticated software application, SharePoint has many different features and plug-ins which can be confusing. Deployments easily can go wrong if IT teams just turn on additional modules without considering the business case, requirements, and training needed to make them part of an ongoing business process.
The more comprehensive functionality available from SharePoint has to be built by an IT team (or a third party vendor) using SharePoint's .NET development tools. Hence it is more appropriate to view SharePoint as a 'development platform' rather than an 'out of the box' product.
SharePoint Tip 2 - Manage Complexity
Plug and Play Discussion Forum
Augment SharePoint functionality.
Augment SharePoint with inexpensive tools that do not require IT resource for them to be set up and managed.
This allows you to try concepts out, test uptake and evolve the approach without the need for 'big project' budget, resource or timeframes.
Test concepts out
The SnapComms tools are available as a hosted or in-house solution. Both are available as on a short terms license fee. So even if you are planning to build functionality in SharePoint at a later date, the SnapComms tools allow you to add functionality easily as a pilot or to test uptake and usage amongst employees and to refine SharePoint implementation plans.
SnapComms' employee discussion forums are a quick, easy, cost effective and secure way of enabling project teams to share and capture ideas as they crop up prior to, and during, a SharePoint implementation. The SnapComms solution provides an 'out of the box' employee specific discussion forum channel that is simple to deploy, secure, low cost and available on a short term license basis.
SharePoint Tip 3 - Do Your Research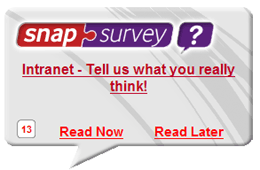 Targeted Desktop Survey tool
SnapComms' pop-up Staff Survey tool can deliver company-wide surveys to assess what's working and what's not with the existing Intranet and to gather information regarding the tools and resources people would like to see included on the new SharePoint Intranet.
Ensure research is representative SnapComms' Staff Survey is a push communications channel that is quick to set up and simple to deliver company wide. It is pushed directly onto employee computer screens so surveys do not get buried in email in boxes. Built in reminders help drive participation which can ensure that all views are represented in the research…including the important but often 'silent majority' who perhaps do not have extreme views or agendas and would ordinarily be less motivated to participate.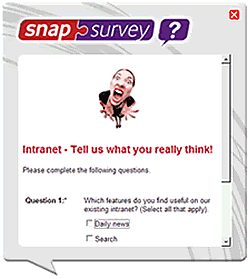 Desktop Survey
Establish quantifiable value The Staff Survey can also be targeted to specific groups of employees, for example, managers and heads of departments. Such individuals can be asked questions such as "what specific business value does / could your department derive from an effective Intranet?", "How might this be quantified?" For example, a sales manager may say it is the number of accurate proposals that sales people are able to produce. This research will provide an important perspective to help you make the SharePoint implementation effective and also help you quantify its value at a later stage.
SharePoint Tip 4 - Break it Down into Stages
Companies that get the SharePoint implementation right, often start simply, with many of the features disabled. Break a SharePoint implementation up into stages and leave the 'bells-and-whistles' until last.
For example:
Event updates
Start by simply replacing the existing Intranet.
Add document management
Add forms management.
Add business process and workflow management
Start sharing business intelligence dashboards and enterprise reports
And so on.
SharePoint Tip 5 - Drive User Adoption at Each Stage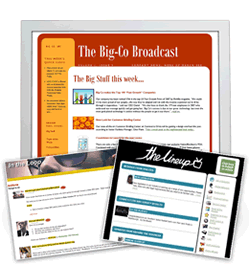 Internal Newsletter Updates
One of the keys to the successful implementation of a new technology is to drive user adoption and regularly gather feedback to evaluate progress.
Keep it interesting Communicating the successive stages of an iterative SharePoint implementation needs to stay interesting for staff, so adopting an engaging and innovative internal communications campaign is essential. The SnapComms Internal Communications tools can promote your evolving SharePoint implementation through multiple channels and monitor readership to make sure you're hitting the mark.
Consolidate information updates SnapMag is an innovative staff magazine that is pushed to employees' computer screens. It can quickly and easily consolidate information into a visual, template format that's dynamic and doesn't require an html editor. Short 'news' articles in SnapMag can inform readers of new information and the availability of new tools, as well as allowing readers to click directly through to specific SharePoint pages.
Screensaver Messaging Channel
Impact For project 'wins' that you want to profile with more impact, try Screensaver Messaging. The SnapComms Screensaver tool is designed to raise awareness of key information by turning employee screensavers into interactive bill boards. An image is worth a thousand words. For example, an image of a deck chair on the beach with relevant text and a click through link is a powerful and engaging way to notify staff that online leave forms are now available via SharePoint.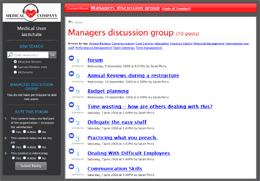 Plug and Play Helpdesk tool
For messages that need high cut through, consider Desktop Alerts or Scrolling News Feeds.
Qualitative and quantitative feedback Pop-up Staff Surveys and Employee Discussion Forums provide effective ways to gather qualitative and quantitative feedback from staff. The SnapComms pop-up survey's unique format and push delivery ensure high survey participation rates. The Employee Discussion Forum tool provides secure, targeted, employee specific discussion forum functionality at a low cost and without the need for extensive IT input.
SharePoint Tip 6 - Fill Gaps in Functionality – Ideas for SharePoint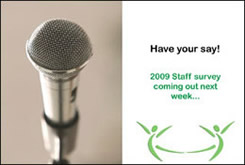 Centralized Screensaver Messaging
a) Push communications channels SharePoint does not provide any 'push communications' channels. The closest it gets is 'e-mail alerts', that are auto generated and can be easily become buried in inboxes, and RSS feeds, that require staff to opt in. Often due to high workloads or a lack of interest, emails have low cut through and staff fail to subscribe to RSS feeds meaning that important updates may never reach them.
Effective push communications channels form an important part of an internal communications strategy. This is particularly the case for urgent or important messages that need high cut through.
Desktop Alerts and Scrolling News Tickers – provide message cut through for urgent business updates.
b) Plug and play social media channels The SnapComms Internal Social Media tools are a range of 'plug and play' social media channels specifically built for secure employee communications. The channels are low cost, easy to use and require very little IT resource to deploy and absolutely no IT resource to customize and implement. If required, the internal social media channels can send automated desktop alerts to moderators which will achieve significantly higher cut through (and faster response) than SharePoint's email alerts.

Desktop RSS Updates
c) Push out important RSS feeds SnapComms' News Feed tool allows administrators to push out existing RSS feed sources, via an on screen News Ticker (or news aggregator) to targeted staff groups. Hence for important RSS feeds you can remove the step within SharePoint requiring users to opt in. SnapComms tools also make it easy to generate and push out manual feeds simply by typing a headline, more comprehensive content if required, and specifying destination SharePoint pages or files.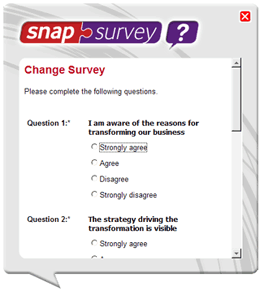 Desktop Staff Survey
d) Push out important SharePoint update notifications Desktop Alerts provide a means to push out urgent or important communications to targeted staff groups. The SnapComms desktop alert format bypasses email and pushes content directly onto employee's computer screens with configurable persistence and recurrence options and helpful reporting features.
e) Targeted pop-up Staff Surveys, Polls and Quizzes Push staff surveys and quizzes out onto employee's desktops (bypassing email) with configurable recurrence options for uncompleted surveys and quizzes. As with all of the SnapComms channels, they are designed to be used by Internal Communicators not web developers. The content management interface is easy to use and has functionality specifically built for employee communications purposes (e.g. image voting and user confidentiality options).
f) Pre-schedule and target messages All of the SnapComms Internal Communications channels allow messages to be pre-scheduled and targeted to specific staff groups based on existing network structures (or customized targeting groups).
SharePoint Tip 7 - Manage SharePoint Content - Ideas
User Generated Desktop Newsletter
For a successful SharePoint implementation, good site administration and content management are essential. A site administrator needs to manage content, carry out periodic evaluations and act as a facilitator in sustaining participation. An administrator will also need to decommission parts of the site that are no longer required.
Not all content needs to be delivered by SharePoint This is particularly the case for content that may have a short 'shelf life' due, for example, to it being associated with a specific campaign or project.
Prioritize content and think about its 'shelf life' and purpose Does it really need to be on SharePoint or will it simply add to the chaos? By eliminating non-essential content or content with a short shelf life, the search results from SharePoint are more likely to return useful information.
SnapMag is an excellent way to reduce email overload and distribute short shelf life content (e.g. news and admin updates). Users can search SnapMag for old articles but they rarely do due to the nature of the content.
Schedule and expire content One of the big advantages of the SnapComms Internal Communications channels is that content can be scheduled to appear at a specified time and scheduled to expire at a specified time. This means that old, out of date content does not clutter the SharePoint site up or dilute the effectiveness of search.
SharePoint Tip 8 - Provide Good Training and Support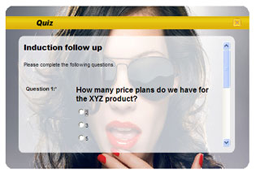 Pop-up Desktop Quiz
To ensure you maximize the value derived from SharePoint, it is important to provide adequate training and support to staff.
Reinforce training SnapComms' Staff Quiz tool provides the means to run a SharePoint education program, or to reinforce other types of training. The tool is an interactive quiz format that is pushed onto the employee's computer screen. Staff can elect to complete a quiz at a time that suits them, but, if required, you can set up the quiz so that it keeps re-appearing on screen until it is completed. Business and product focused quizzes can contain links to SharePoint allowing users to research each question before they answer. This tool is a real asset if you are aiming to improve overall knowledge, increase SharePoint usage, and help staff find the content they need on SharePoint.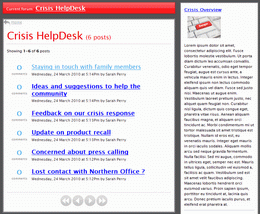 Internal Helpdesk
Provide help desks SnapComms tools provide a quick and easy means for people to ask questions in an appropriate online 'helpdesk'. Moderators can be nominated for each 'helpdesk' and receive desktop alert notifications when new questions are posted (note that SharePoint content alerts are email based and have lower cut through rates and associated response times). Moderators can answer questions directly or point the person to information sources where an answer can be found. Each specific question is tagged and searchable, meaning that past questions and answers can be easily located in an evolving repository of knowledge.
SharePoint Tip 9 - Drive SharePoint Adoption and Usage
Effective internal communication is key to acceptance, adoption and effective usage of SharePoint's features by staff. Changing how people work takes effort. Employees need to be engaged in order for them to use SharePoint effectively.
Liven up the perception of SharePoint by using a range of dynamic ways to promote the site and drive participation: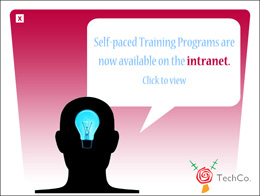 Promote SharePoint on Screensavers
Turn employee screensavers into SharePoint bill boards The Corporate Screensaver Messaging tool can raise awareness of new information on SharePoint by turning employee screensavers into dynamic interactive bill boards. An image is worth a thousand words. For example, an image of a graduation cap with some relevant text and a click through link is a powerful and engaging way to notify staff that online, self-paced training programs are now available on the Intranet.
Aggregate and push updates to staff SnapMag pushes company news directly to employees' computer screens and provides click through links to relevant SharePoint pages or files. Staff no longer have to open up separate 'Mass' emails, or visit SharePoint to search for news. Instead, these messages are aggregated and delivered in a readable and engaging format which includes hyperlinks back to SharePoint content (or other information resources). Staff can also easily submit their own news articles and updates. Articles, once approved by the editor, are automatically included in the magazine.
Promotional tools All of the SnapComms tools can include click-through links and therefore act as promotional tools to stimulate interest and drive the usage and value of SharePoint. News Feeds, Desktop Alerts, Staff Quizzes and Surveys can be engaging ways to drive traffic to SharePoint content.